Thin Line
It's a story we've seen play out time and again in cities across the country: a fledgling pizzeria sets roots in a neighborhood in need of revitalization and subsequently helps forge a Renaissance. Before you know it the once-neglected area is thriving with coffee shops, retail boutiques and other restaurants. And the pizzeria at the heart of it all explodes.
That's the condensed version of Eno's Pizza Tavern, which set up shop in Dallas' Bishop Arts District before it was the bustling destination it is today.
"We lived in North Dallas and used to come down here," explains co-owner Donna Spillers. "There were a couple of spots down here, and coming here was a nice getaway from the big city traffic and almost felt like a mini-vacation."
The area hadn't yet come into its own, but Donna and her husband, Allen, saw the potential. When the building that now houses Eno's was came on the market, the family knew it needed to move on it. It has previously housed a martini bar, but its vibe just didn't fit with the neighborhood. Allen's friend, a realtor, let him know the spot was available. 
"One of our sons, Matt, had just graduated culinary school and there just wasn't much down here," Donna explains. So the Spillers family (two of the three sons are actively involved in Eno's, though Donna says they've all played a hand at some point) decided to take the plunge into restaurant ownership.
The timing proved to be a bit suspect at first. While the company is now on sound footing with three stores and new developments in the works, Eno's opened in 2008 during some very difficult economic times.
"In 2008 there was a stock market crash, and we opened one week after that," co-owner Donna Spillers says. "News people were down here interviewing us like 'what do you think you're going to do with a new restaurant right now?'"
There was hope, though. Literally a campaign full of hope made a mark on the Dallas neighborhood.
"In 2008 Barack Obama was running for the first time for President," says Donna. "What really put this place on the map was there was a contingency of people that lived down here who decided this neighborhood was going to be the Democratic watch party for all of Dallas. 
"They closed down the streets and there were news crews from different countries set up right here in the alley. My son Matt, that went to culinary school, said 'We have all these people out on the streets. Let's set up some beer stations and set up with beer and pizza outside. At that time this area was dry, so someone who wanted any kind of alcohol had to have a membership. I'm telling you there were thousands of people here. Thousands. The tips alone that night in this building were thousands of dollars. People came here from all states and different countries. It was incredible. And that's really how people started knowing about Bishop Arts."
Slowly but surely word got out about Eno's and the business enjoyed a steady rise.
"Our business started at a trickle. We only opened for dinner for the first maybe six months," Donna says. "And then it felt like it would be okay to open for lunch. So maybe after about a year-and-a-half we started to be really busy. Other business started coming in and there was a slow and healthy build."
When opening for lunch service, the Eno's crew quickly learned the new daypart is an entirely different ballgame.
"We had to start doing personal size pizza," explains Donna. "We call it the Lunch Special, and we grouped an 8- or 10-inch personal pizza with a soup or salad and a beverage. It took us a while to figure it out. At first, we were making our full-sized pizzas, and it was kind of a mobile lunch buffet. Instead of setting it out we would carry it around and let people have as much as they wanted when they were ready. It was crazy! It was a lot of labor and it created a lot of anxiety with the staff, so we had to do it a different way. And the lunch specials have worked out well."
Before 2008, the Spillers were involved in restaurant interior design. 
"We started that in 1975 and did that until 2008," Donna says. 
Allen was an interior designer for a high-end residential design firm and had designed a residence for a gentleman with whom he became friends. 
"He never alluded to what business he was in at first," recalls Donna. "He just said he was in construction. He didn't tell us he had a chain of restaurants."
The client, Ken Selby, had turned Ken's Pizza in Tulsa, Oklahoma, into the Mazzio's Pizza brand. And it was growing very quickly. In fact, according to the Mazzio's Pizza Web site, the concept ballooned to more than 150 stores in a dozen states.
"We started working on the design of his restaurants," Donna recalls. "And he was building fast! We'd do three to four new Mazzio's per month. We did all the furniture packages, the finishes … and we'd keep the cycle going."
Eventually, some Mazzio's franchisees who liked their work would ask the Spillers' to take on other projects.
"Some of the franchisees had other brands they were franchisees for as well," she says. "So, we were really, really busy. When we traveled, we home-schooled our kids and took them with us, so they were exposed to all of that."
Walk into the 1920s-era building and a sense of "this just belongs here" immediately hits you. With its wood floors, New England-inspired tables and nooks and crannies from the design of that time, one can't help but think "this place was meant to be a tavern." The fact Eno's specializes in tavern-style pizza makes it unique in Dallas.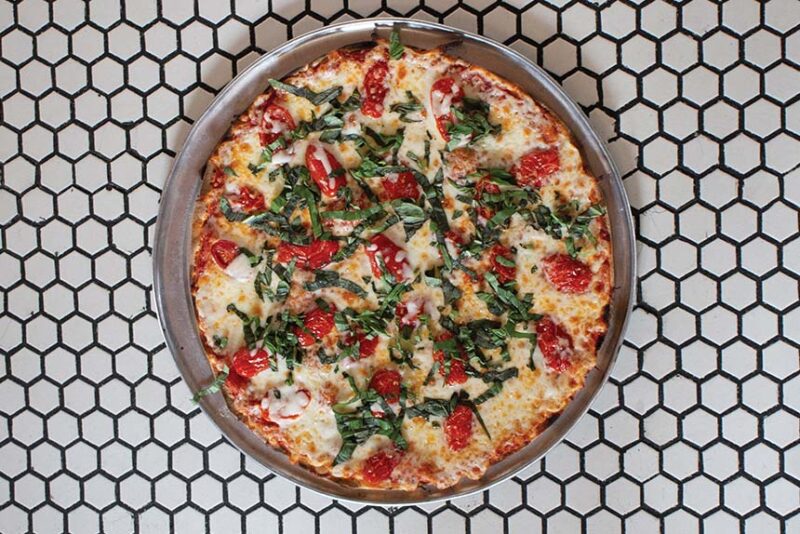 The pizza is as cracker-thin as it can get. A throwback to the tavern pies many Chicagoans grew up on. In fact, the recipe mimics one from Chicago.
"We had a friend from Chicago. His son was one of my son's football teammates in high school," Donna says. "The dad would invite the whole team over and make pizza, and it was this exact recipe. He had worked in a pizzeria with some Sicilians in Chicago when he was younger. Now we live next door to that family. But the dad would even put cornmeal on the bottom so it doesn't stick. That's a really delicious element that's added."
The friend taught the Spillers how to make the pizza and assisted with scaling it for the masses.
"They worked on it a long time," says Donna. "He would come into our restaurant before we opened and work with us to get it right. It took about a week of trial and error to get the recipe right."
While the tavern pie is the star of the show, the Eno's menu features a full array of offerings. Soups, salads, sandwiches, pasta dishes and a variety of appetizers complement the pizza. From truffle cheese bread to Chicken Cacciatore to Texas beef and boar meatballs, there's something for everyone.
One of the largest challenges Eno's faces, the tough labor market notwithstanding, is supplying its stores with that cracker-thin crust. In order to help with consistency, fuel future growth and loosen labor costs, the company is planning a commissary that will take the burden off its kitchens.
"It's time," Donna says. "We have some things down the road we want to do and having the commissary will help us achieve those things. And our crust is so thin that it's quite a process to get it that thin. We don't even cut it into slices because it's so thin that you can't manage it. So, we cut it into rectangles so that it won't droop and be too flimsy when you pick it up. The commissary will make it much easier for everyone."
---
A Conversation with Shane Spillers
Eno's has so much going on that we simply could not fit it all into one article! To that end, we present to you Episode 79 of our Hot Slice podcast, featuring Eno's Pizza Tavern co-owner Shane Spillers. Shane talks concept, expansion, staffing and dishes on the coming commissary his mother mentions in the article. Check it out.
Jeremy White is Editor-in-Chief at Pizza Today.