New Haven, Connecticut, boasts some of the best pizzerias in the country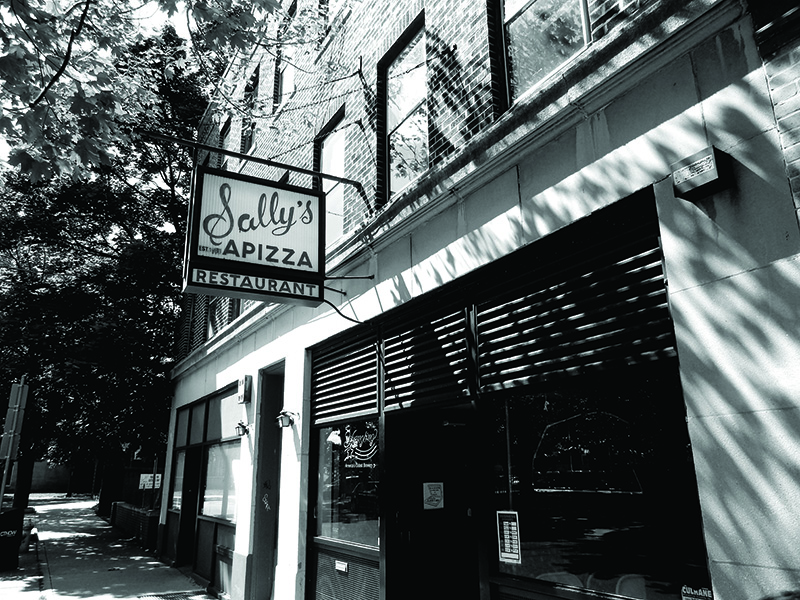 We've done tours in many of the major pizza-central regions in the country –– Brooklyn, Chicago, San Francisco, Staten Island and Austin, Texas, among them –– but with one glaring omission.
We've never hit up New Haven, Connecticut, and we set out to remedy that last month.
New Haven pizza is a style unto its own, known locally as "apizza" and pronounced "A-BEETS". It's a classic Neapolitan pizza originated by Frank Pepe, who opened one of the best known pizzerias in the country, Frank Pepe Pizzeria Napoletana, way back in 1925. A traditional New Haven-style pizza is about as simple as it gets –– there's a thin, slightly chewy dough typically baked in a coal-fired oven and topped with a proprietary tomato sauce, garlic, oregano and a small smattering of Pecorino Romano. Want mozzarella? You'll have to let the server know. These pizzas are usually served without the thick layer of cheese most Americans associate with traditional pizza.
---
254 Crown Street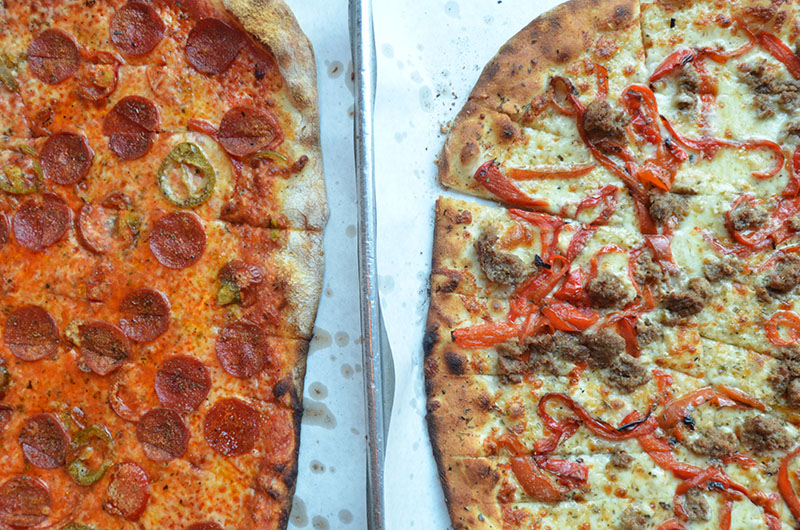 Our first stop was BAR, (254 Crown Street), which already had a wait time on a random early Wednesday evening. Part nightclub, part restaurant, BAR is open 365 days a year and boasts its own house-brewed beer. Selections include a blonde, pale and amber ales, a stout and at least one or two specialty offerings at an affordable $6 per pint and $18 a pitcher. Signature drinks are also served by the pitcher, such as the Fig Hibiscus Lemonade made with fig vodka, hibiscus liquor, pure-squeezed California lemon juice, organic agave nectar, a splash of soda and garnished with fresh berries ($11/pint, $38/ pitcher). Nearly every table included at least one pint of beer or a mixed drink.
On the menu side, BAR's signature pizza is a mashed potato pie with bacon and a white sauce. They also roast their own red peppers and collaborate with local vendors to create specials, such as a lobster pizza and a cheeseburger pizza. We ordered two medium pizzas –– one a red-sauced pepperoni with hot cherry peppers and another a white with the house-made roasted red peppers and meatballs. Pizzas are served on large rectangular metal trays and require a lot of table room. That's a good thing, because one medium could easily feed two or three people.
At night, local bands, DJs and entertainment acts take over BAR's space, and the Back Room serves as a large dance floor. The combination of classic New Haven pizza coupled with house-made drinks and beer and an emphasis on live entertainment gives BAR a competitive edge in an already saturated market.
---
874 State Street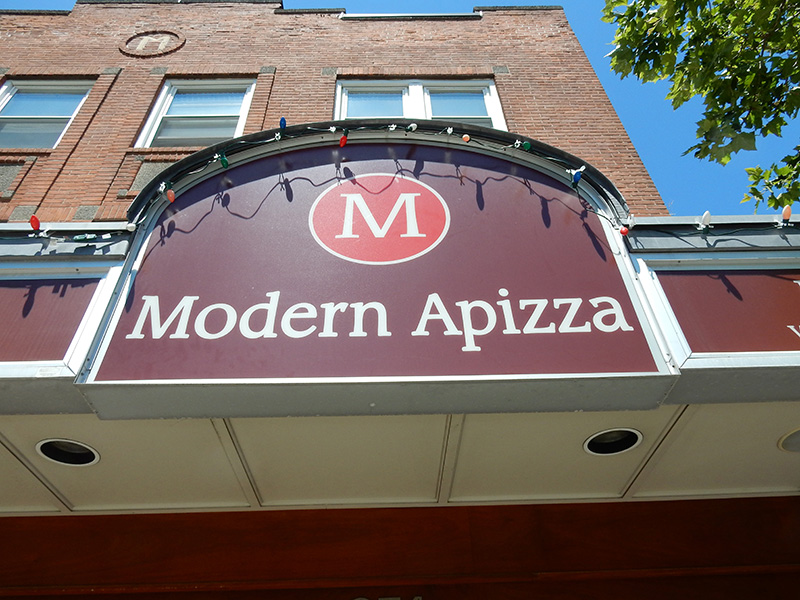 We started our second day at Modern Apizza (874 State Street), which was founded in 1934. Originally named State Street Pizza for its location, Modern already has a dining room full of customers at 11:30 a.m. representing a broad spectrum of diners.
While Modern makes up one-third of New Haven's "Holy Trinity of Pizza" (Sally's Apizza and Pepe's makes up the other two), it has built its reputation on the whole dining package. We tried two of the restaurant's most famous offerings, The Italian Bomb (bacon, sausage, pepperoni, mushroom, onion, pepper and garlic at $18.25 for a 16-inch) and a Clams Casino (littleneck clams with bacon and peppers at $17.25 for a 16-inch).
Modern doesn't shy away from the cheese, and that's a good thing –– it's needed to hold the ample toppings on their chewy dough, which is baked in a brick oven that reaches upwards of 700 F. Like most New Haven pizza, there's a little bit of charring that adds texture, taste and crunch to Modern's signature pies.
Modern has capitalized on its world-renowned fame by expanding outside New Haven, including its Apizza location at Safeco Field.
The result is a better understanding of New Haven-style pizza outside of its hometown, and that in turn drives folks back to the flagship location. It's a brilliant move, and one that when done right does a great service to both the company and New Haven style.
---
179 Union Avenue, West Haven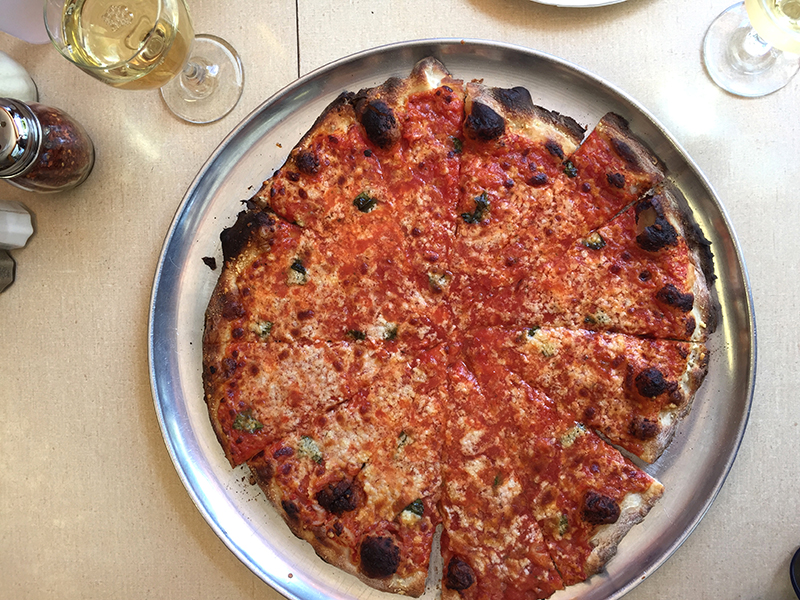 We next ventured a little off the beaten path to Zuppardi's Apizza (179 Union Avenue) in West Haven, Connecticut, on the advice of our Man on the Street columnist, Scott Wiener. What began as a bakery in 1932 later evolved into a full pizzeria that is still owned and operated by the namesake family. At lunchtime, Zuppardi's had a small crowd of locals enjoying dishes from the simple menu of starters, salads and pizzas.
"The Special" is Zuppardi's signature pizza and includes their homemade red sauce with mozzarella, mushrooms and the pizzeria's homemade fennel sausage (a medium is $17). We opted for the Traditional Plain Pie, an "abeetz" with tomato sauce and grated Pecorino Romano, and we added garlic and basil.
Like most traditional New Haven pizzerias, Zuppardi's has a classic fresh clam pizza, but the Spicy Shrimp Casino pizza is a great departure. The white pizza includes mozzarella, shimp, hot cherry peppers, bacon and garlic at $27 for a medium.
A bonus? Zuppardi's has a freezer case of its pizzas, and we saw several fly out the door during lunch to be enjoyed at dinner time.
---
157 Wooster Street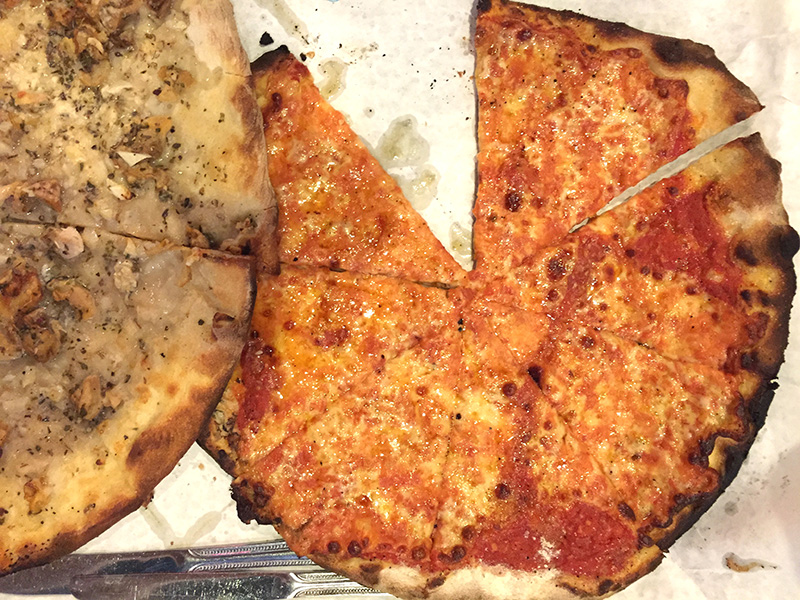 Frank Pepe Pizzeria Napoletana (157 Wooster Street) not only put New Haven pizza on the map but it is also one of the oldest pizzerias in the country. Poor and illiterate, Pepe made the pivotal move to open his own bakery in New Haven –– still in business today –– before trying his hand at making simple pizzas in their coal-fired oven. (He and his wife, Filomena, would pronounce it "Ah-beets" in their Neapolitan dialect, and that's a phrase most New Haven pizzerias have adopted). The pizzeria opened in 1925 and would later relocate to a larger building next door as Pepe's reputation as a pizzaiolo spread.
We opted for two of Pepe's specialty pies –– the White Clam Pizza (fresh littleneck clams with grated cheese, olive oil, fresh garlic and oregano at $21.50 for a 16-inch medium) and Frank Pepe's Original Tomato Pie (crushed Italian tomatoes, olive oil and grated cheese –– mozzarella must be ordered additionally –– at $10.75 for a medium). Master pizzaiolos use some of the largest pizza peels we've seen to navigate the pizzas into the hottest part of the coal-fired oven, and the result is a deliciously chewy, crunchy pie that perfectly embodies the Neapolitan style.
Pepe's is one of the few old-school pizzerias that have expanded outside of New Haven to include stores scattered across Connecticut and in New York. Still, with lines out the door on any given day at the original Wooster Street location, Pepe's doesn't seem to be slowing down any time soon.
---
237 Wooster Street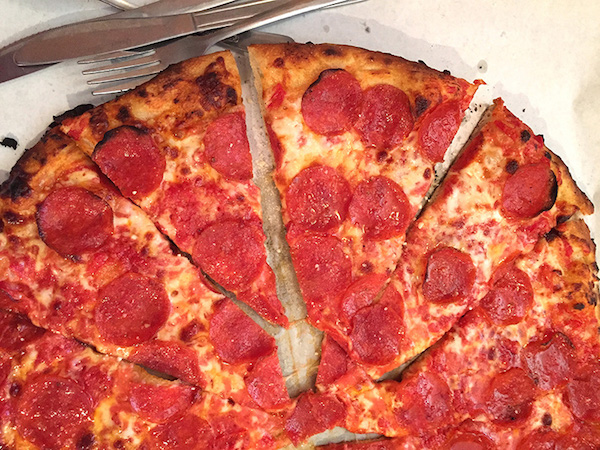 Sally's Apizza was launched in 1938 by Salvatore "Sally" Consiglio, who trained under his uncle, Frank Pepe, before opening his own pizzeria just down the street. Sally made each and every pizza right up until his death in 1989, and his sons now carry on their father's legacy.
Open for dinner only, there was already a line at 4 p.m. when we visited on a Thursday. At this point, we'd eaten nearly 10 pizzas, so opting for a light Plain Italian Tomato Pie with pepperoni ($10.25/medium) seemed just perfect. And it was –– thin, crunchy, chewy and oily with the perfect char, it is easy to see why lines can stretch down the block for a table. This is a cash-only business, but that isn't a deterrent. Sally's wife, Flo, held court at a table near the register where she would add up receipts by hand. (Flo passed away in 2012).
While tourists and New Haven residents often wait outside for an open table for hours, Flo would immediately seat folks from the neighborhood, recognizing that although many celebrities have passed through its doors, it's the locals who make or break a restaurant's success. That kind of commitment makes the restaurant a stand out even as it has gained national attention for its authenticity. The hype? Yeah, it's worth it.
Mandy Wolf Detwiler is managing editor at Pizza Today.