Johnny Jo's Pizzeria 1209 W. 47th St. Kansas City, Missouri 64112 (816) 401-4483 www.facebook.com/johnnyjospizza The stone oven pizzeria is a hidden Westwood neighborhood gem. John Milone Jr. started Johnny Jo's out of his apartment almost a decade ago. A brick-and-mortar pizzeria become a reality a few years ago.
Primarily a carryout restaurant, its signature pepperoni and Italian sausage is most popular. Johnny Jo's menu also features the Tom & Art — tomato and artichoke, butter herb sauce, mozzarella and provolone ($20.95 for a 16-inch) and The Meathead with pepperoni, Virginia ham, Italian sausage and hamburger ($23.95 for a 16-inch). Milone applies a Napoletana twist to his Sicilian family recipe. Stromboli and garlic and dessert knots round out its small, focused menu.  
Napolese
114 E. 49th St. Indianapolis, Indiana 46205 (317) 925-0765
www.napolesepizzeria.com
With three locations in metro Indianapolis, Napolese has experienced rapid growth since opening its first store in the historic Meridian/Kessler Neighborhood in 2010. The artisan pizza company features daily starter, salad, pizza and dessert specials at each location. Recently, the original restaurant menued a wood-fired pizza with a white sauce, pepperoni, caramelized leeks, Peppadew peppers and ricotta. The downtown Napolese highlighted pizza topped with a red sauce, braised tri tip, arugula, potatoes and ricotta. The north side location's pie of night showcased tri tips with a Jezebel sauce, arugula and goat cheese. Napolese also menus an extensive wine list, craft beer and handmade cocktails.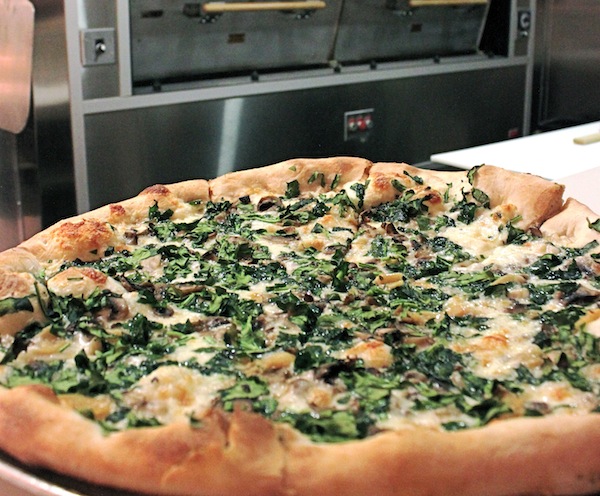 Uncle's Pizzeria & Co.
120 W. Olive St. Fort Collins, Colorado 80524 (970) 224-7100
www.unclespizzeria.com
This father and son (Dennis and Garrett Marlin) owned restaurant opened in 2006 as a fast-casual spot. But in 2011 Uncle's moved into a new location as a full-service pizzeria specializing in craft pizza and an expansive menu of entrées and starters. Patrons can watch hand-tossed pizza favorites like Spinach Bianca (white pie made with mushrooms, baby spinach, pecorino & roasted garlic), and the Pancetta with gorgonzola, caramelized balsamic onions and fresh rosemary made in its open kitchen. Uncle's also features house-made pastas, sausage, mozzarella and desserts. Son Garrett even took top prize at the World Pizza Games in 2013 for Largest Dough Stretch!  
Onlywood Pizzeria Trattoria
613 ½ Duval St. Key West, Florida 33040 (305) 735-4412
www.onlywoodkw.com
This intimate, wood-fired pizzeria has sparked national attention from the likes of The New York Times. Co-owner Alessandro Piazzo studied under Roberto Caporuscio, owner of Keste in New York and president of the Associazione Vera Pizza Napoletana. Piazzo and co-owner Davide Cremascoli have brought authentic Italian and specialty wood-fired pizzas, as well as pasta, entrées, salads and antipasti to The Keys. The 4 Maiali features San Marzano tomato sauce, fresh mozzarella, salami, prosciutto di Parma, ham, Italian sausage and basil ($18.50). A tribute to Caporuscio, the Keste is topped with San Marzano tomato sauce, fresh mozzarella, prosciutto di Parma, arugula and shaved Parmesan ($18.50). True to its surroundings the pizzeria offers a breathtakingly beautiful outdoor patio.