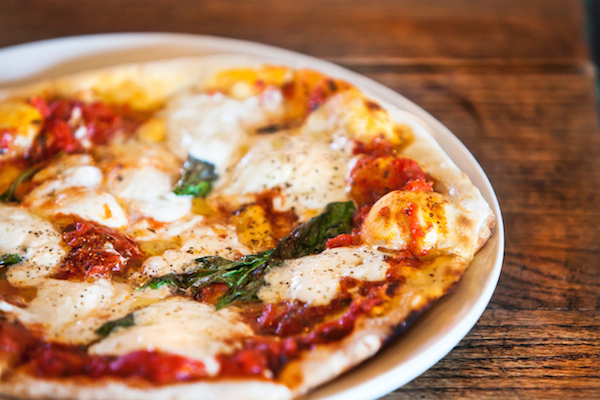 Katie's Pizza & Pasta
9568 Manchester Rd.
Rock Hill, Missouri 63119
(314) 942-6555
katiespizzaandpasta.com
Katie's showcases its uniqueness in expertly crafted videos, including how-to guides with owner Katie Lee. The wood-fired pizzeria makes much of its menu from scatch, including dough, sauces, dressings and artisan pastas of varying shapes and colors. The restaurant has an Italian flair, from its menu to Italian films shown on a screen behind the bar. Its menu is small but focused ––  the Cured Meats with San Marzano features a red sauce, speck, coppa, sopressata, fresh chili pepper, fresh mozzarella and fresh arugula ($18). The Pear pizza is topped with EVOO, prosciutto and fontina ($16). Its menu also features game meat. The Pappardelle pasta has a wild boar ragù and lemon gremolata ($17).
East Side Pies
1401 Rosewood Ave.
Austin, Texas 78702
(512) 524-0933
eastsidepies.com
With three locations, East Side is known for its crispy, super thin crust and out-of-the-ordinary pizza toppings like smoked salmon, Lil' sausages and sauerkraut spinach. One of its five pizza sauces is a black bean sauce featured on specialty pies like The Nacho with black beans, chicken, red onions, cherry tomatoes and jalapeños. More than 30 creative pies dominate the menu, accompanied by garlic knots and salads. The pizza company also sells three choices of East Side Pockets, which are filled with ricotta, Romano, mozzarella and parsley. One pocket includes Jerk chicken and green chilies.
Rocco's Wood Fired Pizza
5433 Transit Rd.
Clarence, New York 14221
(716) 247-5272
roccoswoodfiredpizza.com
Rocco's prides itself as an authentic "Old-World" pizzeria with a modern twist. The space is narrow but deep with a beautifully crafted-server station featuring chalk board menus separating the main dining area from the bar. Its brick lined wood-burning oven and open make line are highlighted features of the dining area. Its pizza menu offers the Loaded with meatballs, sausage, sweet and hot peppers, ricotta and mozzarella. The Broccoli Rabe is partnered with sausage, olive oil and hot roasted banana peppers.
4th St. Pizza Company
150 E. Santa Clara St.
San Jose, California 95113
(408) 286-7500
4thstpizzaco.com
This downtown San Jose pizzeria and sports bar is a destination for sports fans with 35 TVs located around the restaurant. The pizzeria reposts fun patron photos across social media. With daily specials, 4th St. entices customers for $2 Tuesdays offering slices, beer, wine and salads for $2 each. Wings go beyond buffalo style, offering Tequila lime, honey BBQ and chipotle. Its pizza menu has 15 pies from meaty to veggie. The Creamy Garlic Chicken has a creamy garlic white sauce and is topped with mesquite grilled chicken breast, red onions, green and red bell peppers and Parmesan.