Denver Deep Dish
819 Colorado Blvd.
Denver, Colorado
(720) 515-9090
denverdeepdish.com
In December, the three-year-old Chicago-style pizza company opened its second location in the Mile High City. The famous Chicago-style hot dog appears on its expansive menu. True to tradition, the hot dog features a steamed poppy seed bun topped with mustard, neon green relish, onion, tomato, pickle spear, sport peppers and celery salt ($4). Specializing with deep dish and Chicago thin, the pizzeria has 15 signature pies and a build-your-own option. There is the smoked bacon, goat cheese and red onion. The "505" is topped with green chiles, chicken, onions, cheese blend and Schlereth's Pork Green Chile Sauce. Its menu also features grinders, like the Italian Sausage with Peppers & Onions (local Polidori Sausage with sautéed peppers & onions smothered with our house-made pizza sauce, mozzarella  and topped with Italian seasoning).
---
Pizzeria Ortica
650 Anton Blvd.
Costa Mesa, California
(714) 445-4900
pizzeriaortica.com
The chic and sophisticated Pizzeria Ortica is a date-night destination in Orange County. Its menu features Pork Belly Butter with greens, grilled rustic bread and lemon ($13). Classic Neapolitan pizzas are accompanied by specialty pies like the Rapini with house-made fennel sausage, San Marzano tomatoes, mozzarella, rapini, chiles and a fried egg ($20). The Pancetta features house-cured pork belly, mozzarella, caramelized onion, garlic, black pepper and fresh basil ($18). Ortica is also known for its craft cocktails, like the Ortica Hemingway with white rum, grapefruit liqueur, lime and grapefruit peel ($13).
---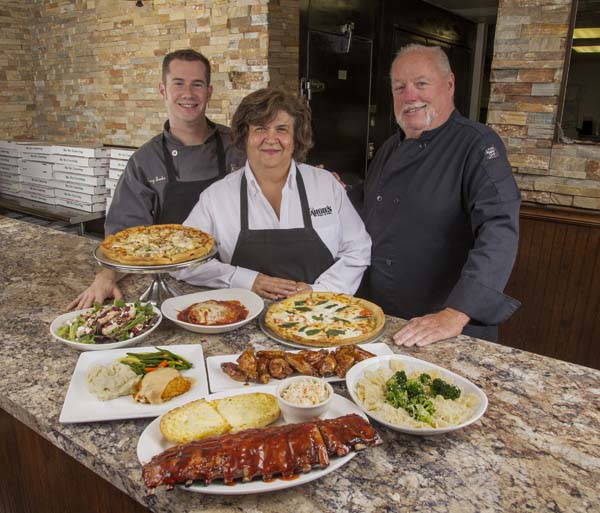 Augie's Pizza & Ribs
14084 State Road
Cleveland, Ohio 44133
(440) 237-2080
augiescatering.com
Cleveland's 50-year-old pizza company has found new ways to stand out in its community with its fresh remodels and influx of a third generation of leadership.  With three locations in the Cleveland area, Augie's has expanded its menu while staying true to its award-winning pizza and ribs. It offers takeout and delivery specials like the Belly Check Special, which includes a large one-item pizza, a full slab of ribs, 12 wings and a liter of soda for $36.95. Augie's has a thriving catering business to area companies and even locker rooms.