Millie's Old World Meatballs & Pizza
60 South Street
Morristown, New Jersey 07960
(973) 267-4992
milliesoldworld.com
With meatballs in its name, this family-style restaurant is famous for its fried meatballs served with a bowl of ricotta and marinara sauce. Its open kitchen features side-by-side, coal- and wood-fired  "dueling ovens." Chef Peter Martinez meticulously creates distinctive combinations specifically for each oven. The Mashed Potato Pie with mozzarella, Pecorino Romano, Applewood bacon and sour cream goes coal. But the Spicy Marinara or Pepperoni & Olive goes into the wood-burning oven. The Neapolitan wood-fired menu also features the Pistachio Pesto Pie with a fresh pistachio pesto, Italian sausage, mozzarella, basil, Parmigiano Reggiano and EVOO.
---
Apart Pizza Company
2205 W. Montrose Avenue
Chicago, Illinois 60618
(773) 588-1550
apartpizzacompany.com
This thin-crust pizza company sports two locations in North Chicago. It's Apart Arts program is committed to supporting local arts and hosting arts events. Its pizza menu boasts more than 30 pies from classic Italian and specialty to scramble egg-based combinations. The Contadina is topped with free-range Amish eggs, fresh champignons and stuffed with ham and bacon. The popular Quattro Formaggi features Brie, goat, Parmesan and bleu cheeses.
---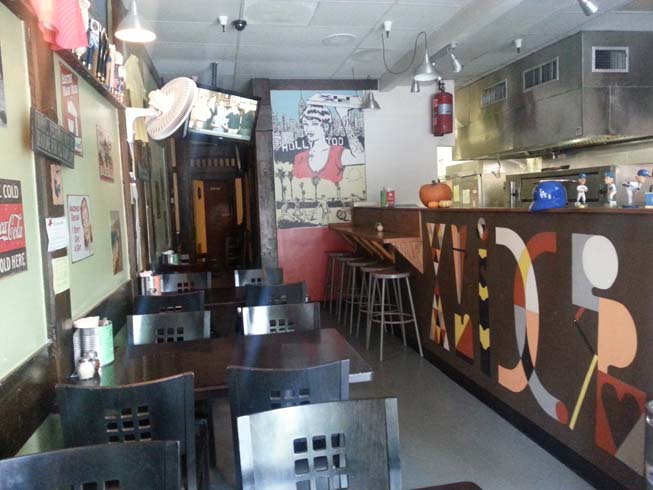 Xlixe Pizzeria
432 E. 2nd Street
Los Angeles, California 90012
(213) 620-0513
xlixe.com
Xlixe is a New York-style pizzeria in downtown L.A.'s Little Tokyo district. Owners Venessa Baek and Susan Helton have incorporated pizza toppings reflective of their Korean and Brazilian backgrounds, like the marinated ribeye, spicy pork belly and marinated oxtail. The Furious Pig is topped with the spicy pork belly, onions, tomato sauce and mozzarella ($15 for a 12-inch). The Matador is topped with the oxtail, tomato sauce, mozzarella, roasted red peppers and jalapeño ($16 for a 12-inch). The pizzeria has a highly lauded a craft beer program. Xlixe's owners personally curate its beer list, which consists of nine rotating taps and 11 beers by the bottle or can.