Roman-style
pizza is a winner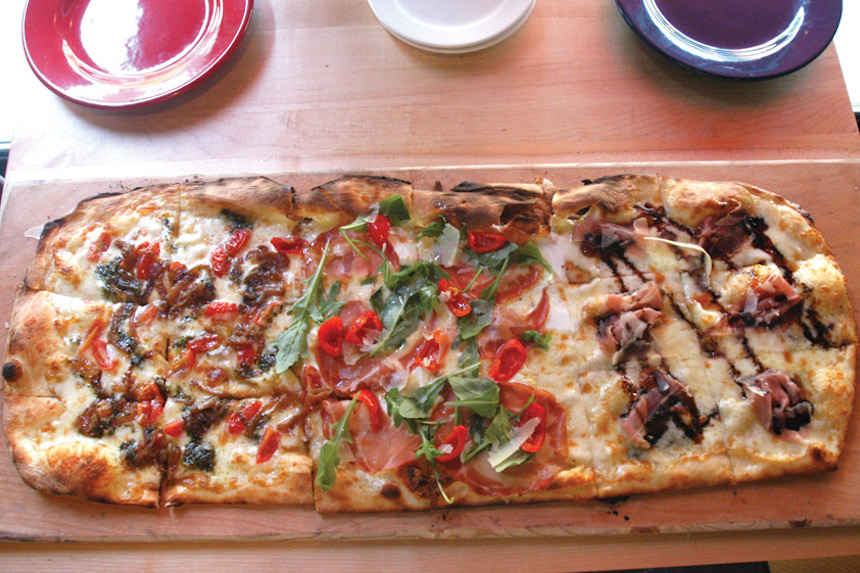 Italy and the United States really aren't that different. Citizens of both love to bicker about whose city has the best pizza. In the U.S., it's New York, which has had a continuous pizza style since the early 1900s, and Chicago, with a version that came about midway through the century. We see almost the same exact pattern in Italy with Naples and Rome.
According to early 20th century Neapolitan journalist Matilde Serao, the first Roman pizzeria closed shortly after it opened in 1905. Apparently pizza was so fundamentally tied to Naples, just 140 miles to the southeast, that it was unable to survive beyond its natural habitat. It wasn't until after the Second World War that Rome developed an affinity for the dish, albeit in a completely different format than its Neapolitan precursor.
Kenny Dunn, of Eating Italy Food Tours, says the spark happened when Italy began importing high protein flour from the U.S. in the late 1940s. "Flour was expensive, so the pizza makers developed a style that required less," says Dunn. Here Dunn is referring to pizza tonda, one of the two dominant styles found in Rome. Pizza tonda, literally "round pizza," is usually eaten for dinner. The dough is opened by hand and finished with a rolling pin. Unlike its Neapolitan cousin, pizza tonda is baked in moderately heated (around 700 F) wood-fired oven and emerges with a thin, crispy crust. The diner either eats with a fork and knife or cuts the pizza into slices to be eaten with the hands. Unlike Neapolitan, the thin, snappy crust, called scrocchiarella, doesn't sag when held with the hand.
The other style found in Rome is called pizza al taglio (literally "cut pizza"). This is a thick, rectangular pizza that's commonly served for lunch. As the name implies, this style is served by the slice. Pizzas are often baked in electric ovens, producing a crust that is light and airy on top while crunchy on the bottom. Customers choose from a display of pre-baked options, each of which is dressed with elegant topping combinations. Price is often determined by weight in Italian pizzerias, but clocks in at around $4.50 per slice in American shops.
Although pizza tonda is what most Romans picture when they think of pizza, the al taglio variety has gained more ground in America. Megamarkets like Eataly, Whole Foods, and even New York's Grand Central Terminal recognize the format's advantages as a high-end slice alternative. Of the newly-opened location in Downtown Manhattan, Eataly partner Alex Saper says "[Roman pizza] is one of our most popular items." It's the perfect snack or light meal for people who want a quick lunch on the go. He credits pizza al taglio's popularity to the format's ability to support a variety of fresh ingredients.
Master baker Peter Reinhart agrees, pointing out that more weighty toppings are possible because of the sturdiness and stability of the base. "It's all about the crust," says Reinhart, author of American Pie: My Search for the Perfect Slice.
But there's a split vote among Roman bakeries regarding thickness of the base. Most older shops make a thin pizza al taglio while the new wave, which began in the 1990s with bread-focused pioneers like Angelo Lezzi and Marco De Marco, have pushed the pizza's crust to prominence. Rome-based food critic and blogger Luciana Squadrilli says, "Pizza al taglio has changed mostly after Gabriele Bonci, with a higher attention to dough and toppings." Shortly after he opened his tiny slice shop near the Vatican in 2003, Bonci gained renown because of his focus on high hydration and long fermentation.
Maggie Granato and her family initially offered typical New York-style pizza when they opened their Hell's Kitchen pizzeria in 2010 — but they switched to a thin al taglio style within weeks to differentiate themselves from the droves of identical pizzerias in the area. Without making any changes to the dough formula, Merilu Pizza al Metro simply modified its stretching technique to achieve a thin, dense base. Granato finds the style liberating because there's more flexibility when the customer doesn't have strict expectations like they do with New York style. "They're more open to experimentation," she says.
However delicious Roman pizza may be, there's still a question as to whether or not the American market is ready for it. Award-winning pizzaiolo Giulio Adriani fears that Roman pizza may be too confusing for some diners. He thinks Bonci's style "could be confused with Sicilian pizza," he suggests, referencing the similar slice shape. There's also a higher price point with pizza al taglio, usually about 25 percent beyond the standard New York slice. Consumers might balk at paying more for a single slice, even though the value justifies the cost. The Roman practice of paying by weight is another piece of the puzzle that's unlikely to translate to the American audience. "People like to know exactly what they're buying and how much it costs," says Adriani.
Pizza al taglio is working just fine for Giuseppe Manca, executive chef for Prova Pizzabar in NYC's Grand Central Terminal. His location in the corner of an extremely busy station means tons of foot traffic, a real necessity for any by-the-slice operation. Commuters and travelers are drawn to the upscale nature of the pizza, seeing it as an alternative to a food whose more familiar versions they think of as unhealthy. Roman pizza, particularly the pizza al taglio variety, represents a viable format that combines the convenience of by-the-slice pizza with the high-end ingredients we've come to expect from Neapolitan.
Scott Wiener is the founder of Scott's Pizza Tours in New York City and SliceOutHunger.org.