Providence, Rhode Island packs a punch when it comes to great pizza
Federal Hill
Brick Oven
Pizza
From publishing a magazine to selling cigars, Billy Manzo has had an interesting and evolving career. He even worked in banking and film production. But when the culinary bug bit him, the ensuing fever flamed into full-blown passion. His pizzeria in Warren, Rhode Island, created a loyal following. And now he's expanded Federal Hill Brick Oven Pizza to Providence, home of some of the best Italian eateries and pizza houses in the nation.
Located in a renovated historic movie theater in Providence, Manzo's new showpiece offers a bar, a breakfast/espresso shop and various styles of pizza. It's the dough that Manzo is most passionate about.
"There's a little nuttiness, a little earthiness," he says. "It's soft. You're gonna pick up on the acidity and the cheese, but what you have in the back after you chew and swallow is a lightness. You'll end up tasting the nuttiness after. It's not what you're tasting, in actuality. It's what you're not tasting! What you're not tasting is a classic bread flour. You know, 10- to 12-percent protein, bleached and bromated. That's what you're not tasting. You're not tasting bread. That's the significant difference. That's the chemistry behind what I do. It's what I like. It's the fun part of it."
Manzo says he didn't plan on paying the bills with pizza.
"I had no intentions of getting into this industry," he says. "Culinary was a hobby. But because of my personality … if you have a hobby you look into the best, right? If you get into fishing, you start to want to look into the best lures. Well, the more I got into it the more I wanted to experiment and learn and perfect the dough.
"I took a couple of classes at Johnson & Wales for the chemistry part. That turned out to be kind of a confirmation for what I thought I did and didn't already know. Next thing you know, it just exploded in a good way and everyone started saying, 'Who's this guy and where he'd come from?'"
Now that he's made his name in pizza with Federal Hill and has obtained a Master's Certificate, Manzo says the next step is to open a pizza school that's dedicated to training others. He's lined up sponsors and hopes to begin taking students soon.
"There's a responsibility to educate and grow this industry I love," he says.
As for Providence itself, Manzo says it's a top-tier pizza town.
"Look around," he says. "There's great pizza and Italian food everywhere."
Timmy's
Legendary 
Grilled Pizza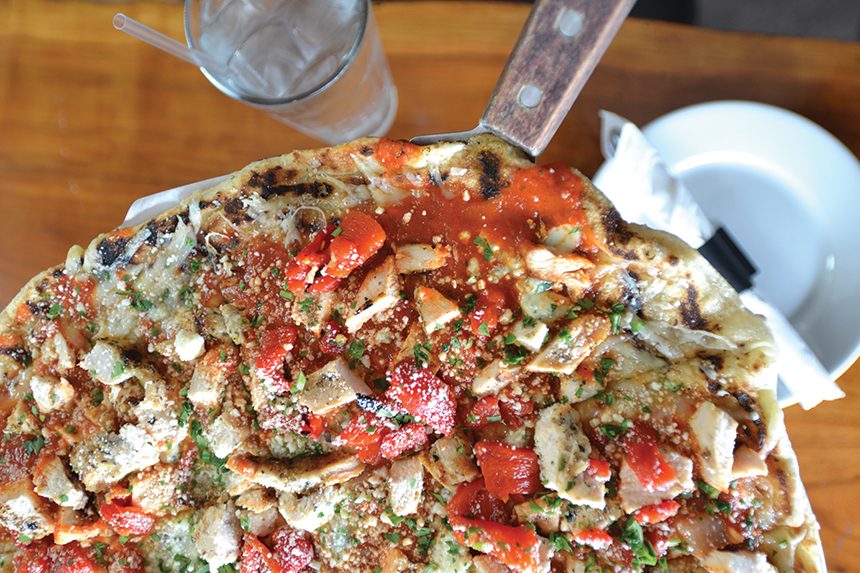 After spending a few hours with Billy Manzo at Federal Hill Brick Oven Pizza, we decided to take his advice and look around Providence. And, boy, was he right. This little city is packed with great pizza!
Timmy's Legendary Grilled Pizza follows a Providence tradition (more on that later) by preparing its pies in a most unique way — on the grill.
The grilled pizza was lighter than most pizzas we experience. The crust had a great crunch and just the right amount of char. We selected a pie that was bursting with fresh, vibrant ingredients.
The menu at Timmy's goes beyond pizza by offering staples such as wings, calamari, garlic bread, bruschetta, meatballs, soup, salads, subs and an array of pasta dishes.
The pizza we sampled, pictured to the left, featured grilled chicken, roasted red peppers, Parmesan and Gorgonzola.
While Timmy's may not have invented grilled pizza, we'd say this place is certainly on the map when it comes to the short list of players who do it right.
Al Forno
Remember the Wizard of Oz? Remember when you watched the movie as a small child and you couldn't wait to see the great and powerful Oz in all his glory? And then the camera gave you a peek behind the curtain and you were disappointed to discover that Oz was a mere mortal?
Well, behind this door in Providence is a place more magical and transcendant than anything in the Land of Oz. The Boston Globe has called Al Forno "Providence's most influential restaurant." And that's not hyperbole. Far from being a typical pizza shop, Al Forno is a dining destination that is fueled by creative spirit and progressive artisan food. Wood-fired entrées and grilled pizzas tantalize tastebuds and generate buzz from culinary geeks and foodies across the globe.
When you finally take your family on that fall vacation in New England that you've always thought about, make sure a trip to Al Forno is in the plans. You'll find plenty of inspiration as well as a few ideas you'll want to work onto your menu. Al Forno is a magical place.
Caserta Pizza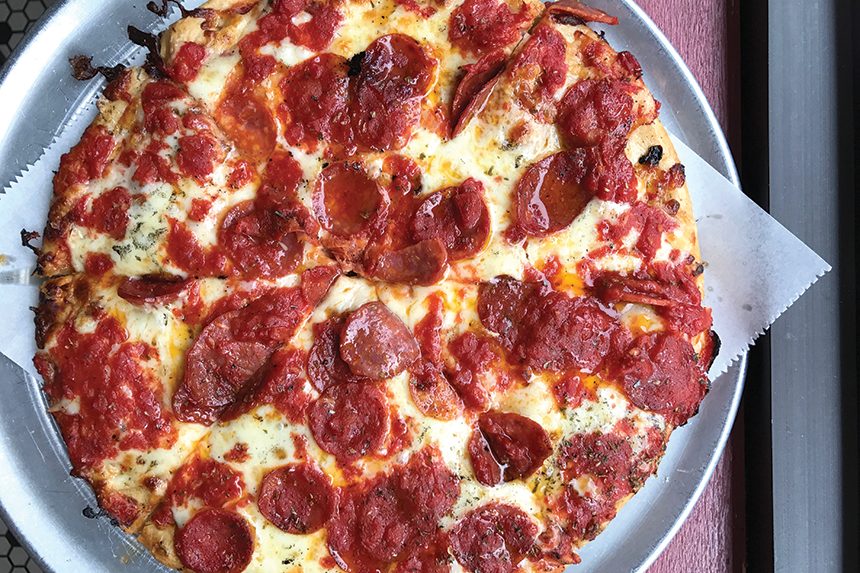 You haven't seen old school until you've seen Caserta Pizzeria. This place is no frills. But there's such beauty — not to mention deliciousness — in the simplicity here.
What the place lacks in ambiance, it certainly makes up for in taste. We're talking thick, cheesy, oily deliciousness that takes you back to the pizza you grew up on in the '70s and '80s. Or, in the case of many Caserta fans, the '50s.
The shop opened in 1953 and its legions of fans remain ever growing.
The pies here are baked in rectangular or circular pans (depending on the size) and loaded with cheese and toppings. It's the kind of pizza you crave on a Friday night — and that you'll want again for breakfast the next morning.
Caserta prides itself on the "Wimpy Skippy," which is a spinach pie stuffed with mozzarella, pepperoni and black olives. But we stuck to our guns on our visit and went with a smaller round pepperoni. When you're in a classic pizzeria you sometimes want a classic throwback of a pizza.
This will remain one of the more memorable pies we've had for a long, long time.
Tommy's Pizza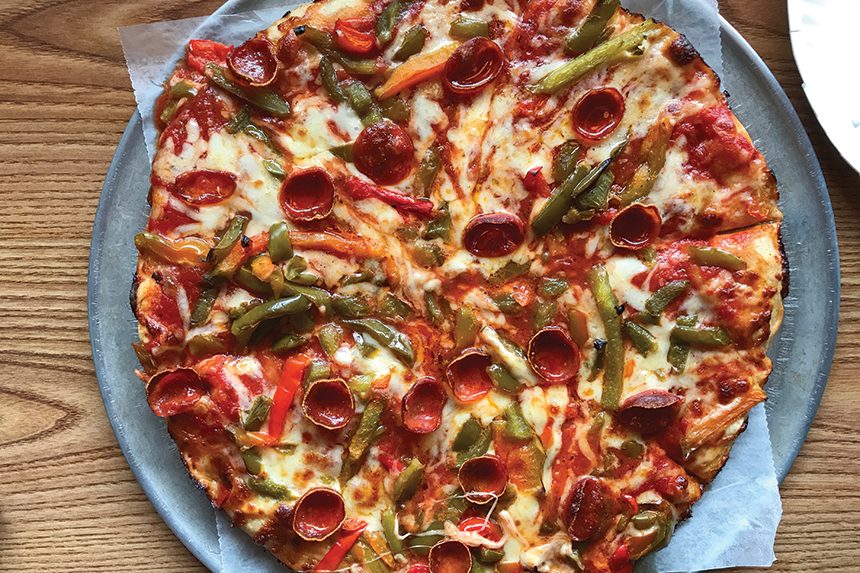 Much like Caserta, Tommy's represents another old-school New England throwback. It's one of those "hole-in-the-wall" type places that you can't skip because the pizza is just so darn good.
We had a pizza topped with pepperoni (look at the beautiful cupping in this pic!) and a variety of roasted peppers. It was just the perfect amount of savory with a hint of sweetness. The sauce was vibrant and the creaminess of the cheese really stood out.
When we think of traditional American-style pizza, this is what we think of. Whole generations of Americans grew up on pizza just like this, and the world is a better place for it!
With the new wave of Neo-Neapolitan, Detroit-style pizza and fast-casual pies taking center stage on today's landscape, places like Tommy's serve to remind us that blue-collar pizza will never go away. A classic is a classic for a reason. Newcomers be warned: traditional pies are here to stay!
Providence
Coal Fired
Pizza
You can't qualify as a classic American pizza city if you don't have coal-fired pizza, can you?
This downtown eatery takes a more modern approach than other Providence pizzerias. But the firing method remains tried and true. The scratch-made dishes range from pizza to a wide array of starters, salads, desserts and coffee.
We were smitten with the meatballs and the baked goat cheese appetizers, but the coal-fired pizza was the clear star of the show. While we opted for a basic pepperoni and jalapeño, the variety of specialty pies on the menu would please just about any palate.
---