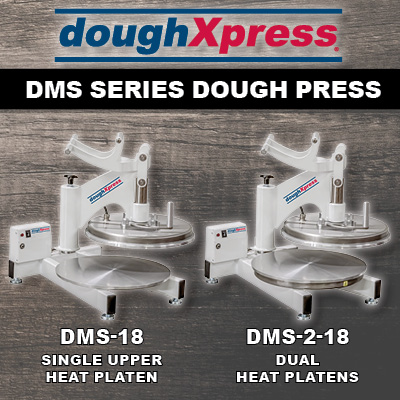 The DMS series dough presses are perfect for low to medium production volumes (75-100/hr.). Simple to operate, first press dough, then finish by stretching or tossing to achieve final size, place on peel, top, and put right on the hearth or stone surface. It is a fast, safe, simple, mess free (no flour needed) compared to the alternative of hand tossing or sheeting/rolling your dough. These dough presses are an easy, affordable way to improve your production time, as well as your finished product.
The manual swing away design is easy to load and unload dough from the press. The DMS-18 features a single heated upper platen. The DMS-2-18 is a dual-heat dough press. These versatile presses can be used for pressing either pizza or tortilla dough. For best results, we recommend initial grill off of tortillas on dual-heated press and finish on a doughXpress® Tortilla Warmer.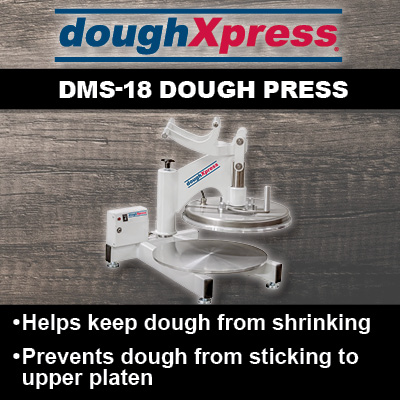 The heated platens aid in dough flow, pressing sticky dough, and helps activate yeast for faster proofing if desired. The single heat on the DMS-18 helps keep the dough from shrinking and prevents it from sticking. The dual heat, DMS-2-18, speeds up production, enables pressing thinker products, and is capable of par-bake pizza crusts. Speeding up production and improving your finished product. Pressed dough keeps air in the crust vs. sheeted dough where the air is forced out of the crust.
The variable thickness control makes it possible to achieve the desired thickness and ensures a consistent product at the same time. Pressed dough is consistent in thickness and size vs. hand tossed where the thickness and size can be inconsistent. The DMS Series is capable of flattening dough balls into pizzas up to 18" in diameter.
doughXpress® is a leading manufacturer of Food Processing Equipment for the food service industry and restaurants. doughXpress® has earned a reputation as a high-quality, top-performing line of dough presses for pizza and tortilla dough production and continue to offer new solutions from dough sheeters, mixers, dough dividers & rounders, toasters, bread slicers, grills, ovens and more! Check out our full line of products on our website and download our product catalog.
Our products are top-of-the-line but are also priced for value in today's market. doughXpress® equipment is used around the world in pizzerias, convenient stores, club stores, sports complexes, Mexican restaurants, theaters, supermarkets, commissaries, food festivals and fairs, and family restaurants.
doughXpress®, a division of HIX® Corporation, located in Pittsburg, KS has been manufacturing the highest quality restaurant equipment for kitchens all over the world since 2002. Call us at 800-835-0606 or contact us sales@doughxpress.com Check out our full product line on our website doughxpress.com or look for us at the International Pizza Expo.
*Interchangeable lower platens coming soon.