The industry leader in pizza doughs and crusts, Rich Products adds another trend-forward option to its expansive menu for restaurant operators: the Gluten-Free Parbaked Detroit Style Pizza Crust.  This new 9"x7" premium personal-sized crust satisfies the growing consumer demands for gluten-free and Detroit style pizzas. Like other parbaked pizza crusts from Rich's, the Gluten Free Detroit Style Crust offers operators the flexibility and ease of a freezer-to-oven format that bakes up reliably and consistently every time with minimal skill required.
Detroit style pizza, ranked the 4th most popular menu item on Grub Hub's Dining Trends in 2021, turns the pizza eating experience upside down. The thick crust is first loaded with toppings, then a layer of cheese, with the sauce added last. The result is a unique pie that bakes up with perfectly crispy, caramelized cheese around the edges. Detroit pizza is designed to offer a crusty edge for convenient eating. Parbaked and ready to top, Rich's Gluten Free Detroit Style Pizza Crust satisfies customers looking for a gluten-free, flavorful option with a crisp outside bite and airy center. Operators can top this versatile, personal-sized crust in a variety of custom ways.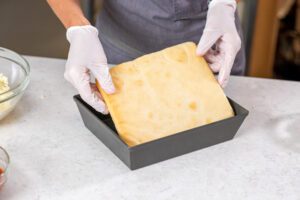 "Rich's truly has a pizza crust option for every consumer at the table," says Alyssa Barrett, customer marketing manager, Rich Products. "The new Gluten Free Parbaked Detroit Style Pizza Crust is the ideal solution for Pizza Shops, QSRs, and fast casual restaurants. It's a delicious crust that's not only labor-friendly, but also uniquely meets the exploding demand for this regional pizza style and the growing requests for gluten-free alternatives."
Three out of four consumers consider gluten-free products beneficial for everyone, not just those with a gluten allergy, intolerance, or sensitivity.1 Certified Gluten Free, the great-tasting Rich's Detroit Style Pizza Crust sets itself apart with its soft inside texture and crispy outside. It's rated "Superior Clean Label," with no artificial colors, flavors or sweeteners, no high fructose corn syrup, and no hydrogenated oils. It omits more than 70 sensitive ingredients such as bleached flour, MSG and added sulfites. The crusts are each 9 ounces, and come 20 per case, with a shelf life of 240 days frozen or 7 days refrigerated. Simply remove from the freezer, top, bake, and serve.
Through acquisitions and line expansions, Rich's offers a wide, varied portfolio of high quality crusts in classic and trending formats that can meet every operator's needs.
For over 40 years, Rich's has developed innovative pizza solutions that deliciously balance the demands of consumers with the needs of operators. The company offers the most diverse and flexible portfolio, from frozen dough to crusts and fully topped pizzas. Operators can learn more about by visiting RichsUSA.com/pizza.
MEET RICH'S FOODSERVICE.
Rich's is a family-owned food company built around the belief that inspiration can transform a business. We're invested in your long-term success, helping you win today — and plan for tomorrow. Our commitment to developing foodservice solutions shines through in the quality, versatility, value, safety and convenience in our ever-evolving catalog of product offerings. Operating in over 100 countries, our customers trust us to supply the finest toppings and icings, pizza and flatbreads, cookies and cakes, breads and rolls, sweet goods, BBQ, meatballs, appetizers and snacks, as well as gluten-free and plant-based products. Beyond our innovative products, a partnership with Rich's provides a solution-based approach — fueled by our industry-unique culinary team of CIA-trained chefs, and the insight and experience that comes with 75 years of success. Rich's® — Infinite Possibilities. One Family. Learn more at Richsfoodservice.com.
1 Mintel's "Gluten Free Foods" Report