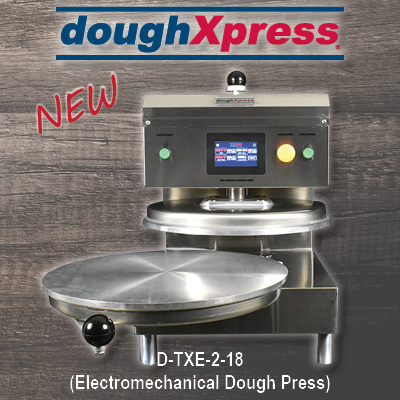 Our dough/pizza presses now feature new full color LCD touch screen controllers. Easily control the temperature and time with this new digital controller. Individually controlled temperature on dual heat machines. Cycle counter and up to 4 user presets are available. With the all-new LCD touchscreen, it is easier than ever to operate! Check out our website flyer for more information on which models feature this new controller.
Shown is the new DM-18, our manual clamshell dough press. It is an economic manual pizza dough press that is perfect for low to medium production volumes (75-100/hr). It is a fast, safe, simple, mess-free (no flour needed) alternative to hand tossing or sheeting/rolling your pizza dough. An all-new LCD touch screen makes the DM-18 easier than ever to use.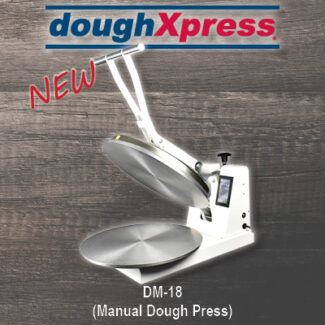 Also shown here is one of our redesigned D-TXE-2-18 commercial dual-heat dough press. We've made operation easier by moving all the controls to the front of this redesigned housing. The controller allows for the use of dual heat, upper heat only or no heat, making it the perfect choice for all types of products. This electric model lowers operator fatigue and is simple to use.
doughXpress® is a leading manufacturer of Food Processing Equipment for the food service industry and restaurants. doughXpress® has earned a reputation as a high-quality, top-performing line of dough presses for pizza and tortilla dough production and continue to offer new solutions from dough sheeters, mixers, dough dividers & rounders, toasters, bread slicers, grills, ovens and more! Check out our full line of products on our website and download our product catalog.
Our products are top-of-the-line but are also priced for value in today's market. doughXpress® equipment is used around the world in pizzerias, convenient stores, club stores, sports complexes, Mexican restaurants, theaters, supermarkets, commissaries, food festivals and fairs, and family restaurants.
doughXpress®, a division of HIX® Corporation, located in Pittsburg, KS has been manufacturing the highest quality restaurant equipment for kitchens all over the world since 2002. Call us at 800-835-0606 or contact us sales@doughxpress.com Check out our full product line on our website doughxpress.com. Look for us at Pizza Expo March 22-24, 2022 Booth #2578.