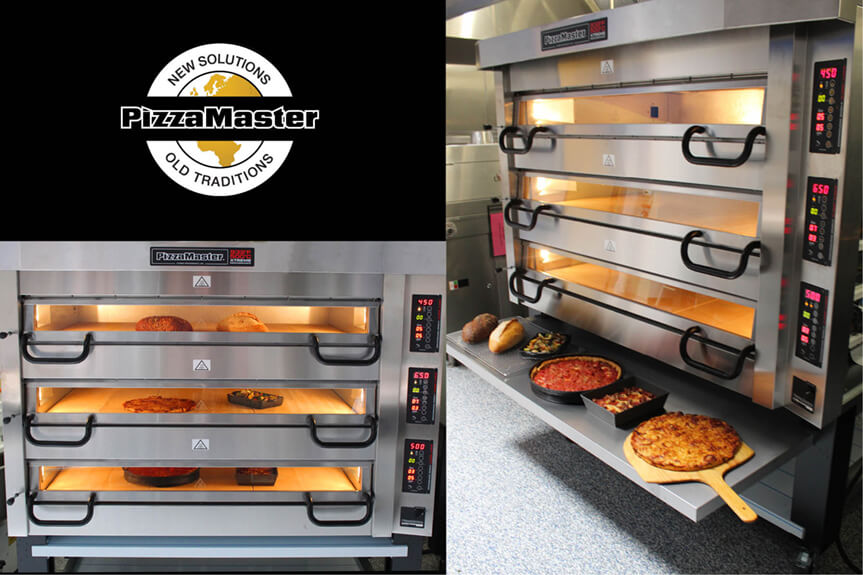 One of the many reasons PizzaMaster ® electric deck and countertop ovens are a key ingredient to making better pizzas is their exceptional versatility. Unique design attributes of PizzaMaster ovens allow chefs to put out a consistent, high quality product every time. For example, the extra high temp feature, allowing the oven to reach up to 932°F/500°C and mimic wood-fired capabilities, comes on all deck ovens as standard. This vast temperature range means you can bake any style pizza from any region – Sicilian, Detroit, New York, Chicago, and more – from the longer cook time of a pan pizza to a quicker Neapolitan-style pie.
The exceptional versatility also comes from the ability to control the intensity of the top and bottom heating elements individually, letting you set the optimal ratio for a precision bake every time. There are even custom options available, such as steam injection decks designed to bake anything from breads to protein and vegetables! In addition, PizzaMaster ovens are built with special clay ceramic hearthstones with a rough surface to provide superior heat transfer while inducing a small airflow underneath the pizza to create optimum strength and porosity.
We'd be remiss if we didn't mention the versatility of our wide range of varieties and configurations, meaning there's a PizzaMaster oven for every need. In fact, we offer the largest electric deck oven range in the world. With 80 different sizes and over 1,000 possible combinations, there is model to fit any footprint and every need. This allows you to exceed your current capacity in a smaller footprint.
PizzaMaster ovens are engineered for the versatility that enables you to deliver professional results in every situation where convenience is essential and quality is paramount. Download our free ebook to learn more.
Brian Spangler, Pizzaiolo and owner of Apizza Scholls (Seattle, WA), consistently one of the top-rated pizza restaurants in the country, enjoys the versatility of a PizzaMaster oven. In a recent interview, he said, "Buying the PizzaMaster oven was easily one of the best decisions I've ever made." Click here to watch the video.
If that's not enough proof, we invite you to find out for yourself. Contact MPM Food Equipment Group, the Exclusive U.S. Distributor of PizzaMaster ovens, by email (info@mpmfeg.com) or phone (800-976-6762), or ask your food equipment dealer to contact us today to set up a free test demo, and you'll see the exceptional versatility of the PizzaMaster in action. We have found that most proud PizzaMaster owners see a remarkable return on investment in short period of time. Let us walk through the numbers with you to see how quickly you could start seeing the payback on your own PizzaMaster oven.
And be sure to check out our news channel for the latest news and exciting updates about PizzaMaster ovens!