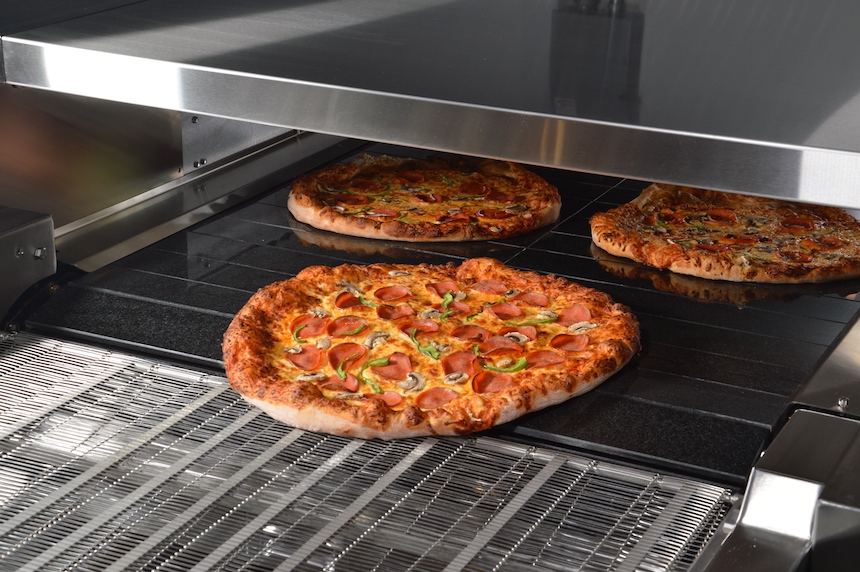 Drummondville, March 28, 2019 – In the restaurant industry, recruiting new cooks is a difficult task. It's a buyer's market for back-of-house employees at the moment. Addressing these labour shortages was the focus of the development of the Hot Rocks oven.
Picard Ovens, in business for over 60 years with customers such as Giordano's and Rosati's, has developed a new type of oven – a STONE conveyor called Hot Rocks. This new technology focuses on solving labor shortages and increasing revenues. In 2018, Hot Rocks ovens recorded 365% growth, attracting leading pizza chains such as:
– Mellow Mushroom who baked a quality pie but unable to keep up with demand
– Home Run Inn who baked with a wire mesh conveyor and wanted to go back to their roots of quality stone cooking.
We are all aware that conveyor ovens move pizza fast, allowing for high volumes and that they are easy to operate requiring less skilled labor. Workers who were designated to keep track of baking and spinning pizzas can now be assigned to making pizzas to increase output.
What makes the Hot Rocks stand out from other conveyor ovens is its granite cooking surface giving the pie an authentic stone cooked taste.
When faced with labour shortages, this stone conveyor oven is the best solution to consider, especially if you are cooking with stone and are looking to increase revenues.
About Hot Rocks Pizza Ovens
Hot Rocks is a spin-off of Picard Ovens that is exclusively dedicated to the Pizza Industry. With over 60 years of experience in the baking industry, we manufacture high quality ovens in North America and offer the best service in the industry. Innovation is key to our success and we specialize in improving the pizza restaurant operations. The Hot Rocks oven is the result of many years of Research and Development combined with concrete customer insight to redesign the conventional pizza oven that is now revolutionizing the pizza oven industry.