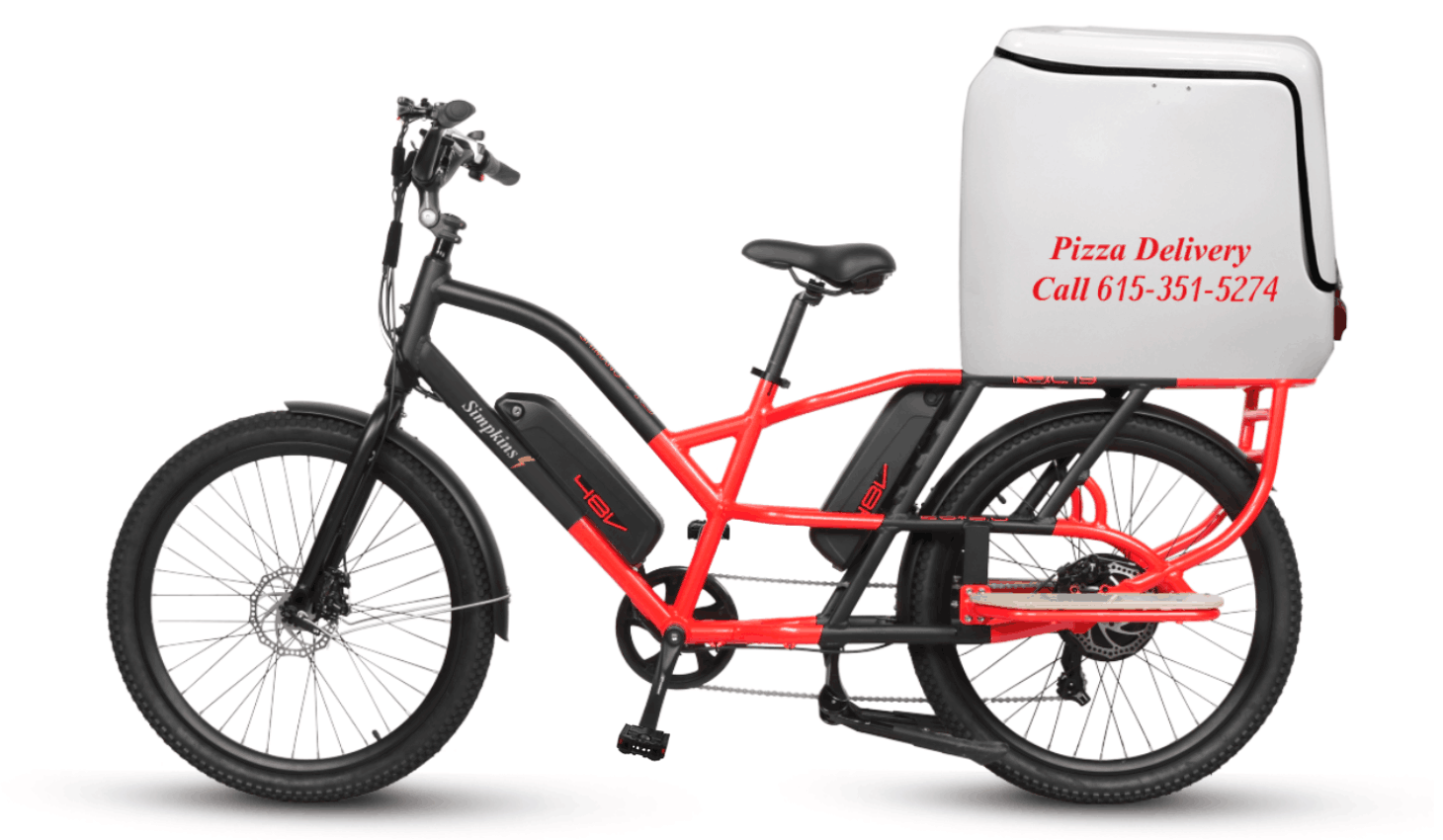 Kent Simpkins is announcing his company's solution for the growing Pizza Delivery business. Simpkins E- Bikes, Inc. at 615-351-5274, email address: Kent@simpkinsebikes.com
Website: simpkinsebikes.com. See the complete line of electric bikes.
The pizza delivery bike has a transport insulated box mounted on the back that can carry up to ten 18″ X 18″ X 2″ large pizza boxes. The bike allows drivers to move through traffic faster, safer, and makes parking very easy. The productivity is enhanced, especially in high density areas like college campuses, gated communities, and congested downtown cities. Simpkins says, his research shows that his pizza delivery bike can increase driver productivity by 40%. The national data from Statista .com/statistics/277311, shows the average driver's tips are approximately $8,596 per year. At a 40% increase of productivity, tips would be an additional $3,438 for a total of $12,034 per year. Simpkins says if you look at future trends the entire food industry is moving towards delivery and carryout. Pizza Hut announced last week they are closing 400 stores in the US and converting them to carry out and delivery.
The bike comes with a powerful 750 Watt, 48Volt, electric motor, that is quiet and zero emissions. Speed is 20 MPH and range is 45 miles. The bike has pedal assist, and with the flip of a switch, it converts to a seven speed bike. It has a GPS mounted on the handlebars for ease of navigation without using a smart phone. Along with the thermal insulated box that locks, it also has room for saddle bags on the sides.
Simpkins E- Bikes, Inc. has a booth # 2819 at this year's International Pizza Expo. and plans to introduce a new delivery system that is Solar powered. The day for sustainable transportation is here.
Call Simpkins E-Bikes, Inc. @ 615-351-5274 or email: Kent@simpkinsebikes.com  for price and delivery. Start saving now on delivery cost and zero emissions.