LloydPans' demonstrates revolutionary rectangular pizza pan solution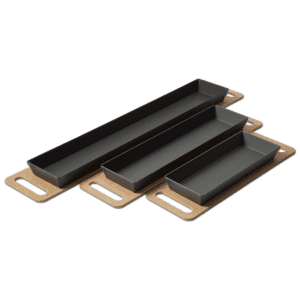 At LloydPans, we have an extensive pizza pan solutions team dedicated to improving the quality of our existing pans, developing new pans and finding ways to troubleshoot pizza makers' pain points. One of our newest pans, the Long Pizza Pan, is a long rectangular-shaped pizza pan that can measure up to 108 square inches. This is a great solution for pizzerias and foodservice operations producing pan pizza. From birthday pizza parties to football season gatherings, this pan makes a pizza great for sharing.
Long Pizza Pan specifications:
12 inches long: serves 1-2 people with 4, 4×3-inch slices
18 inches long: serves 2-4 people with 4, 4×4 ⅕-inch slices
27 inches long: serves 4-8 with 8, 4×3 ⅜-inch slices
Each pan is 4 inches wide and 1.5 inches deep
Folded rim for added strength and safety in handling
Durable 14-gauge hard coat anodized aluminum
Permanent and metal utensil safe PRE SEASONED TUFF-KOTE finish for easy de-panning and cleanup
Made in the USA
Present your customers with this impressive style of pizza served on a longboard, taking the next pizza party to new dimensions!
LloydPans, a U.S. manufacturer of commercial pizza pans and tools, bakeware, cookware and foodservice equipment, is located in Spokane Valley, Washington. In addition to an extensive line of standard products, LloydPans also offers custom solutions for just about anything their customers need. LloydPans' products are sold online at www.lloydpans.com and through distributors.
LloydPans
800-748-6251