Working towards continuous improvement, major changes have been made to the Sammic vegetable cutters. With two product ranges, ACTIVE with fixed speeds which is extremely easy to use, and ULTRA, with variable speed and advanced features offer 1,000 kg production,
New discs and grids: a perfect cut
Firstly, the cutters have been adjusted to the maximum to improve the cut with a renewed design improving #theperfectcut of the current models. These adjustments are especially noticeable in the dice cut. The adjusted machine, together with the new FC discs for slicing and the FMC grids, guarantees a clean-cut, with no waste and no liquid generated.
New removable shredding discs: maximum hygiene
In addition to renewing the machine, exclusive SH shredding discs have been developed, the most hygienic on the market. These discs can be removed without using tools, making them easy to clean in the dishwasher and preventing raw material from accumulating on the nerves.
Force Control & Brushless technology: maximum efficiency
The variable speed cutters have a brushless motor. This engine offers maximum efficiency since it maintains torque throughout the entire speed range. Brushless motors also occupy less space, weigh less, are quieter and, since they don't require ventilation, the air/water-tightness on the machines is better
The machine is also designed with the exclusive "force control system": the screen shows the force exerted by the machine at all times, and an acoustic warning can be programmed to a certain force level to optimize the cutting result by only using the correct force on each product.  The new Force Control system is the only way to visualize the force operators apply to a food processor.  This incredible advancement was made to train operators with ant skill levels in the kitchen. An impossible task without this tool.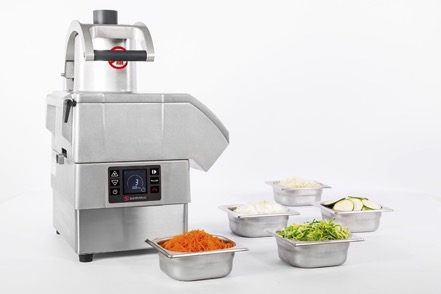 Combi models: veg prep and food processor
As in the previous range, the range of cutters is complemented with combined veg prep and food processor models. They all have the benefits of the new adjustments to the machine, new discs, and grids, and, since they are all variable-speed models, they have all the benefits of brushless technology.
They are available with different types of cutter heads; combi models have a 5.5 or 8-liter hopper and advanced functions.
Visit us at www.sammic.us or contact us at usa@sammic.com or call (224) 307-2232