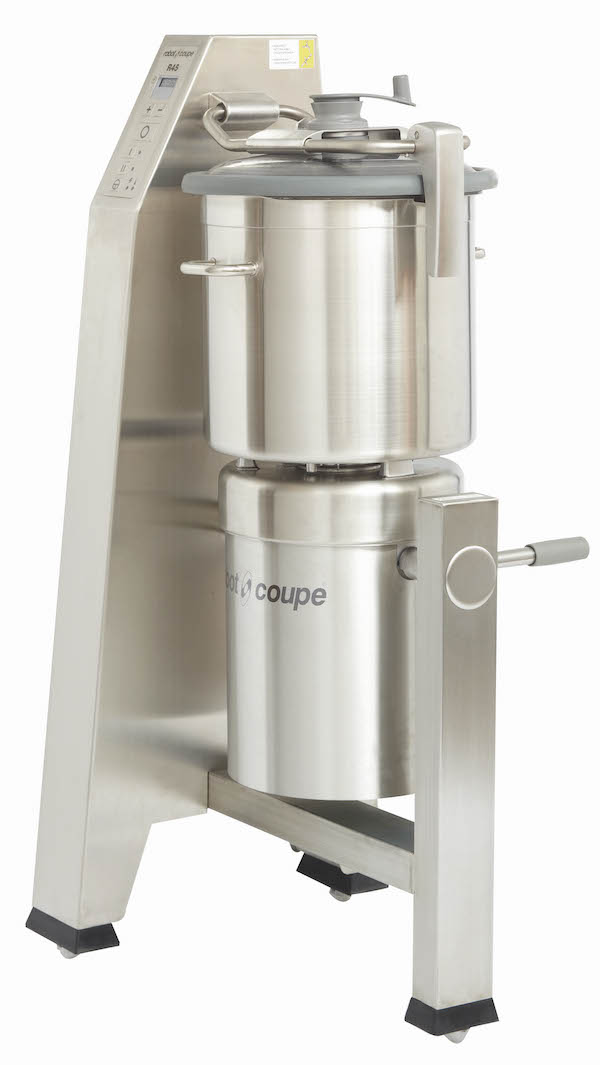 Can you make a 30 lb. dough ball in just 45 seconds?  Make smooth, tasteful pizza  sauce in just 18 seconds?  Or pelletize 30 lb. cheese in just 30 seconds?   You can if you have a Robot Coupe R45T Vertical-Cutter Mixer!
The Robot Coupe R45 T (tilting) Vertical Cutter-Mixer will simplify your kitchen functions when you use this machine to produce your dough balls, create a perfect sauce and pelletize cheese AND  if you couple it with  a Robot Coupe CL50Ultra / Pizza Package you can prepare your pizzas in just minutes. These two machine help you create a variety of  distinctive pizzas and a multitude of toppings in just minutes.  Yum, yum, yum … makes me hungry just thinking about it!
The R45T Vertical Cutter-Mixer with its 45-quart tilting bowl is designed for vertical cutting and mixing – it will mix, chop, puree,  blend, and of course mix and knead doughs.  It is an all stainless steel machine, with an adjustable 3-blade knife assembly which produces equal results whether it is a small or large batch.  The  bowl tilts for easy product removal.  Its clear lid makes it possible to add liquids or ingredients during processing or to visually check on batch being processed.  The R45T is also equipped with a easy-to-use control panel with a timer to provide better control during processing.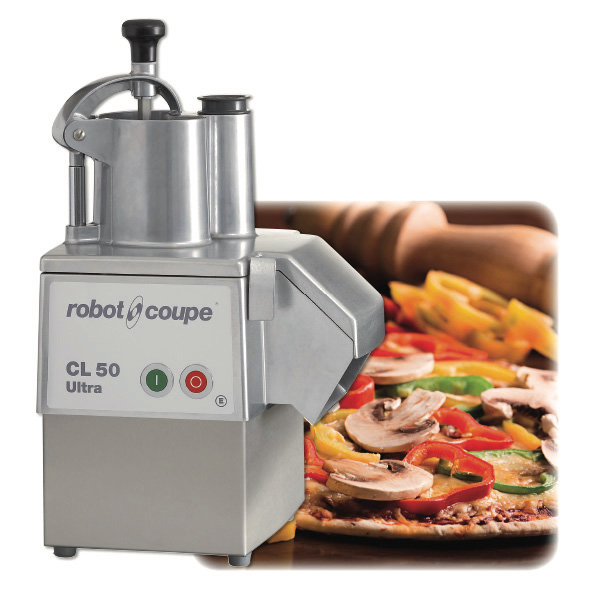 The CL50 Ultra Pizza Package which includes four discs — 2mm slicing disc, 4mm slicing disc, 7mm grating disc, 10mm dicing kit… the most frequently used discs in the preparation of vegetables for pizza.   Disc holders, and dice cleaning kit are included in the Pizza Package.  These discs will allow you to prepare all of your toppings, sliced, grated or diced in just minutes allowing you to offer a wider range of toppings to enhance the taste of your pizzas.  The CL50 Ultra has a large hopper for processing bulky vegetables and can accommodate up to 10 tomatoes at a time  Use its cylindrical hopper for precise processing of long or delicate vegetables, (mushrooms,  olives, peppers, etc.) .
Combine the R45T Vertical Cutter-Mixer and the CL50 Ultra Pizza Package  in your kitchen and you have the perfect pizza combination to prepare All the ingredients for your delicious, unique pizzas.
Robot Coupe USA is the inventor and leading innovator of professional foodservice equipment for over 50 years — commercial food processors, combination food processors, vegetable preparation machines, vertical cutter mixers, Blixers®, power mixers, juice extractors, automatic sieves and an unmatched disc collection. For a free demonstration of Robot Coupe products, contact sales@robotcoupeusa.com  or 800/824-1646. Robot Coupe U.S.A., Inc., 800/824-1646, www.robotcoupeusa.com