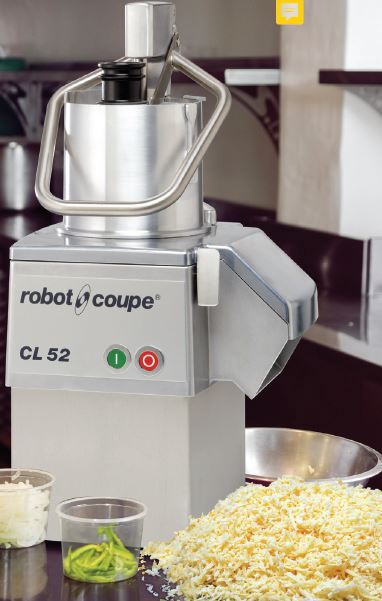 The Robot Coupe  CL52 Vegetable Prep/Cheese Grater is the perfect unit for grating high volumes of Cheese.  The CL52 has a large whole head hopper to hold blocks of cheese and features  improved ergonomics for processing and no worker fatigue.
With a compliment of over 50 other different cuts, the Robot Coupe CL52 can slice onions, peppers, mushrooms and pepperoni as well as dice tomatoes for your pizza operation.  This unit  has a robust 2 horsepower direct drive motor and is sure to last through day–in-and-day-out operation.  For additional information or to set up free demonstration, contact sales@robotcoupeusa.com or 800/824-1646.
For over 50 years Robot Coupe USA has provided commercial food processors, combination food processors, vegetable preparation machines, vertical cutter-mixers, Blixers®, cheese graters , power mixers, juice extractors, automatic sieves as well as an unmatched selection of discs.
Stop by for a visit at Robot Coupe Perfect Cheese Grater.