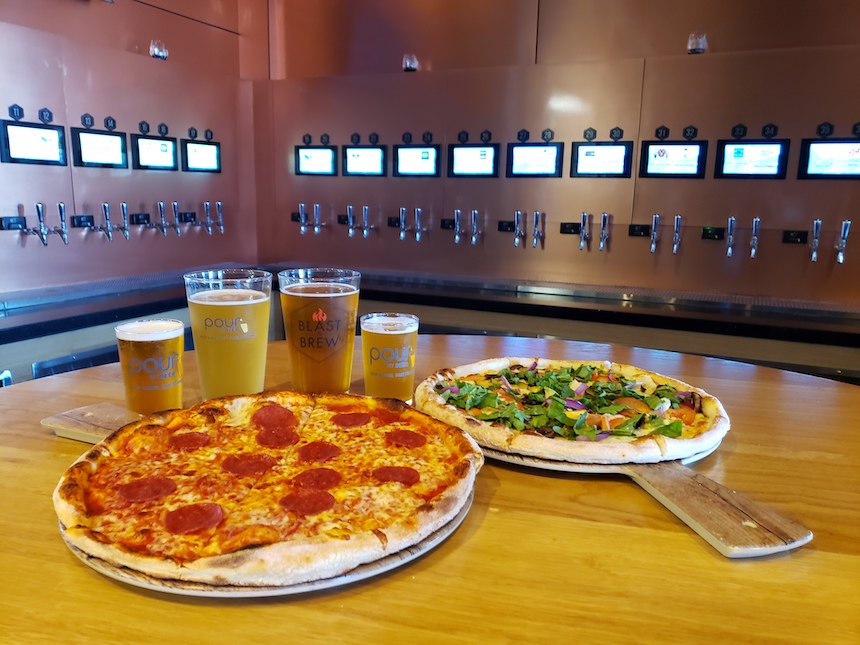 PourMyBeer is a global market leader for self-pour beverage technology. Pizza restaurants, bars and others who use PourMyBeer enable their customers to become their own bartenders. Patrons take control of which beers, wines, cocktails or even kombucha, they pour in exactly the amounts that they want.
But it's not just the customers that get benefits from self-pour technology; restaurant owners have a lot to gain from it as well. For one, restaurateurs experience significantly reduced waste due to virtual eliminationof spillage and free samples. Even better is a guarantee for increased beverage sales due to increased consumption sparked by the patrons' freedom to sample everything by the ounce and pour however much they want without waiting. The Pizza Factory in Reno saw a 100% increase in their beverage sales after adopting PourMyBeer's technology. Top that off with the fact that self-pour technology is a unique differentiator in your town or even state, and it's a definite recipe for success.
On the consumer side, the process is remarkably simple and fun. First, the customer gets an RFID card from a staff member which gets linked to their credit card payment or gets precharged with the amount they wish. Then they place the RFID card into the RFID card slot for any of the taps on the wall, which gives them access to the beverage(s) for that slot.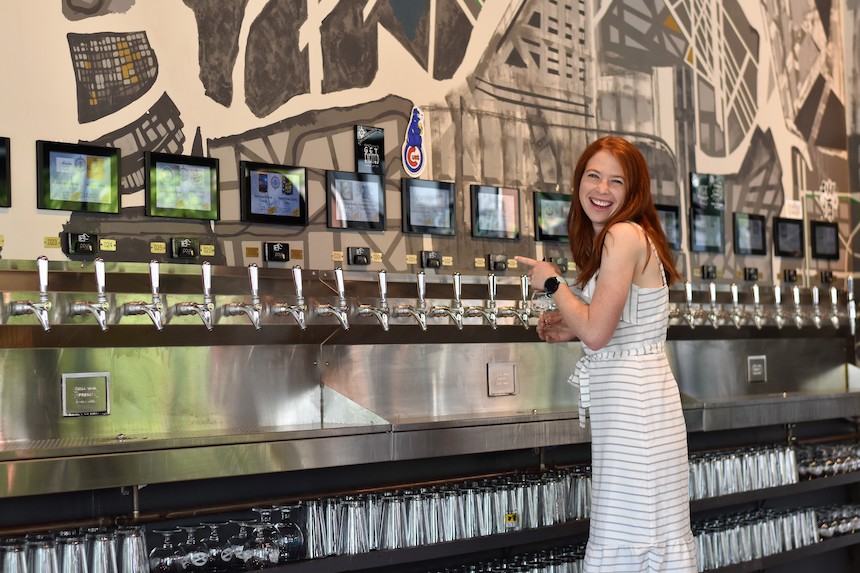 The customers can pour the exact amount of the beverage they want and the PourMyBeer system records the cost for each pour by the ounce. Depending on the POS choice of the establishment, they will either check out by closing tab as they would in a regular bar or taproom and in some cases, whenever customers are done, they simply leave the RFID card with a staff member and are ready to leave without any wait or close their tab out at the check-in station which rapidly increases efficiency especially during peak times.
As the owner, PourMyBeer system provides a number of notable benefits:
Reduced Cost: Fewer-staff means savings on wage expenditure, and reduced waste means more efficient use of inventory.
Service Efficiency: Customers become their own bartenders and are served precisely when they need. Staff can then focus on keeping things running efficiently and smoothly.
Waste Reduction: Payment by ounce means customers are much less likely to waste what they pour. Free sampling is also no longer necessary, meaning owners don't lose out on potential revenue.
Consistent Taste: Vacuum-sealed kegs keep drinks of all kinds fresh for months, meaning they can be reliably served on self-pour taps for long periods of time.
Easier Inventory: Speaking of kegs, another benefit is the elimination of bottles. Inventory at any given time will only consist of a few kegs, which are also reusable.
The customers also gain several benefits from self-pour:
Convenience: Being their own bartenders means they don't need to wait or flag down a bartender when they want a drink; they simply get up and pour.
Cost Efficiency: Customers can pour in small amounts, meaning they can sample anything they want and only fully pour drinks they like. This means they never waste money on a full drink they don't like because they didn't know the taste.
Consistency: Kegging drinks benefit customers as well as owners; pouring in smaller amounts means every sip can offer fresh and consistent taste, and it will remain so for months after kegging.
Fun: More than anything else, self-pour is a lot of fun! The concept is novel and unique, and it encourages a remarkable amount of social interaction. Customers often like to discuss their favorites with others and even share on social media.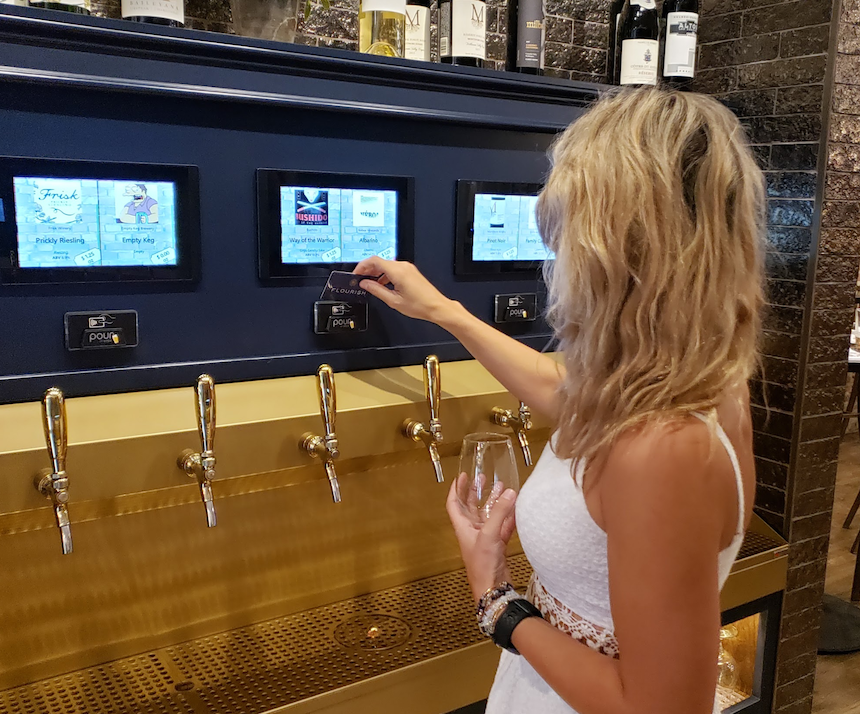 These are some of the many benefits of self-pour. As the leader of this growing industry, PourMyBeer has managed to stay ahead of the competition for several reasons:
Lowest Cost of Ownership: Other companies in the self-pour industry function as equity partners, taking a few cents for each ounce of drinks poured and sold. PourMyBeer charges only for the system, letting all drink profits remain with the vendor.
The Best Engineered System: With a hub-and-spoke model, PourMyBeer's system allows for extremely fast response time and a network that allows screens to continue functioning even when the main network goes down.
Open API: Unlike other self-pour providers, PourMyBeer focuses on their core strength, which is creating an exceptional self-pour system; and their open API allows integration with POS systems that are also the best in their market. This gives customers a quality self-serve system along with a choice of a POS provider.
Reliable Technology: PourMyBeer's system is proven to be the least likely to fail and have any down-time. This is thanks to purpose-built tablets that are designed to last; other companies use consumer-grade tech that frequently crashes and breaks. This is why the PourMyBeer system has never been replaced, but frequently replaces other self-pour systems.
Best Support: PourMyBeer has a dedicated support team of project managers, all of whom are ready to assist any customers in need.
Less Foam: PourMyBeer's use of A/C current as opposed to competitors' use of D/C current allows them to mount the flowmeter in each beer line far from the tap. This ensures a smooth pour with minimal foam for every customer.
All of these factors and more consistently keep PourMyBeer ahead of the pack, and it shows in their performance. With over 150 systems installed in the last 24 months, 280 total businesses, and 5,861 self-pour taps around the world, PourMyBeer is on a rapid upwards trajectory of growth that shows no signs of stopping.
For more information on how you can get set-up with your own self-pour system, contact us!
Phone: (312) 416-9989
Website: https://pourmybeer.com/
Email: cheers@pourmybeer.com
About PourMyBeer    
PourMyBeer is the leading provider of self-serve beverage systems, having the only purpose-built industrial-grade system  that doesn't rely on Wi-Fi. Other self-serve technologies use consumer-grade tablets, which are not meant for the commercial environment of the hospitality industry and soon fail. The PourMyBeer system is hard-wired and doesn't rely on Wi-Fi connections, ensuring consistent up-time.  Additionally, unlike other self-pour providers who penalize you for your success by charging a monthly fee of a penny/ounce of beer and $0.03/ounce of wine, PourMyBeer only charges a simple, flat monthly, that you can budget on – because we know the last thing you need is another equity partner taking a bite out of your profits every month.
These and other factors make PourMyBeer the true market leader – the only system on the market that has never been replaced and installed the most taps in 2019.  PourMyBeer is trusted by over 250 businesses all around the globe, taking care of clients such as Blast & Brew Pizzerias, Me & Ed's Pizzerias, 1000 Degrees Pizza, Pizza Factory, Buffalo Wild Wings, Caesars Entertainment, Round Table Pizza, and many others.