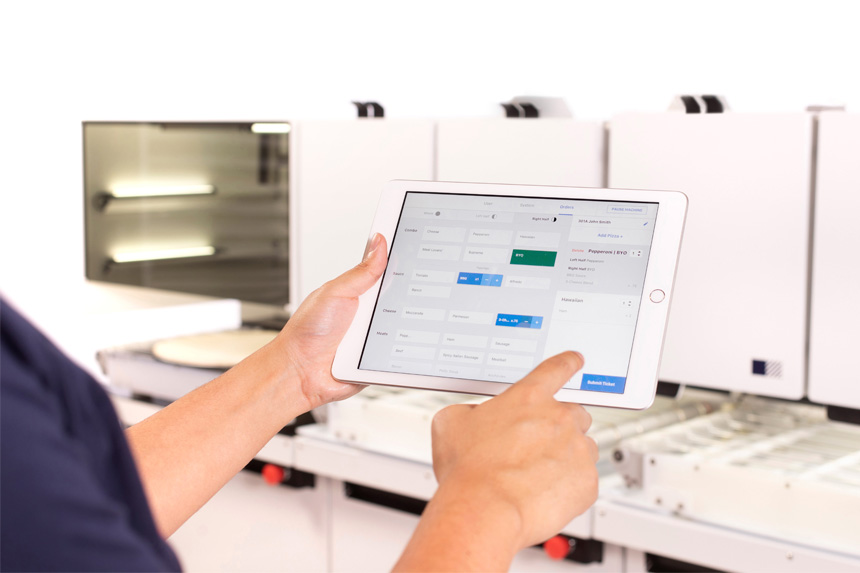 Expo Attendees Will Experience Pizza Made by A System Producing 300 Pies an Hour Using AI, Cloud, Automation Tech and Robotics-as-a-Service
Seattle-based Picnic™, an innovator of food production technology and Robotics-as-a-Service (RaaS) solutions, will demonstrate the first-of-its-kind intelligent end-to-end automated assembly platform for the food service and hospitality industries. Picnic welcomes International Pizza Expo attendees to visit their booth and experience firsthand the high quality and consistently made custom pizza produced by the system, at a rate of up to 300 12″ pizzas an hour.
The freestanding system integrates issued U.S. patent and other U.S. and international patent-pending modular, configurable equipment with its software, cloud and deep learning technology. Flexible and only requiring a small footprint, the system easily slips into a wide array of stationary and mobile kitchen formats, and brings unrivaled capabilities in production customization and throughput; smart back-end data and cloud analytics; and its ability to continually learn and meet the changing needs of food service operators, protect their brands and elevate customers' overall experience with food.
Since its public unveiling in October 2019, Picnic has enjoyed tremendous response from the press(www.hellopicnic.com/press), customers, and the public globally, as well as numerous invitations to demo and speak at events across the food service industry spectrum. Picnic has publicly showcased its system's high commercial value (quality and consistency, performance, and waste reduction) in several entertainment and retail venues – Operating at T-Mobile Park in Seattle (home of the Seattle Mariners MLB team) both during the latter part of the 2019 baseball season and again at Enchant – their six-week winter carnival (with one Picnic system making 100% of the stadium's pizzas for the event), Smart Kitchen Summit (where Picnic's machine provided pizza for 500 people in one hour), Food Tech Live and most recently, delighting 1000's of guests creating and serving pizza at CES 2020 in Las Vegas (where Picnic produced the pizza recipe of Centerplate, the Las Vegas Convention Center's food service provider).
Founded in 2016 Vivid Robotics, Inc., (dba Picnic) www.hellopicnic.com), has collected an experienced team of food and technology industry veterans to develop and provide specialized intelligent technology and exclusive solutions for the food service and hospitality industries. Restaurants, convenience and grocery stores, university and corporate campuses, casinos, hotels, cruise lines, sports venues, catering groups, healthcare cafeterias, small kiosks, ghost kitchen operators, mobile food operations, food trucks, delivery and military sites are among the many segments poised to benefit from the company's automated food assembly platform integrating RaaS, software, cloud and deep learning technology.