Experience reliable service with SpeedDine's cloud-based online ordering—your website always works, even during peak order volumes.
SpeedDine offers the fast and reliable online experience your customers expect. Whether ordering from their phone, tablet, computer, or your branded mobile app, your customers always get the same easy, responsive brand experience, including:
Simple order flow
Historical reordering
Upselling prompts
Accurate pricing that always matches the store
Coupons are interchangeable between in-store and online
Location map and hours for pickups
Current quoted times
Dispatch messages
Saved credit cards
Split payments
Designed for Pizza
SpeedDine's online ordering seamlessly ushers customers through the order and checkout process, optimizing the user experience. Package deals and upselling prompts are included throughout the ordering process to increase order totals. SpeedLine POS is designed for pizza and "create-your-own" pizza orders, making it flexible enough to handle the most complex orders and smart enough to accurately charge for them.
Fully Integrated With Your Point of Sale
If you're looking for an online ordering solution, SpeedDine has you covered. Because your online ordering site is a core part of SpeedLine, you'll spend less time on maintenance, and gain new capabilities with each new release.
Scalable
SpeedDine provides an affordable online ordering service that lets you keep more of your revenue from online orders. SpeedDine offers unlimited transactions for a low monthly fee rather than charging more as your volume increases—as your online sales increase, you pay less per order.
Secure and PCI Compliant
Whether you use SpeedDine or SpeedLine Connect, your customers' personal payment information is encrypted for secure online transactions.  Like every component of the SpeedLine software suite, SpeedLine Connect is PA-DSS validated for PCI compliance. SpeedDine uses tokenized payment information to minimize your restaurant's PCI scope and risk.
Payment processing for SpeedDine is available in both the United States and Canada.
SpeedDine App
The SpeedDine mobile app gives your hungry customers the same streamlined ordering experience as your SpeedDine website on their phone.
The app pulls all pricing, coupon, and tax information from the point of sale terminal in the store for continued accuracy.
Reporting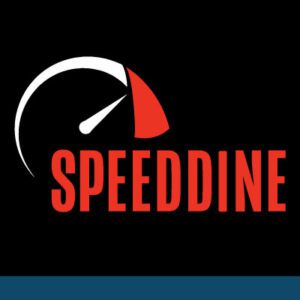 Access your data with the Sales Summary report in SpeedLine Store Manager™ and SpeedLine Cloud Reporting & Analytics™ to easily view net online sales and average order size from all your remote ordering sources.
Contact SpeedLine for more information on what SpeedDine online ordering can do for you:
About SpeedLine Solutions Inc.
The world market for pizza is $128 billion each year. Delivery is rapidly growing in the pizza and restaurant industries. That's great news for SpeedLine users, where our team develops, markets, and supports the industry's leading point of sale solution for this large, technology-hungry industry.  SpeedLine continues to successfully provide software solutions to thousands of pizza, quick service, and multi-concept restaurants and chains.