If you've found it challenging to justify upgrading to EMV when a large percentage of your sales are card-not-present, SpeedLine Pay™ is the answer.
SpeedLine Pay is a mobile app + card reader solution that lets you accept chip card payments wherever your customers are: on their doorstep, curbside, or at a dining room or patio table.
SpeedLine Pay with EMV: Increase delivery profit
SpeedLine Pay could save you hundreds of dollars each month in credit card processing costs and reduced chargebacks.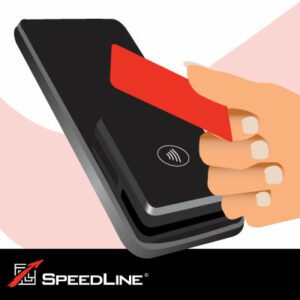 Offer customers the convenience and security of EMV payments wherever they are:
At the Door: SpeedLine Pay saves you money each month in credit card processing costs and reduced chargeback liability for delivery orders. All your delivery orders get the lower card-present rate, and your customers appreciate the easy tipping, convenient tapping, and chip card security.
Curbside or on the Patio: Give your customers the convenience of making secure EMV payments from their vehicles, or at a patio table.
Dining In: Guests can avoid crowded line-ups and waits at the till by paying at the table.
Process payments at lower card-present rates
Card-present rates can be up to 40% less than card-not-present transactions when a person pays by credit card using an EMV device
Depending on order volume, with EMV payment at the door, a pizzeria with delivery could save hundreds of dollars every month in reduced card processing rates.
When used with SpeedDine, online order payments for deliveries are processed at the door as well, at the same lower card-present rates.
With online ordering representing a growing percentage of many delivery operations' sales, SpeedLine Pay represents significant savings and risk reduction.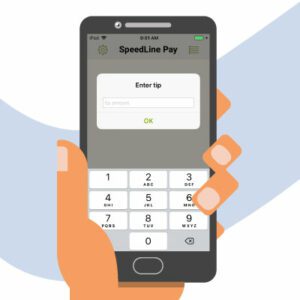 Reduce or eliminate liability for all delivery chargebacks
While some restaurant owners experience very few chargebacks, other operators report increasing losses every month in fraudulent delivery chargebacks. These can be costly in both lost revenue and time to dispute.
EMV payment at the door reduces this liability, adding to the savings for restaurant owners. It's a game changer for profitable restaurant delivery.
What it includes
SpeedLine Pay iOS and Android apps.
Affordable mobile EMV bbPOS "Chipper" card reader.
For More Information
Email: sales@speedlinesolutions.com
Phone: 1-888-400-9185
About SpeedLine Solutions Inc.
The global pizza market earns over $128 billion each year. The pizza and restaurant delivery industry is experiencing explosive amounts of growth. Our local team of experts is positioned to develop, market, and support the industry's leading point of sale solution for this large, technology-hungry industry. SpeedLine continues to successfully provide software solutions to thousands of pizza, quick service, and multi-concept restaurants and chains.