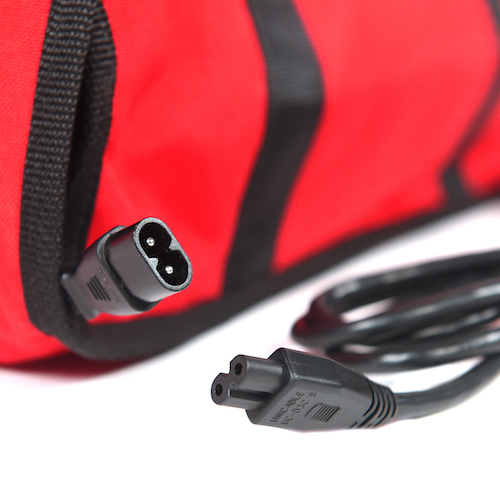 This complete, ready-to-use heated delivery system offers a safe, cost-effective way to satisfy hot food delivery needs. The RediHEAT Heated 2-Pie Delivery Bag consists of a high-quality thermal bag made of premium materials for superior temperature retention, a patented heating element, and cord that plugs into a wall outlet prior to delivery, taking only 4-5 minutes to reach the optimal heating temperature of 180 degrees Fahrenheit. This product comes in a variety of sizes:
16-inch bag holds two 16″ pizzas or 3 to 4 smaller pizzas (17.25″ x 17.25″ x 5″)
18-inch bag holds two 18″ pizzas or 3 to 4 smaller pizzas (19.25″ x 19.25″ x 5″)
20-inch can hold two 20″ pizzas or 4 to 5 smaller pizzas (21.25″ x 21.25″ x 5″)
Easy to Use
After the pizza is out of the oven and boxed, insert the boxes in the delivery bag, close the bag, and disconnect from the cord for delivery. The combination of the heating element, and the thermal qualities of the bag will ensure your pizza stays hot and fresh for 45 minutes, like it's right out of the oven! Our products are all made in the USA and come with a 2-year manufacturer's warranty.
Founded in 2003 in Cleveland, Ohio, RediHEAT, Inc. is focused on developing the highest quality heated delivery solutions for restaurants and catering companies. Whether you are delivering one meal or many, you can count on RediHEAT to meet your high standards. Learn more: www.rediheat.com.