Mail Shark's plastic gift card mailers help pizza shops send valuable gift card-style coupons prospects use.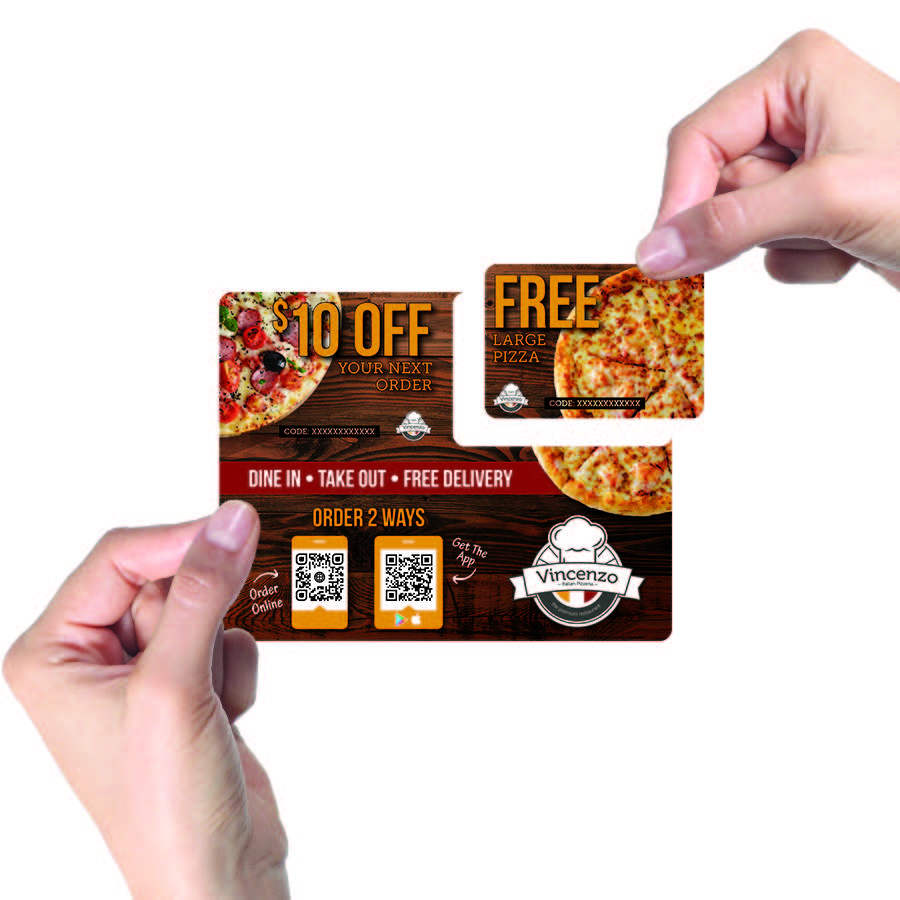 Our glossy plastic postcards have gift card-style coupons that help you stay top-of-mind and boost response rates to your direct mail.
What Is a Plastic Gift Card Mailer?
A plastic gift card mailer is a plastic postcard with gift card-style coupons. Our plastic postcards are a great way to mix up your direct mail marketing and stand out in the mailbox. They're thick and sturdy, giving them a high-quality, weighty feel. Their high-gloss shine will catch your prospects' eyes when they're getting their mail.
Use the snap-out gift cards to send your best offers, like BOGO, dollar-off, and free items. Prospects won't be able to resist sliding them into their wallets. Like mini advertisements, the gift cards will catch their attention every time they reach for their credit card or ID. This will help them remember you when they're ready to dine in, grab takeout, or order delivery. Choose from three different sizes with various layout options to suit the needs of your shop.
Increase Response with Gift Cards
Our plastic postcards have offers that look and feel more like gift cards than coupons. This makes them seem more valuable to your prospects. They'll snap the gift cards out, put them in their wallets, and cash in on your offer next time it's pizza night.
But plastic postcards aren't just for sending gift cards. You can also mail loyalty rewards cards to your current customers to keep them coming back. It's 5 to 25 times more expensive to acquire a new customer than it is to keep an existing one, so it's important to continue marketing to your loyal customers.1
We also offer variable data printing to customize your postcards with your prospects' names and other information. This personal touch helps boost response rates by at least 50%.2
How Much Do Plastic Gift Card Mailers Cost?
Ready to mail these exciting products to your prospects and customers? Check out our website for Plastic Postcard pricing for all sizes and layout options. Request a quote and place your order from there.
We make plastic gift card mailers affordable by spreading out your mailings and payments for up to 10 weeks. Plus, we get you started with no money down. You won't owe a cent until we pay the post office for your first week's mailing.
About Mail Shark
Mail Shark is a full-service direct mail company with close to 30 print and direct mail products. We've helped thousands of pizza shops grow their sales with easy and effective direct mail services. We provide saturation and targeted mailing lists, and also offer EDDM® and print only options.
To learn how Mail Shark can help grow your sales, visit our website or call us at 484-240-2854.
Sources