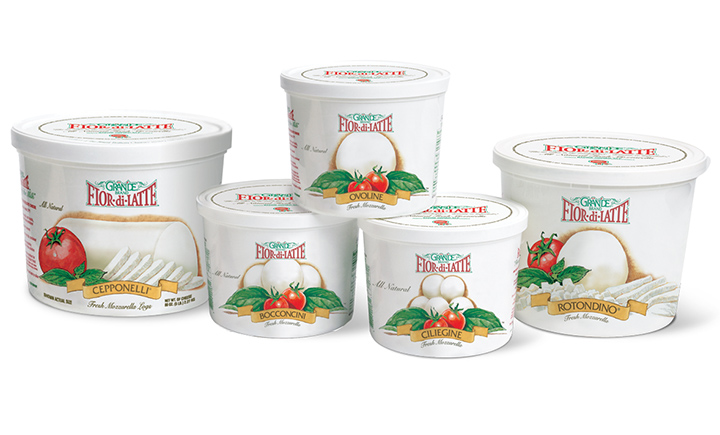 Did you know that 53% of consumers believe a fresh, creamy flavor is the most important attribute of a high quality fresh mozzarella?1
Grande Fior•di•Latte, "flower of the milk" is a Fresh Mozzarella unlike any other in the marketplace, and it will create an unforgettable experience that will bring your customers back, again and again. Now, what makes Grande Fior•di•Latte so special? It's really pretty simple – it's about the flavor! It starts with fresh, quality milk. At Grande, we and our producer dairies take pride in having some of the highest quality milk, along with traditional cheese-making principles. It matters, especially for a fresh cheese like Fior•di•Latte. Our passion is to showcase the flavor and beauty of our fresh milk, accented nicely with light cultured dairy flavors developed through our traditional cheese making. Grande Fior•di•Latte is clean, light, fresh, and milky, with a little culture to balance and a touch of sea salt to finish. Simple and delightful!
Available in five sizes, you can make Grande Fior•di•Latte perfect in any application from antipasto to ziti.
Ciliegine "Little Cherries", 1/3 oz. ball, ideal for serving whole on antipasto platters, as appetizers or on top of salads
Bocconcini "Little Mouthfuls", 1 ½ oz. ball, great for halving and quickly melting on traditional dishes such as crostini or bruschetta
Ovoline "Egg-like Ovals", 4 oz. ball, perfect for slicing on classic Caprese salads or sandwiches
Rodondino® "Round and Plump", 10 oz. ball, ideal for quantity chopping, dicing and slicing for pastas or salads
Cepponelli® "Logs", 11.43oz Log, makes slicing simple while creating greater coverage, better eye appeal and less waste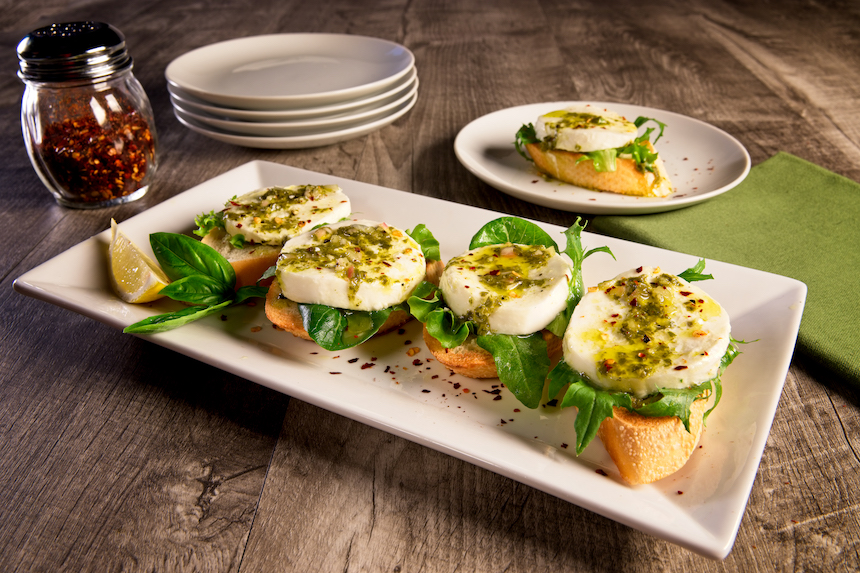 Looking for ways to create excitement for Fresh Mozzarella in your restaurant? Visit our website for recipe ideas or try some of these:
Grande Cheese Company is an Italian Cheese company based in Wisconsin. For over 75 years, Grande has been recognized by Independent pizzerias and Italian restaurant operators as the best quality Italian cheeses available. We challenge our team to pursue and exceed the highest quality standards in everything we make. The proof is in the taste and consistency of our products and it's what keeps your customers coming back. All our cheeses are made from only the freshest, all natural ingredients and never include additives, fillers or preservatives. This ensures that you get consistency of flavor, yield and melt day in, day out. You never have to worry about the performance of the cheese so you can focus on creating great food and a successful business. Grande is committed to championing independent operators with a spirit and shared passion for excellence
To see why it's a flavor your customer will never forget, call 800.847.2633 or visit us at grandecheese.com.
1 Datassential Consumer Omnibus Study, March 2021