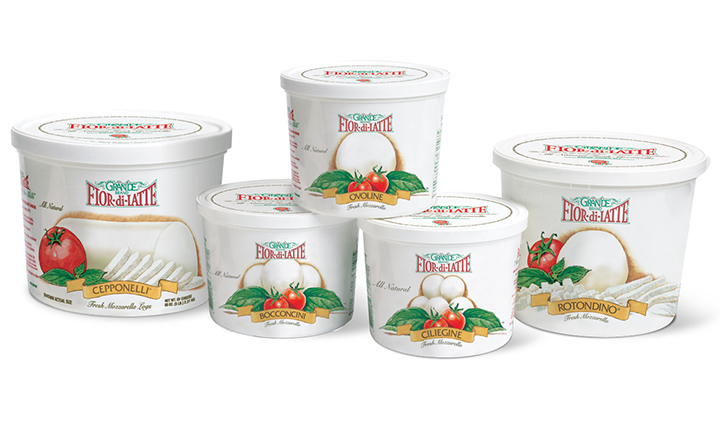 Did you know 75% of consumers LOVE or like Fresh Mozzarella?2 Don't miss out on an opportunity to give consumers something they are looking for!
Grande Fior•di•Latte, "flower of the milk" is a Fresh Mozzarella unlike any other in the marketplace, with a distinctively pleasant flavor that's reminiscent of fresh mozzarella handmade in the Italian countryside. True to Italian tradition, this cheese is presented in brine water to keep the cheese fresh and protect the tender mouth feel. Grande's Fresh Mozzarella is all natural with no artificial colors, whiteners or preservatives to ensure you get a traditional, authentic product to serve your customers.
Available in five sizes, you can make Grande Fior•di•Latte perfect in every application from antipasto to ziti.
Ciliegine "Little Cherries", 1/3 oz. ball, ideal for serving whole on antipasto platters, as appetizers or on top of salads
Bocconcini "Little Mouthfuls", 1 ½ oz. ball, great for halving and quickly melting on traditional dishes such as crostini or bruschetta
Ovoline "Egg-like Ovals", 4 oz. ball, perfect for slicing on classic Caprese salads or sandwiches
Rodondino ® "Round and Plump", 10 oz. ball, ideal for quantity chopping, dicing and slicing for pastas or salads
Cepponelli "Logs", 11.43oz Log, makes slicing simple while creating greater coverage, better eye appeal and less waste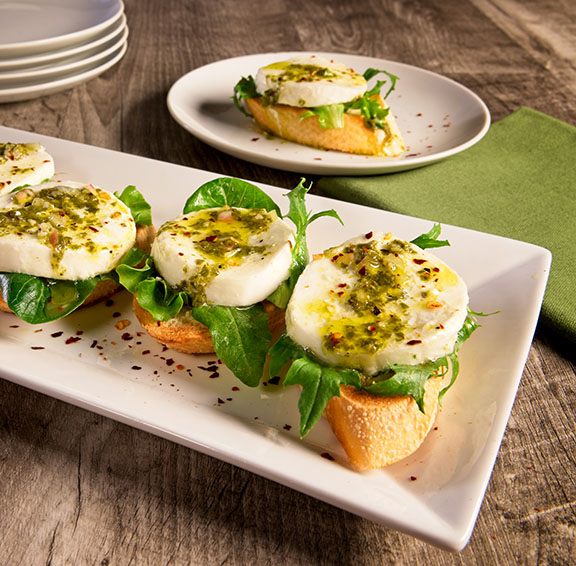 Looking for ways to create excitement for Fresh Mozzarella in your restaurant? Limited-Time Offers (LTOs) are a great way to engage consumers and get them to try something new and different. Half of consumers would seek LTO's that are "unique to a restaurant", 95% of adventurous eaters find some kind of LTO appealing and 65% of those who rarely try a new food find LTO's appealing.1
LTO's are also a great way to promote new items to ensure your customers know you have something different available. Use them to build check averages and increase repeat visits. For more information on LTO's visit our LTO page.
Looking for inspiration on what your next LTO could be? Visit our website for recipe ideas or try some of these:
Grande Cheese Company is an Italian Cheese company based in Wisconsin. For over 75 years, Grande has been recognized by Independent pizzerias and Italian restaurant operators as the best quality Italian cheeses available. We challenge our team to pursue and exceed the highest quality standards in everything we make. The proof is in the taste and consistency of our products and it's what keeps your customers coming back. All our cheeses are made from only the freshest, all natural ingredients and never include additives, fillers or preservatives. This ensures that you get consistency of flavor, yield and melt day in, day out. You never have to worry about the performance of the cheese so you can focus on creating great food and a successful business. Grande is committed to championing independent operators with a spirit and shared passion for excellence
For more information, call Grande at 800-8-GRANDE (800-847-2633), email us or visit us at www.grandecheese.com.
1Mintel Flavor Innovation on the Menu Oct 2018
2Datassential 2018