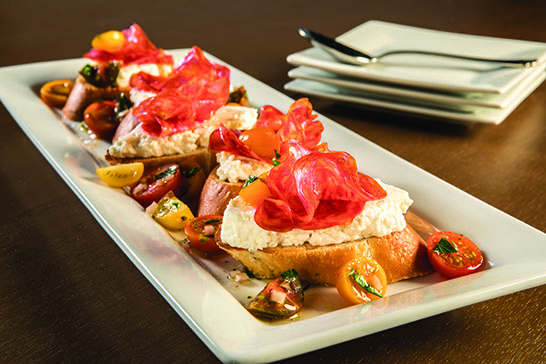 Grande Ricotta Prima Dolce is an authentic cheese reminiscent of the hand-dipped Ricotta made in the Italian countryside. In true classic tradition, Prima Dolce is delivered in the original basket of collection, preserving the quality of the curd while providing a smoother, creamier texture. The curds "knit" together for an enriched mouth feel, delivering a clean, light and sweet dairy flavor.
One thing that makes Prima Dolce different than our other styles of Ricotta is that it can be sliced or cubed. As a highly versatile cheese, it can also be mixed, whipped, blended or paired with nearly any ingredient to embolden, not mask, the flavors of your recipes.
More and more, Ricotta is becoming a mainstream ingredient in restaurants. Datassential reports that Ricotta is found on 88% of independent casual Italian restaurant menus and 68% of independent QSR pizza menus.  Now more than ever, consumers are willing to pay more for specialty items like Ricotta Prima Dolce. In fact, 48% of millennials will try a new food simply because it sounds interesting. Datessential also reports you can charge an additional $3 per entrée and $2 for appetizers that feature Ricotta. Try Grande's Ricotta Sopressatta Toast recipe or Ricotta Pepper Steak Sandwich with Prima Dolce today. Visit our website for more great recipes featuring Prima Dolce and our many other fine Italian cheeses.
Grande Cheese Company is an Italian Cheese Company based in the heart of Wisconsin. For over 75 years, Grande has been recognized by independent pizzerias and Italian restaurant operators for having the best quality Italian cheeses available. We challenge our team to pursue and exceed the highest quality standards in everything we make. The proof is in the flavor and consistency of our products, keeping your customers coming back time and time again. All of our cheeses are made from only the freshest, all-natural ingredients and never include additives, fillers or preservatives. Why? So you get the consistency of flavor, yield and melt each and every time. Our cheese performs so you can focus on creating great food and a successful business. Grande is committed to championing independent operators with a spirit and a shared passion for excellence.
For more information, call Grande at 800-8-GRANDE (800-847-2633), email us or visit us at www.grandecheese.com