In the United States, pizza is a passion! North America holds the second largest share of the global pizza industry at 32.6% and experienced a 12% growth rate between 2016 and 2018.  (Source: Statista). This, along with the rise of food delivery services, both by traditional methods and the rise of third-party food delivery services such as Uber Eats, has forced many restaurant owners to re-examine the way they run their delivery operations from hiring practices to their insurance needs.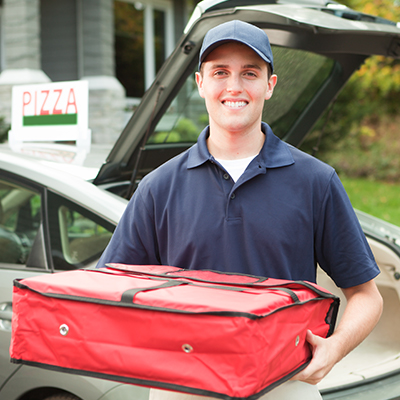 All Risks, Ltd., the nation's largest independent insurance wholesaler and a leader in workers' compensation insurance, is pleased to announce their partnership with an A.M. Best "A+" rated admitted insurance carrier on an exclusive Pizza Delivery Workers' Compensation Specialty Program for the Restaurants with Delivery industry. This monoline Workers' Compensation program is tailor-made for the restaurant and pizza delivery industry, covering both in-house and delivery employees.
When asked about this exclusive Restaurant and Pizza Delivery Workers' Compensation program, Chris Smith, the Assistant Vice President of Workers' Compensation Specialties at All Risks, Ltd., states "This is a fantastic partnership for both All Risks and the pizza delivery industry.  All Risks, Ltd. has been partnered with the restaurant and pizza industry for a number of years and the number one problem we have heard from our partners is how to find workers' compensation coverage for delivery drivers. This is an underserved area in the workers' compensation market.  However, with this program, All Risks Ltd. is able to offer comprehensive monoline pizza delivery workers' compensation coverage via an admitted A+ rated carrier for all employees of the restaurant and pizza industry, including the delivery drivers, at a reasonable price.  As we are all aware, the margins in the pizza industry are already razor thin and being able to provide proper workers' compensation insurance coverage for all of your employees at a competitive price certainly helps the bottom line".
All Risks, Ltd., has dedicated Workers' Compensation brokers and underwriters who have identified carriers for hard-to-place Restaurants with Delivery exposures and developed exclusive programs, rating and pricing. By partnering with All Risks, you'll gain direct access to A. M. Best "A+" rated markets, with competitive commissions and payment plan options. Connect with our team of specialists today to learn more about how we can help your Restaurants with Delivery clients with valuable Pizza Delivery Workers' Comp coverage.
This Workers' Compensation product is available in all states except Alaska, Hawaii, Wyoming, Washington, North Dakota and Ohio. The program features a minimum premium of $2,500 and accepts new ventures.
For additional information about our Pizza Delivery Workers' Compensation product, please contact Christopher B. Smith, AVP of WC Specialty Products at 866-406-3892, via email at CBSmith@allrisks.com or click here to learn more about the program.