Rosina Food Products, Inc. is leading the way in the ingredients space with their offerings. From meatballs, to their IQF filled and unfilled pasta, and toppings, Rosina has been at the forefront of frozen specialty food products for over 55 years.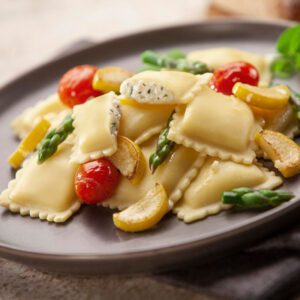 Rosina is known for creating innovative solutions based on their customer's needs and offers trusted experience in culinary, food science, operations, packaging engineering, customer care, and logistics. Plus, the Rosina R&D team features four trained chefs with over 100 years combined experience. Their goal is to help ingredients clients develop new and innovative products and recipes. Led by Chef Herb Stockschlaeder, the R&D department works with customers own R&D and Culinary teams to create custom recipes or develop a unique culinary solution to meet their specific needs.
"At Rosina, we are dedicated to customized solutions," says Chef Herb Stockschlaeder, Director of R&D and Strategic Channels for Rosina Food Products, Inc. "We not only have the bandwidth for it, but we also have the number and variety of ingredients to help some of the most reputable companies in the industry craft their own inspired culinary creations."
Proud to be the leading national brand of frozen filled pasta and the second-leading meatball brand in the US, Rosina is known for offering ingredients that keep up with the current trends yet still stand the test of time. Their current portfolio includes:
Meatballs – Offering a diverse and delicious line-up, Rosina's meatballs come in custom shapes, sizes, and flavors, including beef, pork, turkey, and chicken.
Pasta – Rosina offers an expansive array of pasta varieties available in a selection of custom shapes, sizes, and fillings.
Toppings – With a variety of delicious and versatile toppings, Rosina is your source for multiple shapes, sizes, and meat blends.
Rosina Food Products is committed to delivering Real Italian Goodness through their retail and foodservice partnerships in supermarkets, corporations, colleges, commissaries, restaurants and more.
About Rosina Food Products
Rosina Food Products is a leading innovative frozen specialty food products manufacturer centered around Italian fare. Since 1963 the Italian family-owned company has focused on creating premier products that bring to life real Italian flavors and tradition. Rosina ensures the success of every one of its customers while delivering Real Italian Goodness. Rosina Food Products can be found in supermarkets, supercenters, wholesale clubs, military commissaries, cafeterias, and restaurants throughout North America, Latin America and around the world. For more information, visit www.rosina.com