Now your customers can enjoy one the most popular kinds of pizza toppings, but in a sumptuous plant-based version.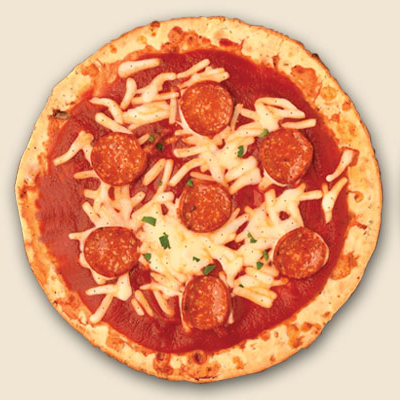 Great news! For the first time, pizzerias, restaurants and supermarkets can offer vegans  — and all of your more health-conscious customers — Veggie Power's selection of all-vegan pizzas made with VIOLIFE 100% Vegan Mozzarella Cheese, including one with the first ever first-ever plant-based pepperoni toppings.
Every Veggie Power Cauliflower Pizza Crust is Non GMO, Gluten Free and, of course, All Natural — all this with only 7 Grams of Carbs.
And Veggie Power Cauliflower Pizza Crusts are made in the gourmet, New York Style, with thin crusts that are crispier and tastier than other cauliflower pizza crusts.
Veggie Power also offers pizzerias, restaurants and supermarkets a fabulous vegan all-vegetable pizza, made with VIOLIFE 100% vegan 100% mozzarella cheese, which kids especially love. And Veggie Power's plain cauliflower pizza crusts are also made with delicious VIOLIFE 100% vegan 100% mozzarella cheese. So all your health-conscious shoppers and diners now have a great new way to enjoy a pizza that's both delicious and healthful — thanks to Veggie Power.
The rapid growth of the vegan market in the United States has been extraordinary, especially in the last decade. But one area that hasn't fully satisfied the huge vegan market — and even non-vegans who want more healthful alternatives in their meal choices — is the pizza. That's why we created Veggie Power Cauliflower Crust Pizzas.
Veggie Power was founded to be the most healthful, delicious and trusted cauliflower pizza crust brand in the country. We knew what a great vegan pizza should have, like the best, most healthful ingredients, terrific taste, a crust with just 7 grams of carbs, and of course be Non GMO, Gluten Free, all-natural, and be made with delicious Violife Mozzarella Cheese. And it has to taste like the best, most sumptuous of New York Style pizzas!
We knew that we were asking a lot, but vegans and your other health-conscious pizza lovers deserve eating great pizzas just everyone else. So, welcome to the Veggie Power family, where healthy eating for healthy living never tasted better!
To find out more about Veggie Power's delicious breakthrough pizzas, please visit our website at TDSpecialtyFoods.com, or please call us at 732-803-2925. And soon you'll be serving your vegan and health-conscious customers the most delicious plant-based pizzas they've ever tasted.