We delivered 300+ new customers for less than $1.50 per guest with our Addressable Program. Ask what we can do for your restaurant!
With the Addressable Program from Moving Targets, a small restaurant was able to boost their sales in one month. By combining direct mail and geofencing ads, you can deliver targeted messaging to your ideal customer in their home and online. Our most popular direct mail program targets new movers to your town, who are looking for restaurants to try. We also offer a birthday connections program with an offer to celebrate and custom mailers, which allow you to select from an extensive list of screens including industry-specific filters of takeout consumption, dietary restrictions or preferences, and more.
Through our partnerships with nationally-renowned vendors, we pair your choice of direct mail with digital geofencing ads, which are shown to the same households receiving your mailer. This increases brand awareness and likelihood to trial without the waste of broad digital ad spend. Best of all, the results are measurable – you can see how many people saw your ad and then visited your location. Our customers continually share how impactful the results are from this program in measuring their marketing budget and seeing an increase to the bottom line.
Visit us at MovingTargets.com, email letstalk@movingtargets.com, or call 800.926.2451 to see how we can get these results for you.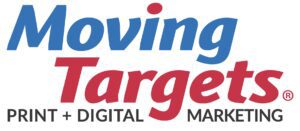 For 30 years, Moving Targets has helped restaurants achieve sustainable results through highly-targeted marketing programs that spark action and drive sales. Our partnerships with renowned data, digital, and print vendors gets you access to resources typically reserved for large budgets, at a reasonable price. Combined, these tools allow us to deliver your marketing message to the right people, on the right channel (i.e. direct mail, social media, email, geofencing and more), and bring you new customers with increased sales.
Let us handle your marketing, so you can handle your business.