Pizza U wants YOU to thrive!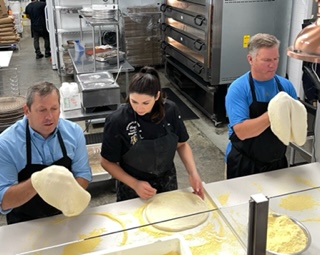 Take your pizzas and business to the next level with classes and consultations anywhere with Pizza U. We'll help you get to your goals with hands-on training and guidance. Our team has over 12 years of experience in the pizza industry and 2 pizzeria locations in one of the largest cities in the U.S, Houston, TX. Do you have a location that needs some TLC? We will be glad to come to you and optimize our time in your pizzeria to get you on the right track. Book Virtual or Off-Site consultations (where we come to you) with us on our website: www.thepizzau.com. Our consultations include but are not limited to: Recipe development, Restaurant operations and Kitchen systems, Equipment, Vendors, Supplies, Dough techniques for various pizza styles and so much more. Get in touch with us today to book your consultation. Visit our website or send us an email: nicole@pizarospizza.com
About Pizza U: Pizza U was started by Husband and Wife: Brad and Nicole Bean. It originated as an opportunity to educate customers of their pizzeria business, Pizaro's Pizza. We offer you hands-on experiences to guide you through to the next step of your pizza journey. You know what they say, "Give a man a fish and you feed him for a day. Teach a man to fish and you feed him for a lifetime." We hope you enjoy the experience and take your time with the process while learning along the way!