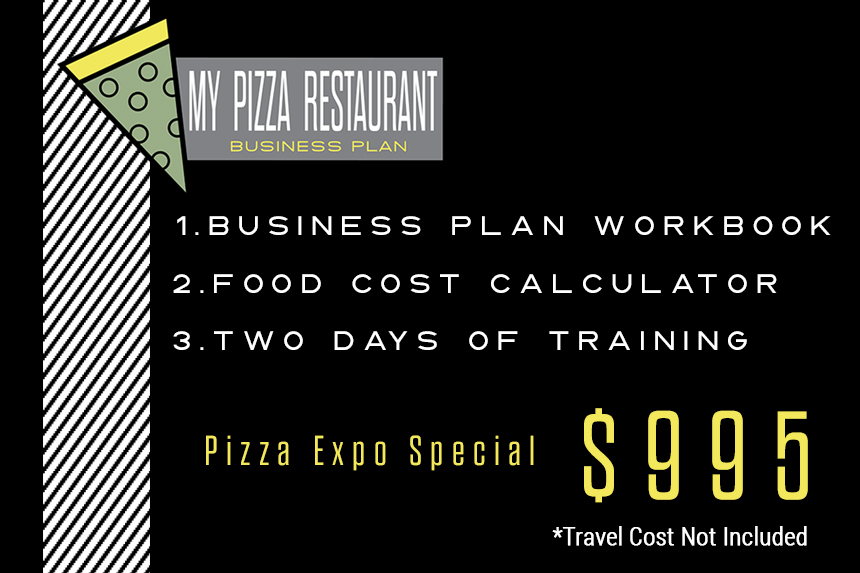 My interactive program helps you develop your pizza restaurant concept then guides you through all the steps to OPENING DAY!
With examples and a template to follow, my YOUR BUSINESS PLAN WORKBOOK will walk you through building your business plan from start to finish. My 20+ years of research and two years of pizza restaurant ownership coupled with my hospitality degree and restaurant management experience will enable you to fast track your business plan, while avoiding some of the common and not so common pitfalls of restaurant startups. My program will force you to evaluate all aspects of your new restaurant venture prior to jumping in. For those of you who have already taken the leap, this program will enable you to target key areas of opportunity. Learn from my mistakes with my very specific "things to consider" in each section of this workbook.
Along with my YOUR BUSINESS PLAN WORKBOOK, you'll also receive my FoodCost Calculator.  Food cost is a key to success in any restaurant and our Food Cost Calculator allows you to create a recipe for each of your menu items, then calculates the food cost for you. This calculator also tracks your inventory costs on a weekly basis and monitors the food cost for each item on your menu ensuring you're pricing is spot on to keep your cost at or below 30%.
The last component to my program is two days of on-site training in my restaurant. I'll walk you through the business side of restaurant ownership along with the production side. While you're here, I'll help you fine tune your business plan and let you practice preparing a few of your menu items in a working restaurant kitchen.
Your upfront investment in this program will set you up for success right out of the gate.  Take the time to do the legwork now so your later efforts can be focused on refining your menu and hiring the best team possible to create a restaurant that will be loved in your community while offering you financial rewards.
WHAT'S INCLUDED: 
My Business Plan Workbook

Food Cost Calculator

Two Days of On-Site Training (Travel Costs not Included)
PIZZA EXPO SPECIAL PRICING $995
ABOUT THE COMPANY: As the founder of Pie Guys' Pizza and More, I have had a lifelong love and fascination with pizza and the dream of having my own restaurant. This quest started with family Friday nights out for pizza at a small shop. The quest continued to a narrow alley in Naples, Italy, then the cheese-rich deep dish of Chicago, and finally Manhattan's finest NY style pie. Pizza conventions in Vegas and home creations have helped to grow this passion. There is history, art, science, and most of all passion in my pies and my restaurant.
With this passion for pizza, I knew I wanted to share what I had learned in building a successful pizza restaurant. It started as a list of "lessons learned" that I continually added to my first few years in business.  From there, I developed the YOUR BUSINESS PLAN WORKBOOK to help those interested in starting their own restaurant really dig into all that goes into taking an idea and turning it into reality. The TWO DAYS OF HANDS-ON TRAINING came from an off-the-cuff comment about shadowing me for a few days.  The culmination of these three things is where MY PIZZA RESTAURANT BUSINESS PLAN came from.
COMPANY NAME: My Pizza Restaurant Business Plan
WEBSITE: www.myprbp.com
EMAIL: support@myprbp.com