Essential Resources to Enhance Your Delivery Operations
What is the PDQ DELIVERY TOOLKIT?
The PDQ Delivery Toolkit is a feature-rich, easy-to-use mobile application that has been proven to enhance delivery services, lower costs and ensure the integrity of your drivers.
PDQ Delivery Toolkit contains a host of essential elements, all of which seamlessly work together to lower your bottom-line costs for delivery services, enrich the customer experience and provide detailed metrics to assess driver performance.  There's something for everyone in the PDQ Delivery Toolkit, including drivers, customers and store owners/operators: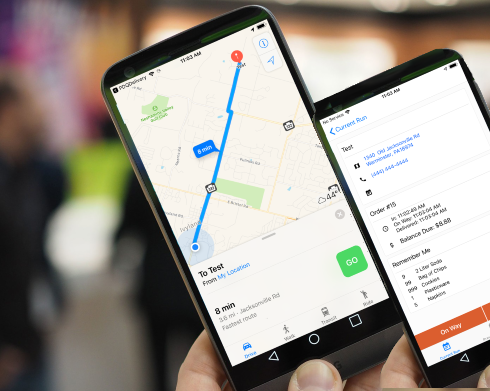 DRIVERS
Driver Mapping
Driver Order Reminders
Driver Receipt/Tip Reconciliation
CUSTOMERS
Real-Time Customer Notifications via Mobile Messaging
OWNERS/OPERATORS
Driver Tracking Map, with Real-Time and Historical Views
Back-End Reporting
What value does the PDQ DELIVERY TOOLKIT have?
Reduces Delivery Costs
Whether mapping out the fastest route, enhancing your driver dispatch/routing abilities, ensuring accurate orders via "item reminders," or adding a convenience fee to help offset third-party fees/surcharges, the PDQ Delivery Toolkit lowers the overall cost of your delivery business.
Enhances Customer Satisfaction
In food delivery it's all about fast and fresh!  With the PDQ Delivery Toolkit, your customers will get up-to-date notifications, (order is on-the-way; driver will be there in "x" amount of time; order has been left at the door for contactless service), prompt delivery and accurate orders.
And if you add our natively integrated PDQ Rewards, your customers will keep coming back and ordering more!
Assesses Driver Performance
With detailed driver metrics to easily assess driver performance, you'll know exactly what your drivers are doing from the time they are dispatched to when they return to the store.
Naturally, the PDQ Delivery Toolkit is natively integrated with the PDQ POS system and the PDQ custom Online Ordering platform for seamless service and measurable value.
Learn more:
Online: PDQdt.com or PDQpos.com (and PDQoo.com for custom online ordering)
Call: 877-968-6430
Email: Sales@PDQpos.com
About Us
For over 34 years, Signature Systems, Inc. has been a leading technology solutions innovator. Its signature product—the multi-award winning PDQ POS—is the only top rated, all-concept restaurant point of sale system that was designed from the ground up for pizzerias.  Touted by thousands of customers in thousands of locations as the 'fastest POS' and the "easiest POS to learn, use and manage," PDQ POS is backed by an industry-leading warranty and an acclaimed 24x7x365 in-house domestic team of experts.
Leveraging seamless integration to top-tier 3rd party platforms and native integration to a suite of PDQ solutions, including PDQ Online Ordering, PDQ Rewards, PDQ Delivery Toolkit, and PDQ Enterprise reporting, our highly scalable platform is designed for both single store independents & multi-unit franchises/chains.