Molded Fiber Glass Tray Company (MFG Tray) offers a new compact storage solution–introducing the new Mini Dough Box. Hatched from the celebrated 870 Series Line, this half-sized box (18"L x 13"W x 3"H) provides an effective solution when space is of the essence. A snap-on lid is also available for this box. Get more flexibility in smaller kitchens and cramped workspaces with all the strength and durability of MFG Tray's standard boxes.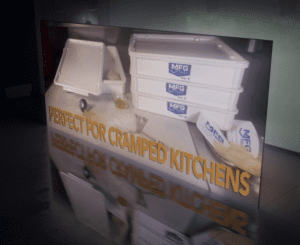 » Fiberglass strength and durability outlasts plastic
» Optimal dough protection and safe storage
» Ideal for storing, proofing and cooling
» Secure stacking on standard MFG 870 series boxes
» Won't bend, dent or sag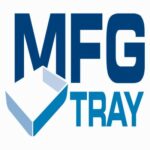 Molded Fiber Glass Tray Company (MFG Tray), headquartered in Linesville, PA, is the leading manufacturer of high-strength, glass-reinforced composite containers, trays, boxes, flats, and totes and is one of the largest employers in our region. For over 70 years, MFG Tray containers have supported businesses serious about material handling in the metalworking, plastics, electronics, food service, confectionery, farming, and pharmaceutical industries.
Contact MFG Tray at 814.683.4500, Toll-free 800.458.6050 or visit www.mfgtray.com.