Famed pizzeria surpasses $1 million a month in sales
Approaching 1570 Stockton Street in the North Beach neighborhood of San Francisco at lunchtime, a line of eager diners stretches for a half  block. At the corner resides a thriving legend in pizza history, Tony's Pizza Napoletana. Everyone on that block knew they were partaking in something special.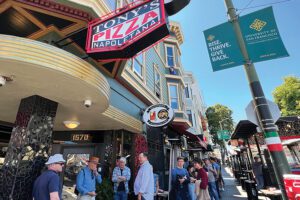 Tony's Pizza Napoletana is a melting pot of pizza styles. The pizzeria excels at an array of them, including Classic American, Classic Italian, Pizza Napoletana, California, Pizza Romano, New York, Grandma, Sicilian, Detroit, Coal-fired, St. Louis and gluten-free. With a full menu, Tony's applies the same "respect the craft" approach to everything served, from the giant meatball app to house-made pastas, desserts and a comprehensive beverage program. 
"I always said I want to make it an institution," says owner Tony Gemignani. "There is only one. I always felt like Tony's could be the best pizza in the U.S. It could be the best pizzeria in the world. Tony's is like what's your favorite spot in Detroit and New Haven and New York and St. Louis and let's all have it in one place."
Tony's has experienced a renaissance that has catapulted the famed pizzeria into uncharted territory: one-million-dollar net sales a month. It's an unfathomable number for even the highest volume of pizzeria. 
---
Pizzeria of Year Proud Sponsors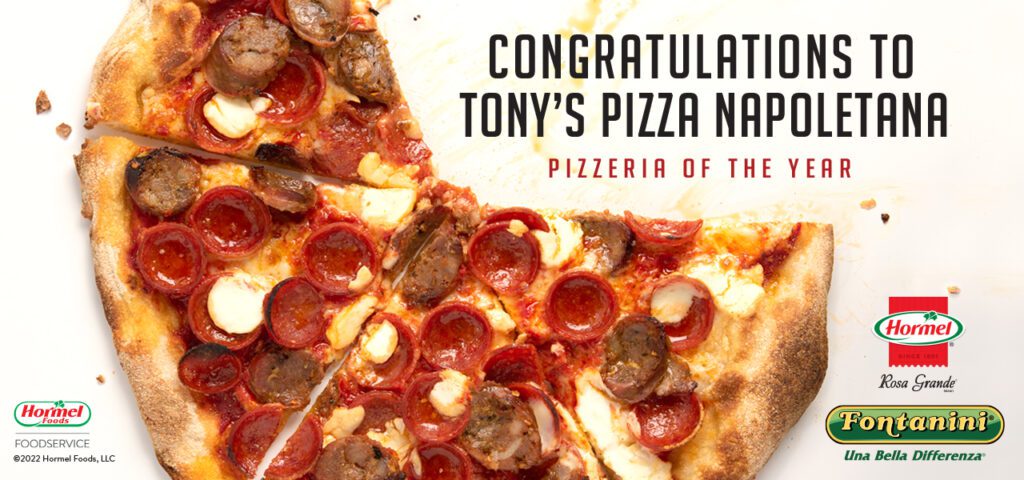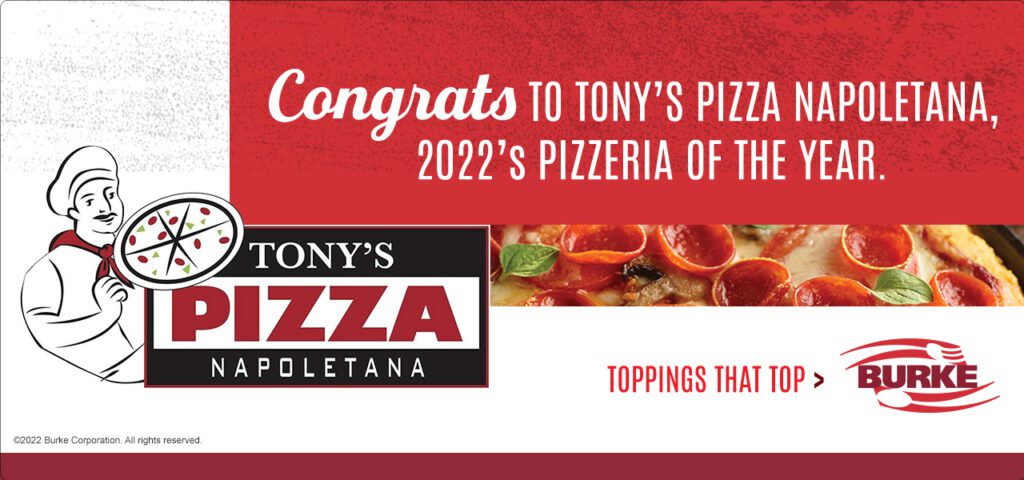 ---
The blockbuster sales and Tony's unwavering reputation as one of the world's best pizzerias have earned Tony's Pizza Napoletana the coveted Pizzeria of the Year 2022 honor by Pizza Today.
To grasp the steps Tony took to reach unprecedented sales, especially amidst a volatile business environment, let's look at Tony's in its infancy.
Today, Tony Gemignani is at the pinnacle of his 31-year pizza career. He is the chef and owner of more than 30 restaurants and a school. The 13-time World Pizza Champion's name has become synonymous with pizza making. He has taught some of the industry's brightest operators and pizza makers. Today's pizzeria community looks to him as an industry thought leader. It's easy to forget that Tony's ascension was gradual and filled with obstacles and those who doubted his vision. But he never did. "Tony's is the first concept that had multiple ovens and styles," Gemignani says. "Everybody said 'why'? Everything has always been 'what are you doing that for'? Nobody got it other than my wife."
He spent several years traveling and researching the pizza styles, processes and ingredients that put Tony's on the map globally. In the mid-90s, he couldn't simply Google how to create so many styles. Traveling to pizza cities, he immersed himself into every facet of a given style. He also went city to city to experience Italian festivals and soak up every pizza industry-related event. "Before it was Google, before you could just YouTube it, you had to be out there and I always say, it's the experience of going to Detroit and going to Buddy's and going to Naples and trying Enzo's. There is that feel or understanding of it."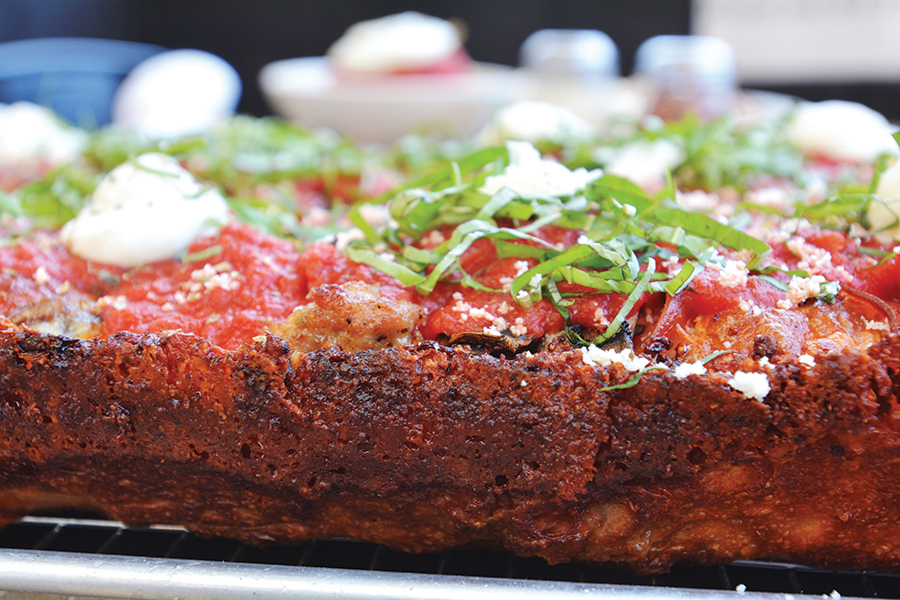 The industry was very different then. Operators held their secrets closer than they do today. Learning a new style was time-consuming. He spent a decade bringing the concept vision to fruition. "There was a lot of sourcing, not only importing ingredients, it was sourcing ingredients that were regional ingredients from America that nobody could get," he says. "So, there was a lot into Tony's that took a lot of research, time and being on the road all those years at the conventions and pizza and Italian festivals."
Tony gained experience and acclaim at his brother's pizzeria, Pyzano's Pizzeria in Castro Valley. But Tony wanted to chart a course of his own making. He found partners and just after the economic recession of 2008, Tony found a quiet Bay Area neighborhood that had yet to be revitalized. Vacant storefronts were plentiful in North Beach. Honing in on the Little Italy neighborhood, Tony had his pick of buildings. But as he eyed the corner of Stockton and Union, even his broker warned him that it was a cursed corner. Tony instead followed his due diligence on the block's history. "For 90 years it was like three places," Tony says. "After that, it was three to four places in two and a half years."
Tony's Pizza Napoletana opened as a full-service pizzeria in 2009 with raving success. Right away Tony saw a void in convenience, pick-up and delivery in his fine-dining pizzeria and wanted to take over the neighboring storefront. Within eight months Tony's Coal-Fired Pizza & Slice House opened under the same business license.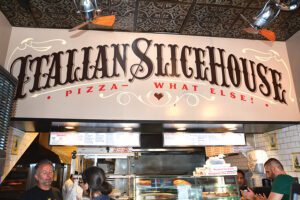 With the combination of fine dining and a counter-service slice house, Tony's was designed to hit high sales figures and its rise began gradually.
"Celebrating the first $1 million, it took a lot and then to get to $1.2 and to do a $5,000 night, those were exciting times," Gemignani says. "Before she was my wife, my girlfriend sitting on the counter and me writing out checks. I don't want people to think that I was never there. Or you could be there, and it could be gone one day. You never know what could happen. 
"Then you say 'wow, how can you do a million-dollar month?'  he says. "A million dollars a year you're always trying to achieve that and then the $2 million restaurant. But with Tony's the goal was $10 million a year honestly. As we started to go, I would always dream about 'wow, I could do $10 million' and now it's like 'can you actually do $12 million' and during a really unstable and interesting time?"
Fast forward, it's the end of 2019 and Tony's Pizza Napoletana capped the year with $9.1 million in sales and he anticipated reaching that $10 million mark in 2020 for the first time in its history.
Tony was also eager to be a sole proprietor of his namesake business. He had already bought out one partner and in February 2020 Tony bought out the second partner. "I got the biggest SBA loan I've ever gotten, the biggest loan I've ever gotten," he says. "I had never gotten an SBA loan. I had only gotten a home loan. I've been able to get private equity. Maybe two weeks after the documents were done and we signed everything, COVID hit."
The bottom fell out. The COVID-19 Pandemic obliterated San Francisco's once thriving restaurant industry. The initial blow to Tony's was devastating, a 56-percent decline in business during that second quarter. 
Tony stepped into the forefront on Pizza Today's The Hot Slice Podcast and Checking In With series offering other operators the realities of COVID-19 in one of the country's largest metropolitan cities and the actions he was taking to rebound. Some of those steps triggered the immense growth Tony's experienced in 2021 and 2022.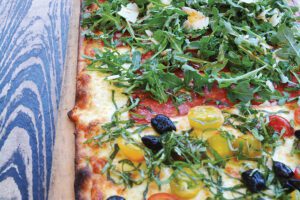 But survival was paramount at Tony's in 2020. The team got creative and innovative to maintain during the grim time, instituting such initiatives as Wine for a Dime, frozen pizzas, take and bake pizza, family specials pizza kits, pizza valet, Easter egg coloring packages, cocktails to-go, and 10 percent customer loyalty pens.
They also took a hard look at the operations, making decisions to decrease menu options and offer better online ordering. They restructured the Slice House kitchen and streamlined to-go and the third-party/pick-up window directly on the sidewalk.
Tony's had used parklet prior to COVID-19, so as soon as the city approved the outdoor seating, Tony went all in. "I invested in the parklets on both sides of the restaurant with lighting and heaters," he says. "It was a big investment." The parklets were completed in phases with roofing added for colder months. The parklets created an additional 100 seats for the busy restaurant. While indoor dining was closed, the parklets, carryout and delivery flourished. 
The initiatives helped stem the damage and triggered a comeback. The efficiencies and parklets sparked Tony and his team to think forward. "What happens when it comes back? During COVID, you didn't have both open at the same time. So, I'm going to my GM Natale, 'how are we going to handle it? We could barely handle it at $9.1 and we're hoping we can get to $10. I remember when we hit $9 and I was like what happens when we hit $11? We don't have enough refrigeration. We don't have enough room."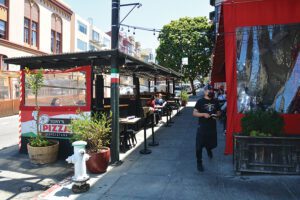 As Tony staged a comeback, he was experiencing one of his toughest times personally with the loss of his mother, who always pushed him to do what makes him happy. He also faced his own mortality after serious illness and surgery, giving him new perspective on his living legacy. 
Tony took the gamble and reinvested in his concept and created a concrete strategy to handle the sheer volume that he anticipated for Tony's. 
In 2019, Tony had started the process of opening a bakery that would also act as a commissary for dough production for Tony's, as well as other brands. Delayed by COVID-19, Toscano Brothers opened around the corner from Tony's in May 2021, moving all dough production (mixers and equipment) from Tony's to the bakery. It doubled walk-in refrigeration and freezer capacity for dough and frozen pizzas — approximately 70 percent more dough for pizza. It also shifted 25 percent of the inventory from Tony's to the bakery, which now housed flour, semolina, yeast, oil, malt and other dough-making supplies for Tony's seven dough recipes. 
The bakery also provided revenue generation through breads such as sourdough baguettes, artisan batards and boulé then cross utilized them for menu items at Tony's like garlic bread, bruschetta, crostini and sour cherry and chocolate caramel bread pudding. Bagels and pastries added extra income.
Using the bakery as a commissary helped free up much needed space at Tony's. The sauté and fryer lines were expanded to double the space and new equipment was purchased. A double stack gas brick oven was replaced by a triple stack electric deck oven.
With dough being made at the bakery, the prep, refrigeration and storage areas at Tony's were poised to tackle more products.  
The kitchen areas in Tony's and the Slice House are compact, something you wouldn't expect for a million-dollar-a-month business. However, "It's tiny, right?" Tony says. "Everyone knows their stations. They are good at what they do. They're great pizza makers."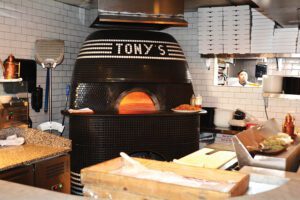 Approximately 100 employees staff Tony's and the Slice House. A seasoned and tested team has been vital to Tony's success. "Robvell, JP, Stephanie, Mario, Juan, there are a lot that have been with us since the beginning."
Retaining his team has been key in a tough labor market. "A big part of it is I try to lead by example," Tony says. "So, I am in the kitchen still. I think that's pretty important that employees see you working. I'm able to do that. Pay is important. Treat them right is important."
Tony takes a sports team dynamic approach with his crew and hiring. "It's a game every night. You have to be better at something. I've been pretty fortunate enough to keep some really great core employees. I think the core is important. The infrastructure is important. You can always get people to leave and come but it's that GM, that chef, wine director, lead bartenders, lead servers."
Another key factor in the concept is creative marketing, often unorthodox campaigns. While Tony's currently does not use a marketing or PR agency, the pizzeria is able to drive traffic with fresh stories that keep Tony's top of mind in the community and beyond. During Asian Pacific American Heritage Month, Tony put a special pizza on its menu for a month to help raise funds for two badminton players to advance in the sport. A teen badminton champ himself, Tony even challenged the rising stars to a friendly match and taught them how to make pizza. It garnered media attention and generated funds for the athletes. 
Cause marketing is close to Tony's heart with three major charities: George Mark Children's House, Family House, and SF Marin Food Bank, as well as regular pizza donations to St Vincent de Paul.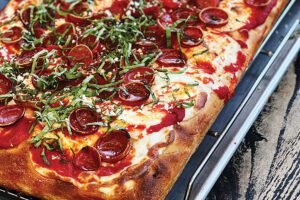 To grab attention, Tony has collaborated with artists to create custom, limited-edition pizzas and boxes with Ed Hardy and renowned artist and North Beach neighbor Jeremy Fish.
Tony is all about creating buzzworthy marketing. He is currently collaborating with Fish on a creative project with a local cannabis dispensary. Tony has created an out-of-the-box slice/cannabis pairing. "We do millionaire's bacon, it has basil and tomatoes," Tony says. "I do it in the wood-fired oven." The pizza goes into Fish's custom-designed box. "You bring that box up to the dispensary, you have a Tony's preroll called the 'Pizza Joint,'" he says. "It has notes of the basil and the tomato and that earthiness and smokiness of course of that pizza. So, it's kind of cannabis world, pizza world and artist." 
Tony says when you're up against pizza companies with million-dollar ad and marketing budgets you must find ways to stand out from the crowd. 
At the end of the day, it's the personal connection. "When you have a personal connection with your restaurant and a personal connection to your customers and the food and what it's like…those moments of purity are important to share," he says. "Tony's has always been about that. I have a story about every single pizza that lands on that table or the flour or the oven it came out of."
DENISE GREER is Executive Editor at Pizza Today.