Pizza Crust Color Theory
Over the years I have taught many pizza makers embarking on a new journey, but there always seems to be a handful of questions I always get. "When do I know my pizza is done" is probably a question I get once a class. For beginners, learning to stretch and top dough is a daunting task … let alone getting it off the table and into the oven. Cooking the pizza seems to be a step that is always left as an afterthought. We think about ovens, but what happens to our product once it is in the oven is a different thing entirely. Some people prefer timers, but I think they are useless. For one, kitchens are loud enough without the incessant beeping of multiple timers. In the end timers only act as a preemptive warning that a pizza may be done as during a busy night ovens begin to cool down as pizzas are rotated in and out. Learning how the performance of your equipment changes during busy periods as well as how your dough and product changes with it is key. Instead what I do is look at color. Every single time the oven door is opened, whether a new pizza is going in or a fully cooked one is coming out, I assess the color of every single pizza on that deck. If the doors have glass, I am looking through those as well, but the opening and closing of the door is an indicator to me that I should be looking.
Color can come from several different things. The main reasons pizzas take on color when baked is because of the Maillard reaction and caramelization of sugars. The Maillard reaction is a chemical reaction between amino acids, proteins and sugars. During the cooking process a crust is formed, changing the flavor but also creating the variance in color that we see when pizzas are finished cooking. Sugars are extremely attracted to moisture, which means doughs with varying hydrations will have slightly different colors. Caramelization of sugar is different from the Maillard reaction in that no amino acids are necessary (just as not all sugars are equal in terms of concentration of sweetness for the same amounts). The caramelization of sugars and the resulting colors are all different depending on the type of sugar present.  It is because of this that Neapolitan pizzas brown differently than a New York style. Blisters and leoparding as opposed to even golden brown are indicators of doneness but are at two ends of the spectrum. Intensity of heat combined with natural sugars present in flour will blister more as in Neapolitan pizzas. Lower temperatures and added sugar like plain white sugar or diastatic malt will lend a more golden brown.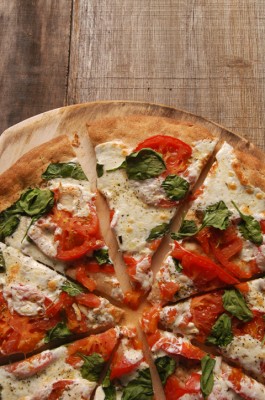 Recipes that call for added sugar normally use white granulated sugar or malt. One way to change color is by substituting these sugars with another. If malt is used, it is normally in a dry powdered form, but it can also be found in a liquid form and comes in three varieties: light, amber and black. Honey, agave, molasses, cane sugar and sorghum are other sweeteners in syrup forms. If you are a stickler for getting your percentages and hydration exact, liquid sugars like honey and agave all have a small water component. The fact that these sugars are in a syrupy liquid form will mean that it is going to add a moisture content to your overall hydration, but they also give varying degrees of amber and red hues to your finished pizzas.
There are other ways to add color to your dough besides sugar itself. Blending different grains is an easy way to change the color of your final product — flours like whole wheat, rye and ancient grains like einkorn, spelt and Khorasan. These grains have varying levels of gluten, so blending small quantities into your dough recipes will change the final coloration of your dough as well as the inside crumb color without affecting the final gluten
development.
Another way to add color to your dough is by changing the water and the oil. Instead of using regular water, try adding the liquid from tomatoes, beer, stock or even juice! Juice especially will be high in sugar, so this will affect how quickly the dough browns in the oven. Adding any of these will also add flavor and aroma to your finished pizza. With oil consider using chili oil, pumpkin seed oil or even sesame oil for a different spin on pizza.
Lastly, one of the best ways to add color to any dough is by adding purees, powders or squid ink. A concentrated puree like tomato, ube (a type of purple potato) or fruits like blackberries will give a dramatic color to your dough. If adding purees to your dough, you will want to consider its thickness as a thin puree will mean extra water. You will want to compensate for this by decreasing the water in your recipe to maintain the same percentage. Powders like cocoa and charcoal will give intense color. Squid ink is another ingredient that is more commonly found in pasta making but can be easily incorporated into pizza dough. When it comes to adding intense colors to your dough with powders, purees and squid ink, start with small quantities. Too much of anything will start to affect the overall structure of dough and affect gluten development. Adding color can be a fun experiment for any pizza maker, but it can be hard to cook. If your total hydration is high and you are using an added ingredient or a different sugar, knowing when the pizza is done can be very tricky. Finding the right cook temperature will also be key as high hydrations need longer bakes at lower temperatures, but sugars will caramelize at various rates.
Playing with color can be fun, but understanding how basic doughs take on color during baking is key. Learn the basics and then experiment, experiment, experiment! Start small , but the skies are the limit when it comes to making dough.
Laura Meyer  is Chef at Capo's and Administrator and Teaching Assistant at the International School of Pizza in San Francisco.