The Dough Doctor answers question about soft crusts, seafood pizzas and breakfast pies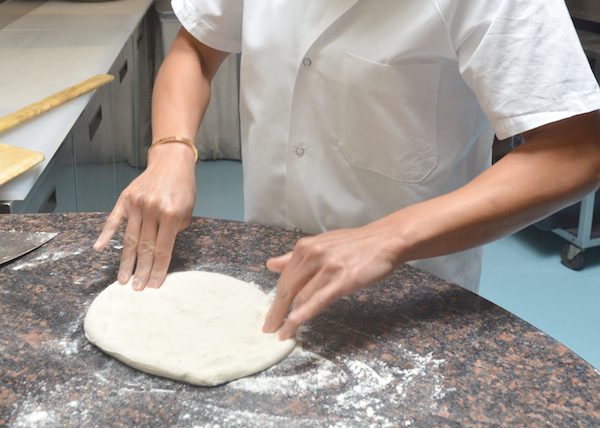 Q: My pizza dough gets too soft to hand toss after only two days in the cooler. What do I do?
A: Your dough formula likely contains too much oil. Keep in mind that both water and oil contribute to the soft and extensible handling properties of the dough. It's most likely that this is where the problem is. To correct the problem, I would suggest reducing the oil content to a level where it does not exceed four percent of the flour weight and to where the combined water and oil do not exceed 56 to 60 percent of the flour weight.
Also, keep in mind that the flour needs to hydrate the water in order to form "gluten". With the high level of oil that you're using it is entirely possible that a good deal of the flour is absorbing oil rather than water if the oil is not added in a delayed manner. To do this, do not add the oil until the ingredients have had a chance to mix together at a low speed for a couple of minutes. When you cannot see any dry flour in the mixing bowl, the oil can be added and blended in by mixing for an additional minute at low speed. Then, the dough can be mixed in your normal manner. This should give you more consistent dough performance, especially after a couple of days in the cooler.
Q: We have had a number of requests for a seafood-topped pizza. Do you have any suggestions for a starting point?
A: Seafood pizzas are one of my all-time favorites. Start with your regular dough skins and brush lightly with olive oil. Apply a thin layer of Alfredo sauce, then sprinkle with diced fresh garlic, coarse ground white pepper and dried dill weed. Apply some thin sliced onion and pieces of roasted red peppers and your choice of seafood.
My personal preference is whole raw shrimp (21 to 25 or higher count), sliced raw fish (salmon or orange roughy works well, but any firm flesh fish can also be used) and finish with a light sprinkle of mozzarella and Parmesan cheese. Bake just as you would any of your regular pizzas. This is a fun pizza to make as you can use whatever seafood is available. I've used grouper for the fish and clams, lobster and even conch for the seafood topping.
Q: Do you have any suggestions for making a breakfast pizza?
A: I've always been puzzled by the fact that pizzerias are not open for breakfast trade. The box hamburger stores are all open, and now the box sandwich stores are getting their piece of the breakfast trade too, so why not pizza? Individual-sized breakfast pizzas as well as breakfast-sized calzones might be just the ticket for a fast, "grab and go" breakfast to feed hungry commuters with little time to wait in long lines.
A great breakfast pizza can be made using an individual-sized dough skin (five- to eight-inch diameter). Begin by brushing the dough with melted butter, or blend of half butter and half canola oil, add slices of fresh tomato, or tomato filets rather than a traditional sauce, then add breakfast sausage to replace your Italian sausage. For vegetables, use sliced mushrooms, onion, red and green peppers for color, add a sprinkling of crispy bacon pieces and finish with a light application of half mozzarella and half cheddar cheese. These pizzas hold well under a heat lamp on a heated tray for speedy service.
The other approach that I've had great success with is to make a breakfast calzone. I like to keep these on a smaller, individual sized format, beginning with a dough skin about eight inches in diameter. Brush the outer edge of the dough skin with water, then add pre-cooked scrambled egg, sautéed onion, green peppers, mushrooms, pre-cooked bacon pieces, and precooked breakfast sausage. Add a couple pieces of fresh sliced tomato, a little ricotta, mozzarella and cheddar cheese, then fold and crimp tightly closed. Cut a vent hole into the top of the calzone, brush with melted butter, or commercial butter oil and bake to a golden brown color.
These calzones hold very well under a heat lamp, or better yet, slip them into parchment paper pouches (this makes them easier to eat on the run), and hold under a heat lamp. Now, all you need to do is to grab a calzone, drop it into a bag with a cup of coffee, add a napkin or two and you have the start for a fast, ready-to-go commuter breakfast.
Tom Lehmann is a former director at the American Institute of Baking in Manhattan, Kansas and Pizza Today's resident dough expert.