Get solutions to the biggest pizza dough production challenges
While there are many factors that go into making a great pizza dough, I believe that the three biggest dough production challenges are consistency, proper fermentation and equipment. The first two can be improved by two seemingly simple things: time and temperature. These two things can make or break a great dough; and if you are able to control and alter them, you can manage all three of these challenges elevating your dough from good to great. 
Consistency can mean a few different things, but ultimately it is producing the exact same dough every day, so you are able to put out a reliable product. A few things that can affect the consistency of your dough are the quality of your flour, your mixing time and your IDT or ideal dough temperature.   
When choosing a flour, the things to consider are:
Protein levels (the more protein the tighter the gluten net).
The W value: flour quality/strength.
Type of flour: 0, 00, 1, 2 or whole-meal, which is designated based on the flour's ash content.
Your flour should be fresh and free of clumps when it is delivered. Along with the flour, accurately weighing out each ingredient before adding it to your batch of dough seems like a no brainer, but is something that can be overlooked. If you find that you are changing things on a daily or weekly basis, such as the amount of water or flour you add, it's important to ask yourself why you are doing this. For example, since I don't have a temperature-controlled dough room and we often leave the windows and doors open at my restaurant, the time of year drastically affects my dough. We compensate by changing the volume of starter (we do a sourdough pizza crust) we put in depending on the season. 
How long you mix your dough can have a huge impact on its consistency. While there is no universal time for this, as all doughs are different, you should aim for a consistent mixing time for every batch of dough you produce. No matter the dough, there is definitely a sweet spot and you want to mix it until you have sufficiently formed the gluten net. 
The order that you add your ingredients can also make a difference. Whether you add your water or flour to the bowl first matters less than if you do it the same every time. This is because it will affect how your ingredients are incorporated and thus how long you mix everything for. 
Are you taking the temperature of the added water and thus your final dough temperature? The IDT can drastically change your final dough because it will change your fermentation time. If your dough comes out at a higher temperature than normal or expected without you knowing, the yeast will accelerate the fermentation process. This essentially means that the yeast is eating the simple sugars released by the flour's starch that has been broken down and in turn releases carbon dioxide. The carbon dioxide is what forms the tiny air bubbles in the dough. As long as you know that this is happening you can work with your dough to either slow it down or ball it and use it sooner. If you want to slow down the fermentation some easy fixes are to simply put the bulk dough in the walk in and fold the dough a few times every hour to cool it down. Another route would be to do a shorter bulk ferment. This of course all leads us right into proper fermentation.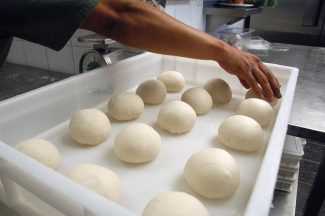 Fermentation, in my opinion is the most important part of dough production. Once you understand how and why your dough develops the way it does, you will be able to use time and temperature to adjust it when you run into problems. You could have equipment failures and need to alter your method, or even help you if you make dough outside of your restaurant and comfort zone.
There are few things that can determine how long you age your dough. The first is determining if you want to use a direct or indirect dough method. In a direct method all of your ingredients are incorporated in a single stage of production. With an indirect method, a preferment is mixed in advanced of the dough and allowed to ferment. It is then added to the dough, using multiple stages.  
The next is what type of yeast you use and if you add a biga, poolish, Levan or any other mother dough to your recipe. By using a preferment or indirect method, you can cut down on some of your fermentation time and still have a beautiful, robust flavor and structure. Regardless of the type of yeast or preferment that you use, something that a lot of pizza makers skip, but I find can make all the difference between a fantastic dough and a subpar one, is an autolyse.  An autolyse is basically letting the dough rest after combing the flour and water.  This strengthens the dough, gives it elasticity and forms the gluten structure.  
In general, the longer you ferment your dough, the more flavor you are going to get out of it. A slower fermentation creates a better gluten structure which means better bubbles in the crust due to the aid in gluten development. By rushing the process, you end up with a one dimensional dough, in both flavor and texture.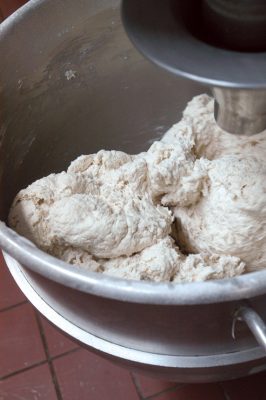 The last thing is equipment. What equipment you use isn't as important as knowing how to use it.  By this I mean that whether you use a planetary or a spiral mixer you can achieve excellent results, but your mixing methods and timing will be different. Not even two spiral mixers, of different brands, will produce the same dough so it's important to hone in your recipe depending on what you're working with. The type of mixer you use will determine your mixing time and how the ingredients are incorporated into the dough.  
The mixers aren't the only piece of equipment that you need to think about. What scale you use can affect the result of your dough as well if it is not accurate.  Another piece of equipment to think about is if you use a dough baller. If you do, you want to make sure that the bottom of the dough balls are thoroughly sealed. If they're not, it will cause your dough to open incorrectly when you're pushing out your crust and have a weak middle.  
The right dough can make or break a pizza. That is why it is so important to understand how to handle any obstacles and make your process as smooth and consistent as possible. 
Audrey Kelly is the owner and pizzaiola at Audrey Jane's Pizza Garage in Boulder, CO.