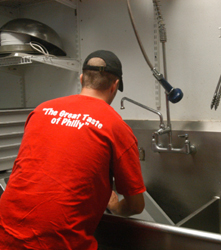 In 1996, a then-16-year-old Clayton Krueger began working as a dishwasher at Farrelli's Wood Fire Pizza in Lacey, Washington. Krueger later moved his way through various spots in the kitchen, earning more responsibility and praise along the way.
Today, as the Washington-based chain holds six locations, Krueger serves on Farrelli's executive team as the director of marketing and communications.
Among Farrelli's leadership team, two other senior members share a similar tale. Both IT Director James Mickelson and Director of Kitchen Operations Mike Rutledge have ascended the company ladder from entry-level spots.
For Farrelli's President of Operations Jacque Farrell, the company wouldn't have it any other way. Cultivating internal talent, she says, has helped Farrelli's establish itself as one of America's top pizzerias, including past honors as Pizza Today's Independent Pizzeria of the Year.
"A core strength in our senior management team is the number of people who have grown with the company," Farrell says. "They understand our vision and are committed to the business."
Convinced that a culture of talent development motivates employees and heightens productivity, many pizzerias share Farrelli's penchant for internal promotion. "We're a stronger company because we promote people who understand our culture and know what it takes to be successful here," says Gabriella Streicher, director of human resources for 35-unit, Chicago-based chain Lou Malnati's Pizzeria.
Streicher says that 81 percent of Malnati's store managers have been promoted from within, while Farrell reports that each of Farrelli's current GMs has been elevated from the inside. Both restaurant leaders champion the benefits and advantages of promoting from within the restaurant's ranks.
Most notably, hiring from within often carries less risk. No matter how comprehensive the interview process, it's a gamble that an outsider will embrace the restaurant's internal culture. With a current staff member, however, an operator knows the employee's character well enough to make a more informed personnel decision.
That employee's familiarity with the restaurant, meanwhile, will mean less training and, ultimately, cost savings. Mary Dawson, assistant professor at the University of Houston's College of Hotel and Restaurant Management, says one executive for a regional casual-dining chain confided in her that recruiting, interviewing, and training a new manager over a six-month period cost the company an estimated $20,000. In contrast, a current employee innately understands the processes and culture of the organization and can therefore spend more time learning how to manage rather than discovering systems and policies.
"We know them and they know us," Streicher says, adding that the mutual awareness also breeds a consistent guest experience.
By promoting from within, restaurant leaders also show current staff that the restaurant offers possibilities rather than dead ends, a reality that improves recruiting and retention efforts. When Georgia State University hospitality professor Debra Cannon asks her students what they desire in their careers, most name advancement opportunities before salary. "People want to see the ability for upward movement," Cannon says.
For all of internal promotion's benefits, however, the practice is not without its challenges. Industry insiders share five common problems created by promoting from within and offer battle-tested solutions:
Problem: A newly appointed manager encounters trouble supervising her former peers.
Solution: If possible, transfer the promoted employee to a different store rather than having her work in the current unit. If a transfer is not possible, consider providing progressive steps of heightened responsibility. Cannon says this should lessen some of those peer-to-manager challenges and provide the employee — and her co-workers — time to adapt. "It's difficult when someone goes from peer one day to manager the next … and you could be setting up that employee for failure," Cannon says.
Problem: Feeling the need to promote based on seniority.
Solution: The goal is to promote the right person from within, which doesn't mean elevating staff on tenure alone. Cannon calls seniority-based promotions "dangerous" and a practice that quality-minded restaurant companies reject. "You have to be prepared for tough conversations … and understand that not everyone is meant to be a boss," Farrell says.
Problem: Charges of favoritism or bias follow an internal promotion.
Solution: Announce the reasons someone was elevated, such as experience in different roles, performance metrics, or the particular skills the employee possesses that will help the restaurant succeed.
"Share the story of why someone was promoted," Cannon says. "This can help eliminate the negative talk that goes on, while also helping other employees see what's necessary to get ahead."
Problem: Wonderful workers who, when promoted, struggle from a lack of leadership qualities.
Solution: Recognizing this problem within their ranks, Malnati's began working with its managers to identify the skills necessary to be an organizational leader and then charged managers to assess those traits in promising employees. This, Streicher says, has helped curb the dicey situations that can arise when a quality worker earns a promotion, but then trips in the new position.
Problem: Accurately assessing an employee's leadership chops.
Solution: To gauge one's leadership potential, both Dawson and Cannon suggest making an employee a trainer first or involving them in new tasks, such as ordering, receiving, or operational duties for closing the restaurant.
"This helps the operator get a better sense of the employee's abilities, but also allows the employee to feel valued and invested in," Cannon says.
When to Scrap Internal Promotions
Even among the most devoted proponents of internal promotion, there remain times when restaurant leadership would be wise to look outside the organization to fill a particular role.
As restaurants evolve, the need for new perspectives (understanding of a franchised system or catering) or skills (tech knowledge or menu development) may simply not be present in-house. In knowing the restaurant's present and future as well as current employees' strengths and capabilities, an operator can make more strategic and informed hiring decisions — even if it means ditching the internal promotion mindset.
"Decisions have to be business based and made to set the operation up for success," says Georgia State University hospitality professor Debra Cannon. "Operators can't just hire for today's needs, but need to look at potential needs down the line, which may mean bringing in new blood."
Chicago-based writer Daniel P. Smith has covered business issues and best practices for a variety of trade publications, newspapers, and magazines.