If you're looking to move or expand, one of your first questions might be whether to purchase or lease your new location.
The decision to rent or buy can be as unique as your concept, says Dan Simons, principal with Vucurevich Simons Advisory Group, a restaurant consulting firm with offices in Kensington, Maryland, and Austin, Texas.
"It's really a risk-return recipe, and that's why it's different for everybody," he says.
Steven Josovitz, vice president of The Shumacher Group in Atlanta, agrees. "The first and most important strategy that a restaurant operator has to look at is, what is his (desired) end result?" he says. Shumacher is a real estate brokerage specializing in restaurants.
If you're looking for business longevity and a long-term investment, buying a building is the obvious choice, Josovitz says. But if a pizzeria operator wants to open multiple units only to sell them, or if he or she has little operating capital, leasing is the best bet.
"If you're just starting out, renting is a great option, especially if you're not financially stable and don't have a heavy cash flow," says Meredith Wickliffe, co-owner/operator of Wick's Pizza Parlor and Pub in Louisville, Kentucky. She adds that this was the case in the early days of her business.
"If infrastructure is there already … a pizza operator can literally go into a space, sometimes for a very small amount of money, and open within matter of weeks," Josovitz says. Even for shell space, the cost to renovate and rent is often cheaper than making a purchase, he adds.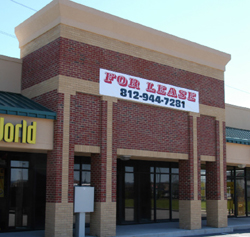 Wick's has five locations — four leased and one owned. The company's original location opened in 1991 and expanded into an adjacent building twice since then, all rented from the same owner. Three of Wick's four
rented stores are on common triple-net leases, which means Wick's is responsible for taxes, insurance and nearly all interior and exterior upkeep.
"Looking back after 22 years, I can say that I would have liked to have control over my own destiny," says Wickliffe, adding that she has nearly all the responsibility of an owner on her rented stores but none of the benefits. She says Wick's made significant investments in renovations in all of its rented locations.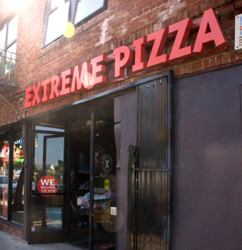 If you move, you've only served to increase the property value for the owner because you can't take those building improvements with you, Wickliffe says. Simons agrees. "You buy the new air conditioning unit with a life of 15 or 20 years, and you lease for five years and you're gone. You've invested a lot of money into somebody else's asset."
Another potential pitfall: beware if a landlord requires a percentage of sales as part of your lease agreement, Josovitz says. It may save you money in the beginning because your base rent is reduced, but "nothing comes for free." Simons also warns pizza restaurateurs against signing personally to guarantee a lease. "If you've personally guaranteed a five-year lease, and your rent is $5,000 a month, $60,000 for five years, you've just committed to a $300,000 liability," he says.
Still, a lease can be an attractive option, Simons notes, because it can offer less risk and more flexibility than a purchase. If the neighborhood deteriorates around your restaurant, it's much easier to pull up stakes and move if you're on a standard 5-year lease than if you own the property, he says.
On the flip side, "If you are going to rent, make sure you have at least one option to renew so the landlord can't rent it out from under you," says Wickliffe. In a perfect world, Josovitz, Wickliffe and Simons all agree that if you can buy, you should.
"I believe the conventional wisdom that's out there: pizzerias and restaurants are risky, and real estate is not," Simons says. If you've been strategic about site selection, want to invest in a long-term asset, have good credit and can qualify for a loan, and you have up to a 30-percent down payment, purchasing your new location is almost always the best choice, says Josovitz.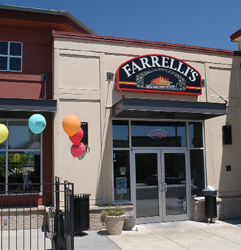 After 10 years in business, Wickliffe says her company was in a position to buy its newest location in the Middletown area of Louisville, and it has proved to be one of her best business decisions. She also formed a separate limited liability company, WWF Properties, to buy the building. WWF leases it back to Wick's.
Simons advises his clients to emulate Wickliffe's model because it reduces their liability and makes good business sense.
"There are tax advantages to owning the building and
leasing it back" to the business if they are two separate entities, Josovitz adds. Owning your building doesn't come without its headaches, however.
"It's easy to underestimate the ongoing maintenance, the ongoing facilities management. It can feel like an additional job," says Simons. In the end, though, it's usually worth the hassle.
"As a pizzeria operator, you are going to work just as hard whether you are a tenant or you own the building," says Simons. "The advantage with owning … at the end of 10 years or 15 years, you may well have a multi-million dollar asset on your hands."
Think you're ready to buy? Steven Josovitz, vice president of The Shumacher Group, a real estate brokerage specializing in restaurants, offers up some questions for pizzeria operators to consider:
Are you in the startup phase of your business, or do you have an established financial history? A startup always will be scrutinized by lenders more closely.
Do you have liquid assets for a down payment? You may be required to put down as much as
30 percent of the purchase price.
Is your credit healthy? If you have any recent history of late or missed payments to landlords or vendors, this could be detrimental to your ability to get a loan.
Can you pre-qualify for a loan? This can help expedite the purchase process and get you a more favorable interest rate.
What is your long-term business strategy? If you plan to open multiple units and sell them off, investing in real estate may not be your best bet. It's often easier to sell the business without the real estate.
Do you have a mortgage payment, taxes, insurance and upkeep factored into your monthly budget? If you haven't done so already, work with a CPA to establish an overall operating budget for your business.
Josovitz also notes that if you choose to buy, it's smart to hire a real estate broker or real estate attorney to advise you during the purchase process. An attorney can assist you with the legal contracts, but a broker also can help scout locations and negotiate the sale.
Amy Board Higgs is a freelancer specializing in writing on topics of interest to a wide array of businesses. She is based in Louisville, Kentucky.