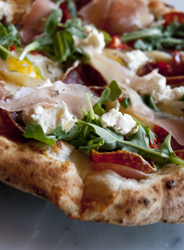 The secret's out: Detroit style pizza is delicious. It's not news to people in the Motor City, but the rest of us are only now being introduced to the burnt cheese goodness over 60 years after its first appearance. This year's Pizza Expo saw more Detroit style pies than ever before and they even earned some of the highest scores in the International Pizza Challenge. As if that wasn't enough, Little Caesar's recently launched a Detroit style pizza on their menu. It's clear that this very specific pizza species has entered the mainstream and I couldn't be more excited — not just because I enjoy eating it, but because of what it signifies for other geographically-determined pizza styles.
Slice, a Web site that bills itself as "America's Favorite Pizza Weblog," lists 30 different regional pizza variations. The usual suspects are there: New York Style; Chicago Deep Dish; Neapolitan; Old Forge and, of course, Detroit style. Each of these represents a mutation that occurred in a particular locality because of ingredient availability, economics and cultural influence. There was never a reason for them to exist in other parts of the country unless a New Yorker decided to bring his pizza to South Carolina or a Chicagoan decided to introduce deep dish to the West Coast. The sudden drive toward offering regional variations offers the customer a culinary vacation without having to buy a plane ticket. Until recently, one had to travel to New Haven, Connecticut, just to get a New Haven-style pizza. Now you can pick up a pie at Chicago's Piece Pizza or Metro Pizza in Las Vegas.
I still live in the area in which I grew up so my experience with regional pizza styles has been one of removal from my comfort zone, but so many pizza lovers look for ways to access their favorite hometown pie as a way of reconnecting with the past. My friend Mark used to bring carefully wrapped frozen slices from New York to Chicago so he'd have a steady supply throughout a semester in college. Some companies make it easier on their fans by offering flash-frozen pizzas for shipping throughout the country. It's a great solution for all the pizzerias whose refugee clientele have begged for a location in whatever city they have settled.
Foreign pizza variations can be great additions to your menu, but be sure to do your homework first. I've had plenty of pizza that misrepresented itself as the real deal when in reality the operator had only made a superficial copy based on an article or photograph. A deep-dish pizza is not defined solely by thickness just as the presence of a wood-burning oven alone does not indicate Neapolitan. Try to understand the context in which each format evolved and your finished product will be more likely to project authenticity.
I will travel any distance for great pizza but I'm happy to save money on airfare as regional pizza styles become more widely available across the globe.
Scott Wiener owns and operates Scott's Pizza Tours in New York City.