Pizza Tweets
Denver Pizza Company
@DenverPizzaCo
Stop in soon for our Lunch Deal. Monday-Friday until 3pm. $5 for a personal pizza, 2 toppings, and a drink.
Why it works: Posting a special the day of doesn't give customers a whole lot of time to plan. But offering the same special daily ensures repeat business. Reiterate this one often for top-of-mind awareness!
Garlic Jim's Pizza
@garlicjim
9th Anniversary Special – try our great Anniversary special, select from 9 specialty pizzas for $9.99 each. http://goo.gl/3zGSR
Why it works: This clever Tweet is easy to remember, but Garlic Jim's added in a link to the company's Web page with locations, phone numbers and online ordering links. It doesn't get much easier than that –– an easy and memorable offer.
Highlights from 2013 International Pizza Expo
PizzaToday.com: We have Pizza Expo 2013 covered and you can catch it all at pizzatoday.com/pizza-expo-2013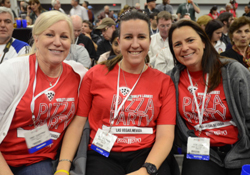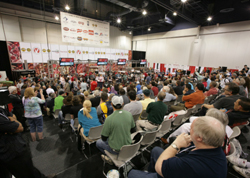 Facebook Pizza Feeds
Rubicon Pizza
First person to high five our bartender Stacey before 2:00 gets a free personal pizza of their choice on us.
Why it works: This is a fun promotion –– Stacey gets instant fame, Rubicon let customers know they have a bar and they're only out the cost of one small pizza. The winner becomes a great source of word-of-mouth advertising –– which is priceless!
Dals Pizza
Facebook special for Friday, March 29th. Get a large cheese pizza and a dozen wings for $14.99 or a large white pizza for $10.49!!! Pickup or Free delivery!!! Must mention Facebook to receive the discounted price! Everyday specials are 2 large cheese pizzas for $16.99 or a large cheese pizza and a regular Stromboli for $19.99…570-797-4161
Why it works: We love a trackable promotion, and using a code is the easiest method of finding out who's using your social media. Dals managed to get a daily special as well as everyday offerings in this post –– and they also let customers know they offer delivery.