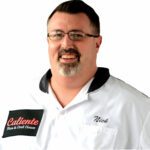 Nick Bogacz, founder and president of Caliente Pizza & Draft House in Pittsburgh
You've done all the hard work, and finally, job hunters are calling you. Now what? 
I like to break down the process into a few steps. But, first, if you recall from our previous Building Blocks articles, it's a matter of speed. Be sure to reply to anyone who applies (and shows promise) within 24 hours, and then it's on to the interview. In fact, the interview begins with that first call. 
On the phone
Start with this candid question: What are you doing now, and what are you looking to do? This sounds like a straightforward question, and it is, but the answers you'll receive are telling. 
I've heard everything from, "I have a job now but looking for a new opportunity," to "I haven't worked in years because I don't like structure, but I love pizza!" As you can guess, the question helps weed out candidates right away. But if this early questioning suggests they're worth a follow-up chat, find out the earliest time they can come in for an interview. You'll want to do this quickly because you don't want them to find a different job in the meantime.
In the store
You can have your own interview style, but personally, I find making a candidate feel at home from the outset is important. Greet them with a shake of the hand, offer a drink and give them a moment to fill out an application. I start every interview by introducing myself, sharing my company's history, and what jobs we have available. 
Most importantly, I share the company's vision and how someone can advance. I want to paint a clear picture that this "job" can be a career. I also describe the positive things we do as a company for our employees and the incentive programs we have in place. It's all about explaining the company culture. Once that's done, it's time for the candidate to share their story.
The most important question?
Sure, there are many revealing questions you can ask, but there is an especially powerful question that can open a conversation and tell you a lot about someone's situation: "Now you know the company's story, so what's yours?" You'll get all kinds of answers, but as long as there are no red flags and you like what you hear, you should feel confident to offer them the job. 
The offer and compensation
I like to offer the job with yet another question: "Is there any reason you would not take the job?" If they say no, they want it and you just hired them — I reach out my hand and say, "Welcome to the team." If they answer another way, then it might take a longer conversation to understand their hesitation.
As for particulars, such as compensation, we've broken down pay scales and job descriptions previously in this column, so hopefully you know what the position offers and the number was already disclosed in an ad. 
We've certainly been repeating this process at my business. In fact, since I have started writing this column, I've built two more locations. So, for the next installment, I'll share some lessons from opening two stores in less than six months.
NICK BOGACZ is the founder and president of Caliente Pizza & Draft House in Pittsburgh.  Instagram: @caliente_pizza