A Good Reset
Atlanta-based
St. Angelo's Pizza

has transformed itself again and again to meet the needs of its customers

St. Angelo's Pizza in the Vinings neighborhood of Atlanta, Georgia, didn't become a multimillion-dollar pizzeria by sitting on its laurels of past successes. The pizza company is constantly evolving and transforming to stay current and relevant to its customers and staff.

"I always joke we're 60 percent there," says owner Sean Rowe of the nearly 20-year-old St. Angelo's. "This has been how many years now? We are never going to arrive. This is a boat that is never going to reach the harbor. It's never going to dock because I'm always trying to figure out what's next."

Rowe's tenacious mindset helped him turn a failing DELCO unit into a high-volume pizza company with two Georgia locations, serving up New York-style and pan pizza. 

Pizza Today met up with Rowe at the Vinings location this winter. Arriving during the construction of a new phase for the pizzeria, we witnessed to the evolution St. Angelo's had embarked on firsthand. The interior was in the beginning stages of a remodel — not just a refresh but a new flow and concept style for the front of house.

Where patrons had walked through a small dining room to a carryout counter, soon they will be greeted with a fast-casual counter. The new design will match the service style without the full-service approach they were accustomed to. It's something that St. Angelo's had already shifted to since the beginning of the pandemic. 

It's a lasting revelation from the great pivot of 2020 that Rowe sees as the restaurant's future. His version brings the dining experience that St. Angelo's is known for into a fast-casual setting with the creation of a host position and food runners. The host is not there to seat customers. Instead, the individual will float the dining area and outdoor seating with a hand-held ordering tablet, ready to add beverages and more food items to tickets. "We used to operate on a Friday night with 10 to 12 front of house people in here," he says. "We can probably do it with five to six at the most with that process."  

Just before the COVID-19 shutdowns, Rowe made a quick decision that would have a lasting implication for not only the remodel but also the labor crunch. "We just raised (wages for) everyone in January of 2020 and it saved me a lot of grief in July of 2020 and later on," he says. "If I hadn't done that, who knows what would have happened." Server positions were eliminated, staff shifted to carryout and delivery and tip sharing began during the pandemic. "So now that everyone shares — they're revenue sharing so to speak — everyone is happier. I'm trying to make it as egalitarian as possible and it has worked out."

The key to St. Angelo's success also has been the teams at both locations. Key positions have been with the company for several years from managers to the kitchen crews. Over a year ago, the Vinings general manager of eight years was ready to move on. Ansley Walden stepped in and stepped up. Since coming on board, St. Angelo's hasn't skipped a beat. The GM is such a vital position that Rowe says, "You take care of her, and you support her. But also, I can tell her 'Listen if something goes wrong, let me show you how to fix it. Running that cue with 160 deliveries on a Friday is no joke, matching up doubles and knowing the area on how to match them up."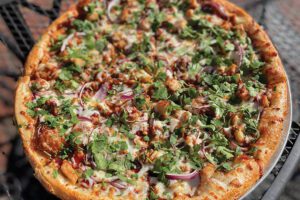 In addition to higher wages, Rowe has instituted several employee programs. "We do involved things where they get together a lot," he says. "We do some bonus programs for them. 
"We're actually about to roll out some insurance stuff," he says. After years of seeing extremely high rates, Rowe says now is the time. "The pricing is right, and the plans are right," he says. "They're affordable enough for me to help compensate for some of it and then put a little skin in the game. We have roughly 70 employees. We'll have 100 when summer rolls around between the two."
Transforming in the face of adversity isn't new to Rowe. It's been his challenge since St. Angelo's infancy. What began as a simple investment turned into a 20-year career for Rowe. "I definitely fell into pizza," he laughs. 
Rowe grew up around his great uncle's pizzeria (St. Angelo's Pizzeria) in Grand Island, New York. "I worked for him during my summers," he says. "So, I was always around the pizza business. And I never thought in a million years I would be in the pizza business."
Very successful in the software business for six years, Rowe was ready for something new. His uncle approached him in 2002 to invest in a carryout and delivery pizzeria. "Well sure, how hard can that be as I'm strutting?" he says. "Big mistake."
But hindsight being 20/20, Rowe says, "The place is a disaster. The food is horrible." His only recourse he felt was to open a new location and change everything. Wait, what?   
"The definition of an entrepreneur is to be able to pay for your mistakes," he says. "But the ego will not let me let this go away. So, I find (a location next to the) Kroger. It's $35 a square foot in 2003. But it's not more than 1,000 square feet." Rowe eventually bought out the business from his uncle.  
"I upgraded the cheese, pepperoni and sausage," he says. "I didn't change everything immediately, but the dough did change and slowly then the sauce. Everything was wrong," he says. 
"The first day we opened over there we did like $850, and I thought it was made from Heaven," he says of St. Angelo's 2004 launch. "Then we started tweaking the menu and then I developed those garlic knots."
He tackled reformulating the pizza dough. "I must have made 300 to 400 batches of dough that I threw out in the course of a few months," he says. "With enough of the expertise from the guys I had working for me, we sort of came into figuring out the dough. That took a good year or two." 
The small Kroger takeout and delivery spot became a draw for the area. As Rowe saw the need for more space, he approached a restaurant owner about a location that wasn't even available. But this was 2008 in the midst of economic recession. "This (space) was potentially coming available," he says. "If we're going to do this, let's go. Let's see what happens. It was great to think that it had become a part of everyone's lives. Hence, we did the tagline: 'family, pizza, friends.'"
The new space provided an opportunity to optimize back-of-house operations for increased deliveries and also create a full-service experience with a fun atmosphere with family and trivia nights.  
Enclosing the patio added more seating, giving the restaurant 30 to 40 seats inside and another 40 to 50 outside.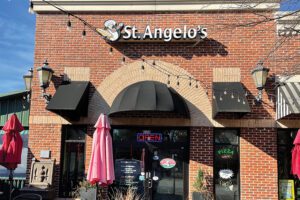 Rowe created a partnership to be the concessions vendor with four kiosks at the Lakepoint Sporting Complex in Emerson, Georgia. The complex is a 1,300-acre state-of-the-art sports venue. It wasn't long before he was approached by the adjacent Lakepoint Station to open a full-service St. Angelo's in the family activity center that features indoor rock climbing, an arcade and bowling. The second St. Angelo's opened in 2016.
The Lakepoint location operates a bit differently. It is a full-service restaurant with huge seasonal swings. The restaurant also acts as a commissary for its complex kiosks.
In the past year, Rowe and his team have worked to streamline and operate fast and efficiently with impressive output at both locations. 
Rowe has continued to evaluate and shift St. Angelo's menu with staff productivity in mind. But occasionally there's an item like The Ringer that takes a bit longer to prepare but gives the pizzeria a solid party tray option. The Ringer is made with its pizza dough rolled with a variety of ingredients into shape of a ringer and cut in slices. 
St. Angelo's has a wide menu of pizzas, appetizers, salads, calzones, pastas and desserts. But the pizza menu is the star of the show with 20-plus pies to choose from. Hotlanta features its house BBQ sauce, fresh grilled chicken, mozzarella, Gouda, onions and cilantro. The Capricciosa is topped with tomatoes, mushroom, ham, artichokes, kalamata olives and mozzarella.  
Rowe feels the momentum shifting with the pandemic. "The goal for everything is April," he says. "The music comes back. Family night comes back and a trivia night.
"We're going through another, I call it, renaissance," he says. "I feel like we are hopefully coming out of COVID overall. There feels like there is a renewed energy for the staff."
DENISE GREER is Executive Editor at Pizza Today.