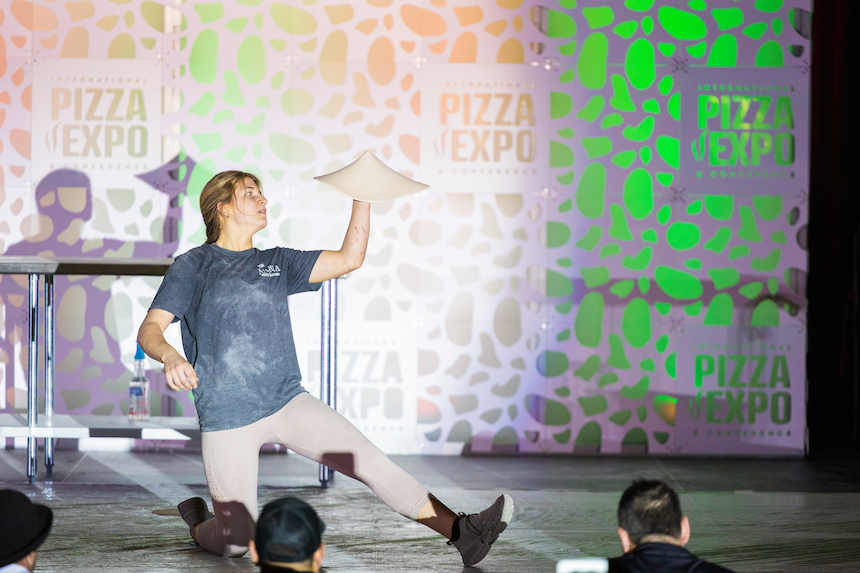 This year's World Pizza Games returned to International Pizza Expo in March. Pizza makers from all corners of the United States and Canada traveled to Las Vegas, Nevada to showcase their dough handling and box folding skills in hopes of winning the coveted title of World Pizza Champion, a gold medal, and a one-thousand-dollar cash prize.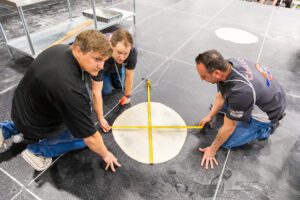 Women dominated four of the top finishes at this year's games with Tara Hattan, owner of Zasa's Pizza & Wings in Tulsa, Oklahoma taking home two first place finishes in Fastest Dough and Pizza Triathlon. Allison Leroux of Amadio's in Ontario, Canada took first place in Largest Dough and McKenna Carney of The Nona Slice is the Freestyle Acrobatics Champion.
The World Pizza Games are an international pizza competition held each year in Las Vegas at the International Pizza Expo, hosted by Pizza Today Magazine. Up to 150 competitors compete in six different categories – Largest Dough, Fastest Dough, Pizza Triathlon, Fastest Box Folding, and Freestyle Acrobatic both First Division and Master's Division. The Gold Medal winners in each category will also receive a $1000 cash prize.
Fastest Dough
1st – Tara Hattan, Zasa's Pizza & Wings (Time: 00:38.028)
2nd – Josh Owens, Mad Mushroom (Time: 00:40.0310)
3rd – David Whisker, B.C. Pizza (Time: 00:41.069)
Largest Dough
1st – Allison Leroux, Amadio's Pizza (95.65 cm)
2nd – Israel Alonso, Izzy's Pizza (90.15 cm)
3rd – Nathan Wilson, 600 Downtown (88.95 cm)
Fastest Box Folding
1st – David Whisker, B.C. Pizza (Time: 00:20.066)
2nd – Josh Owens, Mad Mushroom (Time: 00:21.006)
3rd – Steve Martin, Brooklyn's Best Pizza & Pasta, (Time: 00:21.063)
Pizza Triathlon
1st – Tara Hattan, Zasa's Pizza & Wings (Time: 00:34.047)
2nd – Cambree Mikesell, The Lucky Slice (Time: 00:47.050)
3rd – Ben Shanks, Grumpy Sicilian (Time: 00:47.085)
First Division Freestyle Acrobatics
1st – McKenna Carney, The Nona Slice House (419.6 points)
2nd – Ryan LaRose, Brooklyn Pizza Crew (414.9 points)
3rd – Kevin Knott, The Nona Slice House (399.8 points)
Master's Division Freestyle Acrobatics
1st – Jamie Culliton, The Nona Slice House (461.4 points)
2nd – Patt Miller, Business Coaching (456.3 points)
3rd – Tara Hattan, Zasa's Pizza & Wings (443.65 points)