Those with less-than-ideal resumes can still bring much to the table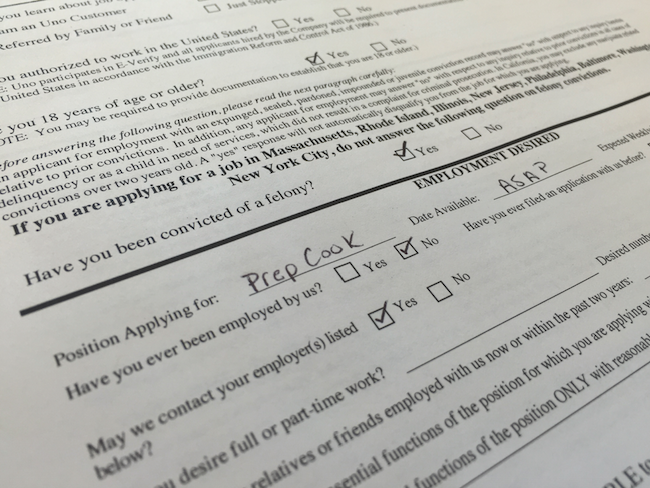 Even those employers that don't conduct formal background checks sometimes ask applicants to disclose criminal convictions on their application. Pizzerias are no exception. Even so, President Barack Obama has taken steps to "ban the box" (the criminal history section) on applications for some federal employee jobs to avoid discriminating against ex-offenders.
Private companies can still request a criminal background check, but some pizzerias buck this practice with hiring programs and practices aimed at helping those who've struggled with homelessness, drug addiction or incarceration gain stable employment and independence.
Chicago-based pizzeria Lou Malnati's has operated its Lawndale location as a job reengagement program in partnership with Lawndale Community Church for more than 20 years. Participants in the church's residential addiction recovery program, Hope House, can learn to prepare food or gain experience bussing tables or serving. "We provide a place for men to come and re-engage in job skills," says Jim D'Angelo, COO of Lou Malnati's. "We're trying to create stability."
After a six-month training program, men can work in the Lawndale location or one of Lou Malnati's six other locations. In addition to creating job opportunities, D'Angelo says revitalizing the troubled neighborhood (Lawndale got burned out during the race riots of the 1960s) is another goal. "It's modeled after a Ben & Jerry's in Harlem (that sought to) create economic revival in an area that was depressed," D'Angelo says. "We want to create jobs but also create hope in a sense that if a business can survive in the neighborhood, other businesses would see that."
With guidance from the church, they've opted not to serve alcohol at that location due to alcoholism in the neighborhood. As a result, the economics of the Lawndale location differ from other Lou Malnati's stores that do serve alcohol, but Lawndale has had some profit two out of the last four years. It donates profits to the church.
Of course, not every hire (traditional or otherwise) works out. In the early days, when D'Angelo was more actively involved in the program, "everybody needed a job but not everybody wanted to work to keep a job. My response was 'I have jobs. You need to show me why I should give you a job. Show me that you're serious about this.'"
Some graduates of the program have become long-standing employees. D'Angelo points to a man named Robert who came through the program. "He started in our restaurant working in our carry-out section," D'Angelo says. "Then he moved to the catering department taking orders and helping guide people through setting up their large corporate accounts. (There have been) bumps in the road, but he brought a decent work ethic and a positive attitude." Robert has now worked for Lou Malnati's for nearly 20 years.
In Philadelphia, Rosa's Fresh Pizza began hiring people who've struggled with homelessness following the popularity of its "pay-it-forward" program where customers can prepay for slices for those who can't afford them. For about a year, Rosa's has worked with the Philadelphia chapter of Back on my Feet, which offers running programs and job resources for those struggling with homelessness.
"We have way less turnover with the people we hire with a history of homelessness than otherwise," says Mason Wartman, founder and owner of Rosa's. "They're really looking for an opportunity and they're grateful for it and we're happy to help."
Already, several of these hires exceeded expectations by taking on greater responsibility and earning raises in pay. "One guy got custody of his son back and he's living with him," Wartman says. "He's out of a shelter and in an apartment that he pays for. Another one is going to school."
Wartman says he mainly looks for employees who are punctual and friendly and can be taught to make pizzas. "Making pizza isn't all that hard," he says. "You don't need years of experience. You just need a good attitude. It's hard to find people with good attitudes using just the Internet. Getting people that are more punctual and friendly leads to better business and a more successful and stable business."
Meanwhile, MOD Pizza in Seattle has a less formalized approach to hiring those who need a second chance, including the formerly incarcerated (another way to say this without worrying about PC is to say, including hiring those with a criminal record). "As we were building the business, a couple of our team members hired people who fell into that category" needing another chance, says MOD Pizza co-founder and CEO Scott Svenson. "They took a chance with them and as it transpired, (the employees) ended up becoming really positive role models and impactful team members."
MOD generally doesn't do criminal background checks on potential employees. Instead, Svenson says they look for "attitude, aptitude and energy. We're embracing this idea that your past, while it might describe you, it doesn't need to define you."
Although some might assume that managing employees from challenging backgrounds requires lots of rules, MOD takes the opposite approach. "We start with the presumption that we trust them," Svenson says. "I think that brings the best out in people. This is a place that cares about me, trusts me, expects me to do the right thing."
Not everyone embraces that culture, so some people don't work out. But as Svenson says, "those that do embrace it really feel inspired and empowered."
Susan Johnston Taylor covers business and personal finance topics for numerous print and online publications.