Do you know how to maximize your local marketing?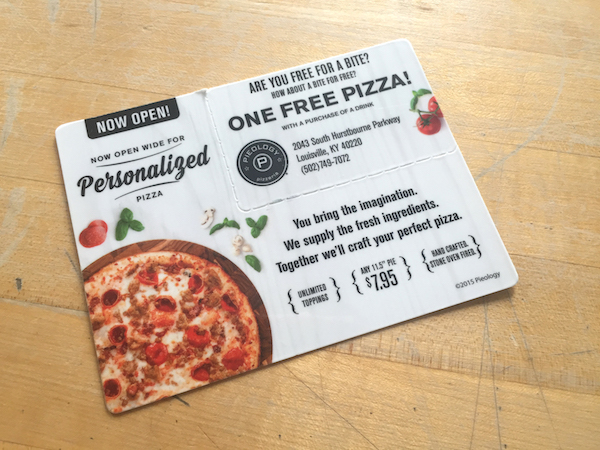 Clayton Krueger has no shortage of opportunities to spend money.
As the director of marketing for Farrelli's Wood Fire Pizza, a 20-year-old, seven-store chain in the Tacoma, Washington, area, Krueger regularly hears pitches from advertising reps –– newspapers, radio, television, billboards, team and event sponsorship and more — seeking a piece of Farrelli's marketing budget.
"By now, we've heard it all," Krueger says.
Which isn't to say Krueger minds. He knows, like so many others, that local advertising is necessary to maintain community relevancy.
"If you want to survive, you need to stay top of mind with your local audience. And local advertising is an important piece of that equation," reminds Randy Lopez of Synergy Restaurant Consultants. "Locals must know you're a part of the community."
Determining just where to place those local advertising dollars, however, can be a tricky feat for pizzerias, particularly given abundant opportunities and finite budgets. Here's how savvy operators get it done:
Step #1: Understand the purpose. Farrelli's has participated in everything from local sports posters to team card fundraisers. Though such initiatives boost Farrelli's standing as a kind-hearted community neighbor, they don't necessarily accomplish the company's mission of neighborhood nourishment, Krueger says.
Instead, Farrelli's has increasingly prioritized direct community involvement, efforts that place the brand actively in front of consumers and help it fulfill its mission. The chain has served as the beer garden vendor at a local food truck festival and is currently crafting plans to launch a Northwest-style pizza festival on Tacoma's waterfront next summer.
"At the end of the day, it's about where you want to see your brand and where it makes sense," Kruger says. "We need to know what we want for our business."
Eager to build brand awareness? Outdoor advertising such as billboards promise that. Want to spur impulse buys with a tech-savvy clientele? Consider location-based advertising.
"Always know what you're trying to accomplish," instructs Bill Guilfoyle, associate professor of business management at the Culinary Institute of America in New York.
Step #2: Get intentional. In a competitive industry with numerous players battling for share of stomach, pizzerias must be intentional and specific.
If Farrelli's leadership, for example, identifies a specific concern –– say, languishing lunch business at a particular unit – Krueger's team unleashes a purposeful advertising program to turn the tide, such as a direct mail piece to customers within a defined radius. Krueger will ensure staff know the promotion has been released, what it looks like and how the team can enhance ROI, such as signing up new visitors for the chain's internal marketing channels.
To avoid aimless, random spending, Lopez suggests operators avoid approving advertising expenditures on an as-they-come basis. Rather, collect requests throughout the month, review them at a single time and define which ones fit the brand and carry the greatest ROI potential.
Additionally, Lopez urges operators to create a 12-month marketing calendar that includes key monthly events, such as Mother's Day promotions in May.
"A calendar will help you be proactive, organized and thoughtful with your spending," Lopez says. "Plus, you can then replicate success on a year-to-year basis."
Step #3: Trial different options. Unfortunately, marketing requires some trial and error to learn what resonates with local consumers.
"There is no magic wand, so you have to try different advertising vehicles," says Deborah Masse, vice president of operations for Michigan-based Cottage Inn Gourmet Pizza, a 50-unit chain with locations peppered across Michigan and Ohio.
To that point, Cottage Inn recently picked test markets to trial an aggressive move from print to digital advertising. Some test units even pulled print advertising altogether in favor of digital venues such as Pandora Internet Radio.
"What we learned is that print still matters and matters heavily in some markets," Masse says, "but that's not something we would've discovered without some experimentation."
With modest, calculated investments into various advertising options, operators can determine what works best and where. In some of Cottage Inn's store communities, for instance, Masse has found that direct mail produces the most positive response; in others, though, the local "penny saver" publications deliver impressive results.
Step #4: Measure and assess. Whether leveraging point-of-sale software or using a pen-and-paper log, restaurants must have some tracking mechanism to evaluate a given campaign's success.
While digital and mobile advertising returns can often be tracked via an online code or online ordering, the ROI on more traditional advertising mediums can prove more elusive.
Pizzerias might require customers to bring in physical coupons or share an associated word or phrase to earn a deal. Staff, meanwhile, might ask customers what brought them in and tally those responses.
"Whatever the method, staff and managers need to stay on top of it," Masse says.
At the minimum, operators should maintain records on the advertising spend, when and where it was placed and match the investment against sales.
"Examining the data helps you determine if you're spending money in ways that drive business," Guilfoyle says.
When assessing ROI, however, Lopez reminds operators to consider more than just the investment in the advertising medium.
"You must factor in the cost of the product or the discount because that's part of the marketing investment as well," he says.
---
↓ Four ways to earn added credibility with your local audience
Charitable involvement. Getting involved with local nonprofits or helping organizations with fundraising efforts deepens community relationships and places the pizzeria's name in front of new audiences in a more personal way.
Local food bloggers. The positive review of a local food blogger can heighten a pizzeria's reputation while the online link can also boost search engine optimization (SEO).
User-generated content. Inviting people to share memories from the establishment in conjunction with an anniversary or running a photo contest heightens personal ties to the pizzeria. Publish the content to a dedicated website page as well as social media.
Spotlight staff. An indirect way to promote the restaurant is to share its special people with the local media, such as the high school employee who recently won a regional culinary contest or the long-time employee who beat cancer.
Chicago-based writer Daniel P. Smith  has covered business issues and best practices for a variety of trade publications, newspapers, and magazines.