How do you add online ordering?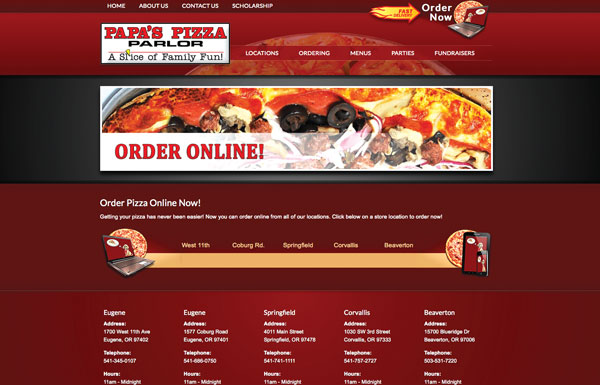 In today's world, Mo Jallad knows he cannot ignore online ordering.
The owner of Mogio's Gourmet Pizza, a nine-year-old concept that will grow to six Dallas area locations this year, Jallad says offering customers online ordering –– something boldly highlighted on Mogio's home page –– positions his eateries to succeed in a competitive, crowded field, bringing ease and convenience to the customer and heightened revenue to the restaurant.
"If we're not offering online ordering, we risk losing market share," Jallad says. "Today's customers want to control the transaction."
According to the NPD Group, online orders for food delivery continue to rise at an annual clip and have neared a 50/50 split with phone orders. In the year ended May 2015, food delivery phone orders reached 1.02 billion, while online orders topped 904 million, more than double the tally in 2010.
"People are gaining more comfort and familiarity with online ordering and it's running across all age ranges," says Mike Ganino, head of restaurant strategy for the online ordering platform ChowNow. "This is how business is being conducted now … and restaurants that don't catch up will be left behind because the customers crave this convenience."
Indeed, online ordering has emerged a virtual must in the pizzeria world, particularly given the category's heavy ties to delivery and carryout. Leon Hartman of Two Boots Pizza, a 16-unit enterprise based in New York City, in fact, calls online ordering the pizza industry's present and future.
"These winds are coming and online ordering's an opportunity to get a leg up with customers," Hartman says.
To launch –– and then foster –– a successful online ordering presence, here are four vital first steps:
Step 1: Figure out what's important.
In recent years, dozens of online ordering platforms have emerged, ranging from upstart tech enterprises and well-established names such as GrubHub and ChowNow to options powered by point-of-sale systems. As every option holds its own intricacies and value proposition, operators need to discern what's most important for their establishment.
For instance, do you want online ordering directly tied to your existing POS? Is it important that online ordering is fully integrated into your site as opposed to a third-party offering? Does the provider share customer data so you can send follow-up messages? Do you want a built-in loyalty program designed to spur repeat business?
"You need to get real specific about what you need in your business," Ganino says. "What's the bigger strategy and how does online ordering fit into that?"
Step 2: Take your time selecting a partner.
Given online ordering's surge, it's understandable operators want to leap into the online ordering game. Be patient, though, and investigate the benefits and drawbacks of every prospective partner.
Some providers charge a direct fee to establish online ordering; some take a commission on each online order; and others toss in some extra perks. Menufy, for example, will either design a new Web site for the eatery or post an online ordering link to an existing site, while it can also deliver consumer friendly elements like Facebook or Google log-in options so people don't have to memorize another username and password.
Ganino urges patience and analysis, encouraging operators to avoid making a decision out of desperation or cowering to the loudest salesperson.
"You want to pick the platform that you believe is easiest for your consumer to use and best matches your brand," he says.
Step 3: Align online ordering with operations.
Too often, pizzerias flip the online ordering switch with little consideration for the operational end. How does the order make its way into the kitchen? How is a half-and-half pizza order addressed? How do customers redeem promotions?
"And this takes work," Hartman admits.
At Two Boots, for instance, an iPad rings with every new order. A manager or counter person then opens the order and inputs it into the store's POS. There, the order funnels into the kitchen and is processed like any other purchase.
While the manual input is a step Hartman hopes to someday extinguish, it's an improvement over previous iterations of online ordering Two Boots used that included faxes, verification phone calls and confirmation e-mails.
"I suspect there will be a middleman who develops the technology that links every online ordering platform directly to any existing POS," Hartman says, "but what we have today is certainly an improvement."
When the operational wrinkles are resolved, however, Menufy cofounder Ashishh Desai says online ordering can minimize phone time and increase order accuracy, two significant operational and customer-pleasing benefits.
Step 4: Market online ordering.
Hartman says pizzerias should not expect success simply by launching online ordering. Pizzerias must market online ordering by promoting it on sales fliers, takeout menus and table tents; placing stickers on pizza boxes; posting decals on store windows and so forth.
"You need to have a strategy, whether that's using fliers, print ads or social media," he says. "You can never rest on the business you have and need to get the word out that this service is available."
Chicago-based writer Daniel P. Smith has covered business issues and best practices for a variety of trade publications, newspapers, and magazines.