We preview the pizzeria industry's hottest ticketed event all year
As spring marches in, International Pizza Expo is back and this year, we're pulling out all the stops to go big in 2022. Pizza professionals from across the country and around the world will convene in Las Vegas on March 22-24 for jam-packed days to do business, network, learn and have fun. 
"As the world's largest pizza show, we are committed to be the annual gathering place for the pizzeria and Italian restaurant communities to explore all the products and services available to the industry all under one roof," says Show Director Bill Oakley. "We're looking forward to bringing together the largest gathering of pizzeria professionals this year who will converge on the new West Hall of the Las Vegas Convention Center to collaborate with successful pizzeria owners and industry experts, forge new relationships and make once-a-year deals."
That's right. Pizza Expo will take place in the newly opened and state of the art West Hall of the convention center with a first of its kind transportation loop developed by Elon Musk. 
While 2020 and 2021 brought uncertainty, 2022 is the year to forge new paths. Renew your focus, drive and passion at Pizza Expo. What better way to recharge, find new products and solutions and share the camaraderie with friends and colleagues than the industry's longest running event that is in its 37th year. 
Pizza Expo, a must attend event amidst industry challenges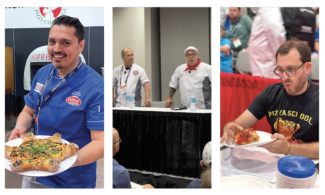 The pizzeria industry has faced numerous unprecedented challenges in the past year. Arm yourself with the tools to face these issues with innovation and ingenuity at the show and conference. "As an attendee or buyer, one of your goals will be to maximize your return on investment, especially in light of the huge impact COVID has had on pizzerias, particularly labor and supply chain issues over the last couple of years," Oakley says. "Exhibitors and attendees alike have made a substantial investment of time and money and we're 100-percent committed to their success. We're on track to deliver an exciting event experience filled with electricity that will reconnect the industry."
Walking the show floor will lead you through some of the restaurant industry's hottest trends and leading innovations. This is the marketplace where the next big industry idea will be born. 
What's new, what's hot
Competition areas will be red hot. In case you missed it last year, we introduced a new competition that had the 2021 show floor buzzing, the International Italian Sandwich Competition. It joins our exciting slate of competitions. Competitors will face off in the International Pizza Challenge in Traditional, Non-traditional, Pan and Napoletana Divisions to win cash prizes and bragging rights. They will be judged based on crust, sauce, overall taste and visual presentation. In the non-traditional and pan divisions, creativity points will also be awarded. The popular World Pizza Games is also back to dazzle and amaze spectators and makers compete for world titles in dough acrobatics, dough stretch, box folding and a new team pizza-making challenge.
There is so much more to experience with Pizza Expo 2022. "This year during Food Week attendees will have the opportunity to attend three food-related trade shows in the same exhibit hall, as well as have a special discounted rate to attend the Bar & Restaurant Show," Oakley says. "Your badge will allow you entry into International Pizza Expo, SIAL America and International Artisan Bakery Expo." SIAL America will make its debut as the most comprehensive B2B food and beverage event in the U.S., while International Artisan Bakery Expo returns for its 3rd year.
Knowledge is Power
This year's keynote speakers will inspire and motivate you to take your business to the next level. "We're going to have three keynote speakers this year to jumpstart each tradeshow day with an exciting and energizing address that will be headlined by restaurateur and television personality Donatella Arpaia," Oakley says.  James Beard Award winning author and one of America's most prolific minds in baking, Ken Forkish, will kick off day two. Restaurateur and Young Entrepreneur Award winner Rocky Shanower rounds out the keynote speaker lineup." 
Keynote addresses are a prelude to the immense learning opportunities available at Pizza Expo, from intensive School of Pizzeria Management courses and show floor demonstrations to how-to sessions and panels all taught by leading industry pros.
"The educational program at Pizza Expo is designed to give pizzeria owners topical, relevant information they can immediately use to help run their businesses more efficiently and more profitably," Content Director Jeremy White says. "As we continue navigating a prolonged and seemingly never-ending pandemic, it's easy to get overwhelmed with the demands of running a restaurant. That was no easy task even in 'normal' times. It's now more difficult than ever. The majority of speakers at Pizza Expo run pizzerias day to day themselves, and they're hugely successful at it. There's no better place to get the most up-to-date best practices from people who are actually in the trenches fighting the good fight with you."
Pizzeria operators are dealing with several fronts at once right now. The education program addresses the biggest issues facing today's operators. "We've really tried to hit the business from every angle here," White says. "From in-depth, detailed financial workshops to hands-on food demonstrations, attendees will acquire far more than just a surface understanding on the issues pizzeria operators have to deal with on a daily basis. Then the seminar program, which is robust as ever, covers everything from marketing to hiring and employee relations … and everything in between. There's truly something for everyone. Some attendees may be well versed in finance, but need help with their messaging to consumers. Others may be expert in menu development, but have struggled finding ways to offer a diverse and inclusive workplace. We offer sessions on all that and more at Pizza Expo 2022."
Let's Get you Ready for Pizza Expo 2022
Now is the time to make your plans to attend Pizza Expo 2022. "We feel attending Pizza Expo will be one of the best investments, if not the best, in time and money you'll make this year that should pay dividends for years to come," Oakley says. 
Advance registration is still available at PizzaExpo.com. Save money by registering ahead. Discounts are also available for groups of more than 10.
Get the latest updates on the show. The show's mobile app will be available in March. You can find it by searching "Pizza Expo App 2022″ on the Apple Store or Google Play. 
See you at the show!